Marjorie Taylor Greene Claims 'Jewish Space Lasers' Conspiracy Theory Was Fake News
Republican Georgia Representative Marjorie Taylor Greene has said that any reports of her belief in a "Jewish space laser" were just "fake news."
In a Tuesday interview on Greg Kelly Reports, a program on the conservative-leaning media network Newsmax, Kelly asked Greene about whether she believed in the conspiracy theory that a Jewish space laser caused the 2018 California wildfires.
"I actually have no idea because I've never said that phrase or typed it, 'Jewish space lasers,'" Greene responded. "This is a story that some leftist 'journalist'—really he's an activist—wrote a hit piece on me and entitled it 'Jewish space lasers.' And so, you know, the left-wing media, they just run the same lies over and over again, and they call me an anti-Semite and say that I've said something like 'Jewish space lasers,' and I never did.... This is what they do to people like me that refuse to back down."
During the interview, Greene referenced her now-deleted November 2018 Facebook post in which she laid out the conspiracy theory. While Greene didn't use the phrase "Jewish space lasers" in her post, she did lay out a conspiracy theory claiming that the 2018 California wildfires were possibly caused by "lasers or blue beams of light." She also claimed the wildfires would benefit an international banking firm with a Jewish family name.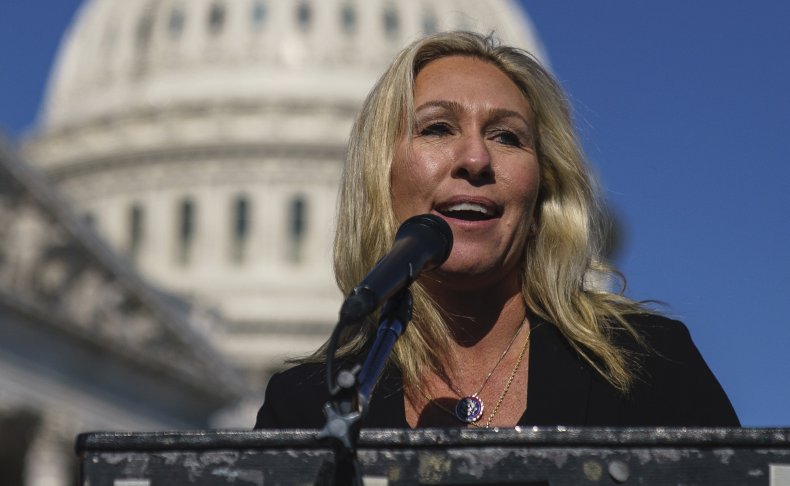 In her post, Green wrote that the beams may have come from "space solar generators" that "collect the suns energy and then beam it back to Earth." She said the generators were developed by Solaren, a renewable energy company, and Pacific Gas and Energy (PG&E), a power company that donated to then-California Governor Jerry Brown.
She then claimed that the fires occurred in an area where Brown had planned the construction of a $77 billion high-speed rail project. She suggested that the fires financially benefited Brown, PG&E, Solaren and Rothschild Incorporated. Rothschild Incorporated is an international investment banking firm that bears the name of a wealthy Jewish family.
Near the end of her post, she wrote that Roger Kimmel, one of the board members of PG&E, is also vice-chairman of Rothschild Incorporated. She said if the conspiracy theory proved true, that it "wouldn't look so good" for the aforementioned people and groups.
Greene's Facebook post laying out this conspiracy theory was first reported on January 28 by Eric Hananoki, an investigative reporter for Media Matters for America. Media Matters is a left-leaning nonprofit and media watchdog that largely reports on right-leaning media outlets and figures.
Hananoki's report compelled Jewish groups to blast Greene for pushing a conspiracy theory about Jewish people harming others for financial benefit. Such tropes have been used throughout history to justify violence and discrimination against Jewish people. A number of conspiracy theories directly target the Rothschild family, with the first conspiracy theory dating back as far as 1846, according to The Independent.
Greene's conspiracy theory was just one of numerous extremist conspiracy theories that she voiced support for on social media before joining Congress.
In Greene's past social media activity, she advocated for violence against House Speaker Nancy Pelosi and former President Barack Obama, said that an airplane never hit the Pentagon during the September 11 terrorist attacks, accused former Secretary of State Hillary Clinton of slicing off a child's face and wearing it and proclaimed belief in many other conspiracy theories.
Her support for these conspiracies led House Democrats and 11 Republicans to vote for her removal from the House Committee on Education and Labor and the House Budget Committee near the start of February.
Newsweek contacted Greene's office for comment.