Jewish Groups Urge Marjorie Taylor Greene's Removal Over 'Hate-Filled' Conspiracy Theories
Jewish groups have called for the removal of House Republican Marjorie Taylor Greene from Congress, after she shared a wide-ranging conspiracy theory tinged with anti-Semitic tropes on Facebook.
Media Matters on Thursday revealed one of Georgia Rep. Greene's old Facebook posts from 2018, where she made several baseless claims about the cause of California's wildfires that same year. She simultaneously implied that the fires could have been started deliberately or accidentally by a solar power generating satellite, but either way the fires were conveniently along the route of the planned California High-Speed Rail project.
In the post, which has now been deleted, Greene implied that the Rothschilds, a wealthy Jewish banking family frequently referred to in anti-Semitic conspiracy theories, PG&E (Pacific Gas and Electric), space solar power company Solaren, and California officials all had a hand in profiting from the fires. Greene's incendiary comments perpetuated an age-old anti-Semitic trope about Jewish people being avaricious, doing anything to make a profit.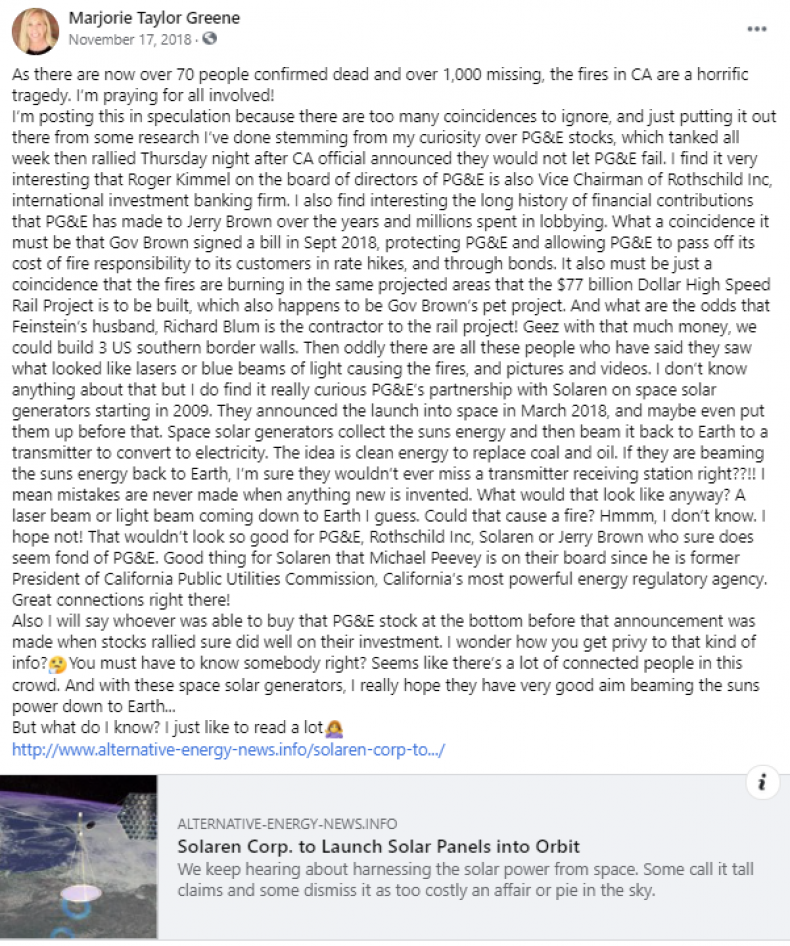 She specifically mentioned Roger Kimmel on the PG&E board, U.S. Senator for California Dianne Feinstein, her husband Richard Blum, former California governor Jerry Brown, and Michael Peevey who is on the board of Solaren.
Jewish groups were quick to condemn Greene's comments. Joel Rubin, executive director of the American Jewish Congress said in a statement to Newsweek that Greene's comments present "an immediate danger to the U.S. Congress and the American people."
"Her incendiary statements about Jews, gun violence victims, and what appears to be an unending stream of bizarre conspiracy theories are hate-filled, intolerable, and run contrary to her oath of office," he said.
"House Republican Leader Kevin McCarthy (R-CA) must not allow this to go any further. He should immediately remove her from her committee assignments, work closely with Speaker Pelosi to conduct a bipartisan review of her views and, based upon that review, and Greene's response to it, potentially schedule a vote to expel her from Congress."
Halie Soifer, chief executive of the Jewish Democratic Council of America, agreed: "Marjorie Taylor Greene is a bigoted conspiracy theorist, and her rhetoric and actions are a grave and growing danger to the Jewish community and the American people.
"This extremist turned congresswoman doesn't deserve another day in the distinguished office she holds after repeatedly espousing hateful and bigoted rhetoric, threatening her congressional colleagues and student activists, and supporting the January 6 insurrection. We call on the GOP to take swift and decisive action to remove her from office," Soifer said.
Mitchell G. Bard, Executive Director of American-Israeli Cooperative Enterprise (AICE), said it was disturbing that anti-Semitic conspiracy theories are proliferating in the United States.
"It is even more disquieting that they would be promoted by a sitting member of Congress. Just as Democrats were expected to denounce the anti-Semitic remarks of Reps. Ilhan Omar and Rashida Tlaib, Republicans should be condemning Marjorie Taylor Greene," he told Newsweek.
"The inadequate response by both parties to anti-Semites in their midst is normalizing anti-Semitism and contributing to the upsurge in extremism on the far right and left."
Newsweek has contacted the Republican Jewish Coalition for comment.
The 2018 Facebook post isn't the first time Rep. Greene has courted controversy. She has also on several occasions drawn criticism for espousing inflammatory views on race, promoting Qanon conspiracy theories, and inciting hatred on rival lawmakers. QAnon peddles the unfounded conspiracy theory that former U.S. President Donald Trump is waging a secret war against elite Satan-worshipping pedophiles in government, business and the media.
A video posted on Greene's YouTube channel on January 21 shows her confronting David Hogg, who survived a 2018 mass shooting at Marjory Stoneman Douglas High School in Parkland, Florida. Seventeen people were killed in the shooting.
In the video, Greene repeatedly accuses Hogg of supporting Red Flag gun laws, which she says threaten her Second Amendment Rights. After following him as he visited Senators in the U.S. Capitol, Greene calls him a coward for refusing to reply to her and said he was being paid by George Soros, who is often referred to in anti-Semitic conspiracy theories, and other rich liberal figures.