Evangelical 'Prophet' Claims 'Power Came Into the Earth' on Ides of March to Remove Biden
Christian Pastor Robin Bullock, who claims he has a "prophetic anointing" from God, said during a Tuesday sermon that a "power came into the Earth" on the Ides of March—or March 15—to remove President Joe Biden from power.
Many Christian leaders—particularly within the white evangelical community—have been vocal supporters of former President Donald Trump and backed his false claims of widespread voter fraud leading to Biden's election. A number of self-described evangelical "prophets"—like Bullock—predicted that Trump would win reelection in 2020.
When those predictions proved to be inaccurate, some have apologized. But Bullock, who co-founded the Youth Force Ministries Church International, and others have suggested that Biden is not actually the legitimate president.
Bullock, who hosts the weekly "prophetic" YouTube program The Eleventh Hour, highlighted in his Tuesday sermon how Biden tripped several times as he ran up the stairs into Air Force One last Friday. He suggested that this was a sign that "a power" was removing Biden from office.
Right Wing Watch first reported Bullock's remarks.
"If you'll notice, after the Ides of March on the 15th—when Joe Biden started up those steps—this was five days after the Ides of March. I believe it was," Bullock said. (It was actually four days later, on March 19). "Right after that came, because that time filled a time. It filled one of those squares," he said.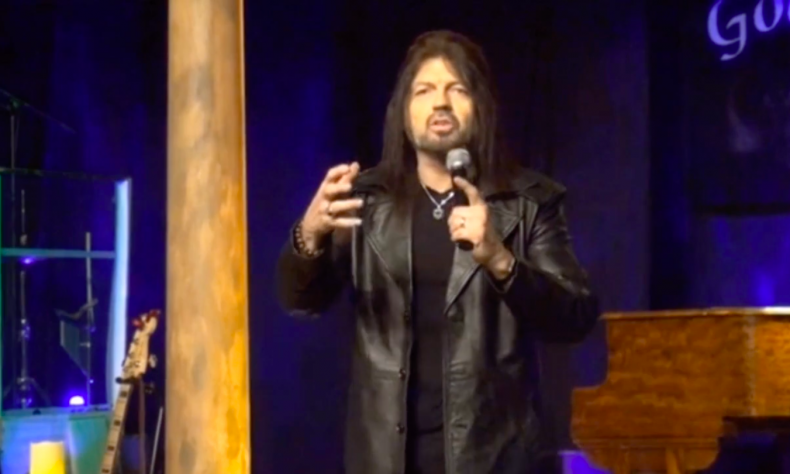 The Christian pastor went on to explain a bit about the history of the Ides of March in ancient Rome, saying it was viewed as "the day for settling debts" and that "finalities came on the Ides of March."
"I believe that on the 15th of March, a power came into the Earth to remove tyrants from their seats of authority," Bullock continued. "And a few days after that you saw Biden fall trying to get up to Air Force Once and he couldn't get up there. He finally had to just grab each side and run. The first time it was a little stumble. The second one was a bigger stumble. And the third one he fell all the way down. He's finished. He's done."
The White House dismissed the incident as insignificant.
"I know folks have seen that President Biden slipped on his way up the stairs to AF1, but I'm happy to report that he is just fine and did not even require any attention from the medical team who travels with him," White House Press Secretary Jen Psaki said. "Nothing more than a misstep on the stairs."
Bullock previously claimed that Christians could bring Trump back into power through prayer.
"You're going to have to pray for the rightful president [Trump], whether he wants to walk back into this or not. You must pray that he wants to do it, because God won't make him do anything. Is it his will? Yes. Is he the president? Yes. That's why he could just walk right back in, and God will supernaturally move things out of the way," he said in a sermon earlier this month.
White evangelical Christians have been a vital base of support for Trump since his 2016 election. That year, about 8 in 10 white evangelical Christians said they voted for the former president, according to exit polls. In 2020, exit polling showed a similar result with between 76 percent and 81 percent of the religious demographic backing Trump. Many evangelicals have long aligned themselves with Republicans, as GOP lawmakers generally opposed women's reproductive rights and do not back greater legal protections for the LGBTQ community.
Newsweek reached out to Bullock's ministry and his church for comment, but did not immediately receive a response.