Christian Leader Prays for 'Conflict' and 'Gridlock' to Block Biden Agenda
Tony Perkins, the president of the conservative Christian organization the Family Research Council, said this week that he prays for "conflict" and "gridlock" in Washington, D.C., if the Biden administration does not end its support for the transgender community and women's reproductive rights.
The prominent Christian leader previously served as the chair of the United States Commission on International Religious Freedom from June 2019 to June 2020 under former President Donald Trump. The Southern Poverty Law Center describes Perkins' organization, the Family Research Council, as "an anti-LGBT hate group," noting that the Christian leader has taken it in "in a harder anti-LGBT direction, using it to publish false propaganda about that community and contending that gay rights advocates intend to round up Christians in 'boxcars.'"
"We need God to move on our behalf. We need to repent as a nation of the stuff that's being pushed through. Just look at what the Biden administration has pushed through, and we're not even talking to legislation yet, but the whole transgender agenda we mentioned a few moments ago," Perkins said during a Monday live stream by the Truth & Liberty Coalition. Right Wing Watch first reported his remarks.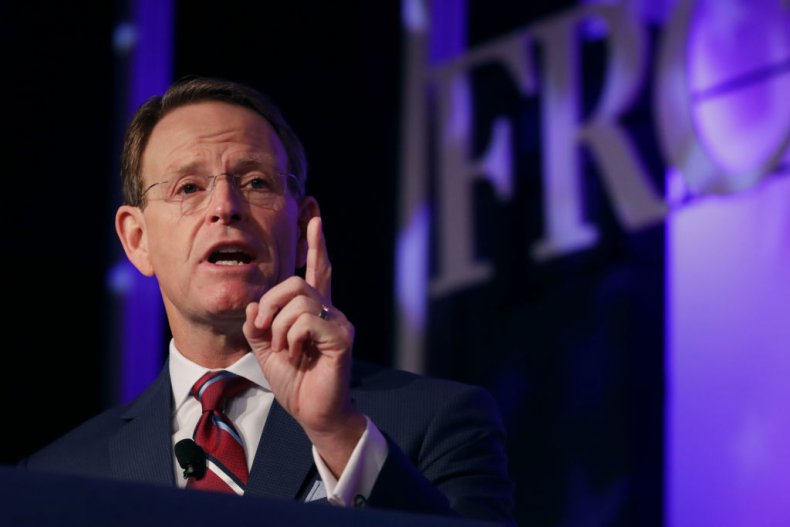 Biden's "put [transgender rights] onto the military, he's put it onto elementary and secondary schools, he's put it on our colleges. Look at the issue of abortion; not just the repeal, the overturning of the Mexico City policy that prohibits [reproductive health] funding in foreign policy, but even the Hyde Amendment that was eliminated in the coronavirus relief bill, the $2 trillion and all the money that's going to flow to Planned Parenthood and abortion clinics. This is atrocious, and we need to be praying that God would move in our country," Perkins said.
Although Perkins said he prays "for God's blessing on [President] Joe Biden and [Vice President] Kamala Harris" and that "they yield themselves to him [God]" and will "turn their hearts," he warned that he also prays they will face obstacles if they don't conform to what he views as "truth."
"If they refuse the truth and go against the truth, I pray that they would be confused, they would have conflict, and gridlock would settle upon Washington, D.C.," Perkins said.
Christians—and particularly white evangelical Christians—have long been staunchly pro-Republican and pro-Trump. In 2016 and in 2020, the religious community voted overwhelmingly for Trump, with exit polls showing about eight in 10 white evangelicals backing the former president in both presidential elections. The religious group is largely animated politically by their opposition to women's reproductive rights and legal protections as well as greater rights for the LGBTQ community.
The American Civil Liberties Union has reported that at least 28 states are currently considering or pushing through anti-trans legislation in 2021. Arkansas' legislature, which is controlled by Republicans, forced through the nation's first ban on gender confirming treatments and surgery for transgender youth on Tuesday. Doctors in Arkansas are now legally prohibited from providing gender confirming hormone treatment and puberty blockers to minors, or even referring them to other providers for the treatment.
That bill passed after the state's legislature overrode a veto from Republican Governor Asa Hutchinson. The GOP governor noted with his veto that he made his decision after talking directly with transgender youth, their parents and medical providers who treated these patients. Hutchinson described the bill as "a vast government overreach," saying it implemented "new standards of legislative interference with physicians and parents as they deal with some of the most complex and sensitive matters involving young people."
Recent polling by Lifeway Research, the publishing and distribution division of the conservative Southern Baptist Convention, showed that 72 percent of Protestant pastors believe it is "morally wrong for an individual to identify with a gender different than the sex they were born." Additionally, 77 percent said they believed gender-affirming (or sex-reassignment) surgery is "morally wrong."
Newsweek reached out to Perkins for further comment but did not immediately receive a response.