Capitol Rioter Insists 'I Am Not a Person' in 'Self-Destructive' Court Appearance
Capitol rioter Pauline Bauer was ordered to remain in jail on Friday following a strange and "self-destructive" court appearance.
Bauer, who owns and operates a pizzeria in Pennsylvania, was in court to potentially receive a pre-trial release from jail, should she agree to follow the conditions set forward by the court. She had previously been denied a release a week prior by Donald Trump-appointed U.S. District Judge Trevor McFadden, who expressed concern that she would not comply with the release conditions.
On Friday, Bauer began by giving a statement that, according to Law & Crime, suggested phrasing reminiscent of the "sovereign citizen" movement. Adherents to that movement believe that they should not be subject to laws and decisions made by judges, juries, police or governments, and often claim that they do not have to pay taxes. The Southern Poverty Law Center claims that the movement's roots are "racist and antisemitic."
Afterward, Bauer began exchanging Bible verses with McFadden, culminating in her claim that she is "not a person."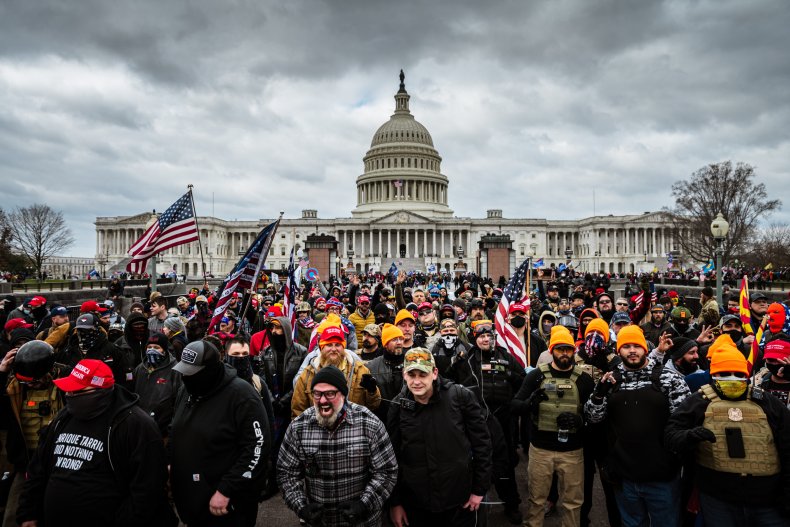 "I Pauline... a living soul... He gave man dominion over the land..." Bauer said.
"Romans 13 — Let every person be subject to the governing authorities," Judge McFadden reportedly said in response.
"I am not a person," Bauer retorted. She later claimed to have diplomatic immunity and to be a "friend of the court," according to WRC-TV reporter Scott MacFarlane.
When given a final chance to agree to the terms of a pre-trial release, Bauer instead said: "Judgment day is going to come for all of you who are making money of mankind."
"I'll take that as a no," McFadden said, as reported by Washington Post reporter Rachel Weiner in a tweet.
MacFarlane noted that Bauer's strange and detrimental antics were even more befuddling given that she only faces minor charges.
"This has been a uniquely and profoundly self-destructive episode," the reporter tweeted. "Bauer faces low-level charges and likely wasn't going to face much, if any time behind bars. Now she's back for week 2 in pretrial detention. With no trial firmly on calendar."
Bauer has not been accused of any violent acts during the January 6 riot in Washington, D.C. Her charges include obstruction of an official proceeding and aiding and abetting; entering and remaining in a restricted building or grounds; disorderly and disruptive conduct in a restricted building or grounds; disorderly conduct in a Capitol building; and parading, demonstrating, or picketing in a Capitol building.
Bauer even had a sympathetic ear in McFadden, who had emphasized in her previous court appearance that he did not want to keep her in jail and potentially jeopardize her small business.
"You're a small business owner," the judge said. "I don't want to lock you up. I don't want you to lose your restaurant. I don't like doing this, but you have made it clear that you feel you are above the law."
Elsewhere, a January 6 rioter from Kansas was arrested for allegedly pushing a Capitol police officer down a flight of stairs. Michael Eckerman had reportedly been making his way to the crypt in the Capitol building, pushing his way through a crowd. One of the people he pushed ended up being an officer who stumbled several feet and fell down some stairs.
Eckerman is now charged with assaulting, resisting, or impeding certain officers; obstruction of an official proceeding; and disorderly conduct in the Capitol building.