Capitol Rioter Ryan Nichols Says 'I'm Calling For Violence' in Video Surfaced by Prosecutors
Capitol rioter Ryan Nichols called for violence in a video federal prosecutors played during a court hearing on Monday.
In the video, which prosecutors said was recorded on January 6, the day of the riot, Nichols said: "I'm calling for violence. I will be violent," according to WRC-TV journalist Scott MacFarlane's reporting on the hearing.
In the video, Nichols boasted about forcing Congress to temporarily pause the certification of the 2020 presidential election votes when they were evacuated due to safety threats from the rioters.
"We shut down the vote today because those coward ass politicians ran into the tunnels," he reportedly said. "I've seen the last of you treasonous bastard politicians. Give me liberty or give me death. I'm prepared to f*** die for this. I took an oath against all enemies foreign or domestic. But I plan to have others die first."
During the court hearing, Nichols asked to be released from jail in Washington D.C., according to MacFarlane. The judge declined Nichols' request, ruling that he would be held until the trial.
His attorney said during the hearing: "Mr. Nichols is held in high esteem by both the January Sixth detainees & the prison guards at the DC jail where he has languished in horrific conditions," MacFarlane reported.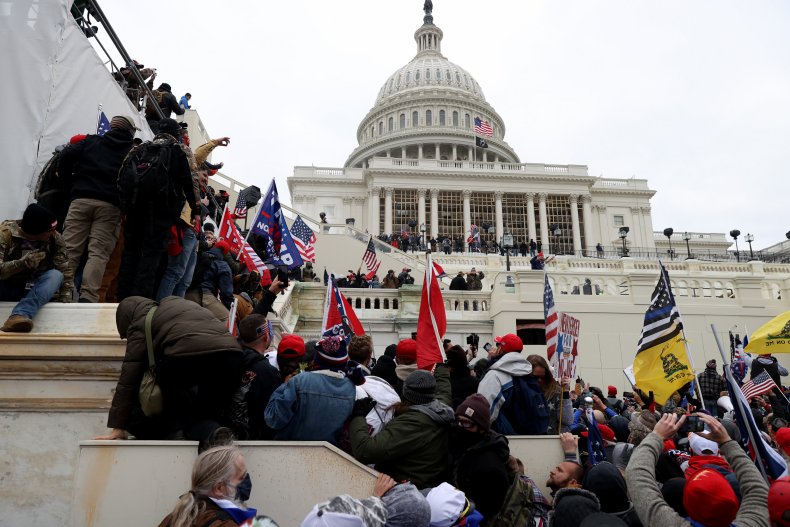 Nichols, a former U.S. Marine, faces 13 different charges related to his participation in the riot. He allegedly showed up to the riot with a crowbar, pepper spray and bullhorn.
"If you have a weapon, you need to get your weapon," he allegedly told the crowd of rioters.
Nichols pleaded not guilty to all 13 counts and has denied any allegations of violence.
In November, during an interview with Newsmax, he claimed he helped save the life of Washington D.C. Police Officer Michael Fanone—who experienced a heart attack, traumatic brain injury, concussion and post-traumatic stress disorder after he was attacked by a group of Trump supporters.
"When I saw women being beaten and in distress my rescue instincts kicked in and I knew I had no choice but to help rescue them," he said. "As soon as I saw Officer Fanone in distress, I pointed at him and took action to help rescue him also. So, my participation in Officer Fanone's event no doubt helped save his life that day."
He said during that interview he showed up "in good faith" at the Capitol "to protest the election results." He claimed he felt "targeted and hated by our government and are being punished in this jail as pretrial detainees."
Newsweek reached out to Nichols' attorney for comment Monday evening but did not hear back by publication. This story will be updated with any response.