Capitol Rioter Who Brought His 10-Year-Old Son January 6 Heads to Prison
A Missoula, Montana, man who brought his 10-year-old son to the January 6 riots found out his fate Friday.
U.S. District Judge Collen Kollar-Kotelly sentenced Boyd Allen Camper to two months in prison. Camper had previously pleaded guilty in September to parading, demonstrating, or picketing in the U.S. Capitol.
In exchange for his guilty plea, prosecutors agreed to drop a number of other charges against Camper. These included knowingly entering a restricted building or grounds without lawful authority, engaging in disorderly or disruptive conduct in a restricted building or grounds, and engaging in disorderly or disruptive conduct at the U.S. Capitol.
Even with the other charges dropped, Camper was still facing a potential six months in prison and up to a $5,000 fine. However, prosecutors were content as they had only been seeking the two months in prison that he received, according to WRC-TV investigative reporter Scott MacFarlane, who live-tweeted the sentencing as it occurred.
An arrest warrant description from the U.S. Department of Justice (DOJ) goes into detail of Camper's actions on January 6.
Camper admitted that he brought his 10-year-old son with him to the riot, but that he let him stay outside with an adult friend and did not allow him to take any action.
The child was not seen on Capitol security camera footage inside the building.
What security camera footage did show, however, was a man later identified as Camper walking through a narrow entrance hallway in the Capitol.
Camper can then be seen and heard trying to usher more rioters into the building, and telling those wearing gas masks to "come forward," according to the DOJ. He was also seen on surveillance video walking through the Capitol rotunda holding what appears to be a Go-Pro personal camera on a stick.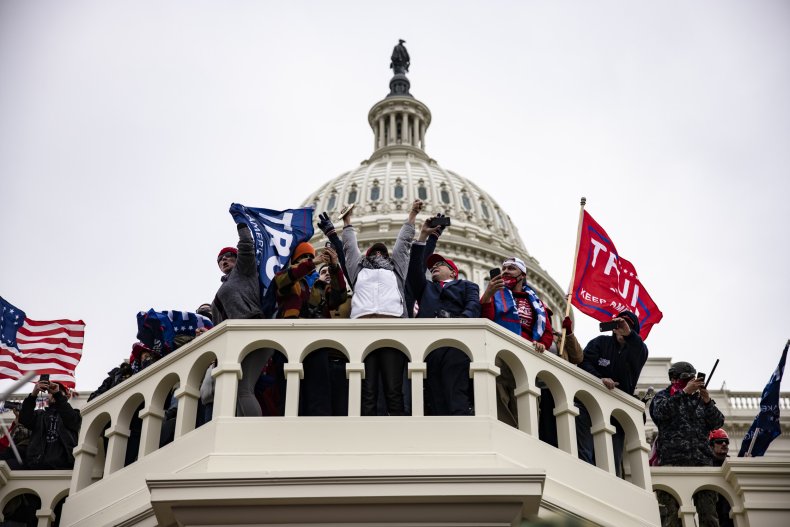 At least five anonymous witnesses told the Federal Bureau of Investigation (FBI) that they had been with or had seen Camper during the insurrection, and that he told them he wanted to make it to the top of the building.
Beyond this, Camper was later interviewed outside of the Capitol building by CBS News, and admitted that he had forced his way inside. "I was on the front line," he told CBS. "We're going to take this damn place. If you haven't heard, it's called the insurrection act and we the people are ready."
Camper was arrested by authorities at his Montana home in March.
Lawyers for Camper told the sentencing judge that he "was caught up in the emotion" and was reportedly "horrified" when he saw video footage of the riot on television. Camper added that he was trying to do what he felt was the honorable thing.
Judge Kollar-Kotelly did not buy Camper's defense, however, telling him that he would have "surely" been convicted had he not pleaded guilty and allowed the case to go to trial.
"Clearly your intent and mindset ... was to participate in this self-described insurrection" she continued.
Additionally, Kollar-Kotelly admonished Camper for bringing his son on January 6, stating that "violence is an unacceptable way to resolve political differences," and going on to say that he should teach his son about the value of American democracy.
Newsweek has reached out to the DOJ for comment.