Capitol Rioter Who Punched Cop Shared Photo of Dead Birds Named 'Joe and Kamala' on Facebook
Michael J. Lopatic Sr., a Pennsylvanian man charged with obstructive and violent behavior after allegedly punching a police officer and stealing another's body camera during the January 6 insurrection at the U.S. Capitol, reportedly posted an image of dead birds to Facebook and named them "Joe and Kamala" after the current President Joe Biden and Vice President Kamala Harris.
The 57-year-old former Marine was arrested on February 3 after a grand jury indicted him on January 29. Prosecutors accused him of grabbing a police officer by the head, repeatedly hitting him in the face and then hitting him with an uppercut punch. Prosecutors also accused Lopatic of stealing and disposing of another police officer's body camera in an attempt to hide evidence of himself and the other rioters.
Prosecutors also say that posts on Lopatic's Facebook page showed his willingness to commit political violence. In one November 4 post which served as as a "call to arms," Lopatic allegedly posted a picture of two dead birds.
In the post, he wrote, "I was out pheasant hunting today with my buddy. We play a game called head shots. I won. Two clean in air shots with full choke. Heads destroyed. No pellets in bodies. I got a rooster and a hen. I named them Joe and Kamala. True story."
He now faces up to 21.5 years in prison and a $1 million fine, according to Lancaster Online.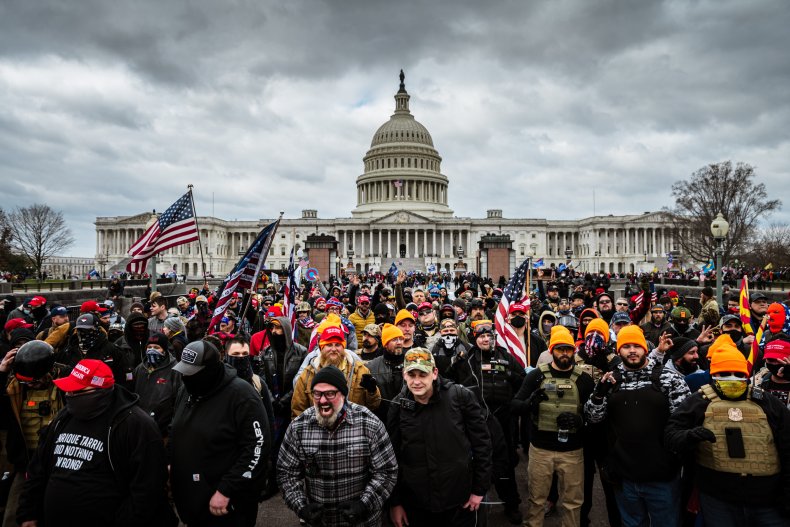 In a February 2 Facebook post, Lopatic posted another message which seemed to express a belief that Congress members deserved to be targeted by violence. The post read, "It wasn't a riot at the capital (sic) it was a Crusade against baby murderers."
Lopatic is just the latest insurrectionists to be accused of wanting to kill government officials.
In January, an FBI witness said that members of the far-right Proud Boys had hoped to assassinate then-Republican Vice President Mike Pence and Democratic Speaker of the House Nancy Pelosi during the storming of the Capitol.
Another insurrectionist, William McCall Calhoun Jr., a man who bragged about kicking down Pelosi's office door, spoke in social media posts of executing Democratic "communists" in a violent civil war. One post stated, "As part of the anti-communist counter-revolution, we've got to get serious about stopping them by force of arms."
A Reuters photojournalist has said they heard insurrectionists inside the Capitol on January 6 actively hunting for Pence with the goal of killing him for refusing to oppose Biden's election victory. At another point, rioters seized the gun of Capitol police officer Michael Fanone and encouraged its new owner to kill him with it.
Insurrectionists also shattered windows while trying to access congressional chambers, smeared feces in the hallway and stole computer equipment, potentially constituting a national security breach.
Newsweek contacted the FBI for comment.