Brandon Fellows, who participated in the Capitol riot on January 6, plans to return to Washington, D.C., to protest President-elect Joe Biden's inauguration and expects it to turn violent.
The recent violence at the Capitol sparked safety concerns about the inauguration, which is scheduled to take place as usual on January 20. Biden isn't letting the riot dissuade him from taking his oath of office outside, but additional security measures are being put in place to restrict public access.
As Washington, D.C., prepares for Biden's inauguration, law enforcement is on a manhunt to identify and locate the perpetrators of the Capitol riot. So far, Fellows, who was allegedly seen in a video smoking a joint in Senator Jeff Merkley's office, has evaded law enforcement and told Bloomberg he plans on returning to the Capital. He also predicted there would be more violence.
"Obviously Trump started a movement in a way, but I think we started something even bigger by doing this," Fellows said.
Newsweek reached out to the Capitol police for comment but did not receive a response in time for publication.
The inauguration has historically been an event that encourages public participation, but this time around, security officials are tightening the already restricted proceeding. Attendance had been limited because of the pandemic, but on Monday, Acting U.S. Capitol Police Chief Yogananda Pittman announced there would be no public access to the Capitol during Biden's inauguration. The Washington Monument will also be closed because of "credible threats" to visitors and park resources.
Pittman assumed the position of acting police chief after Chief Steven Sund resigned following criticism of the Capitol police's response to the deadly mob.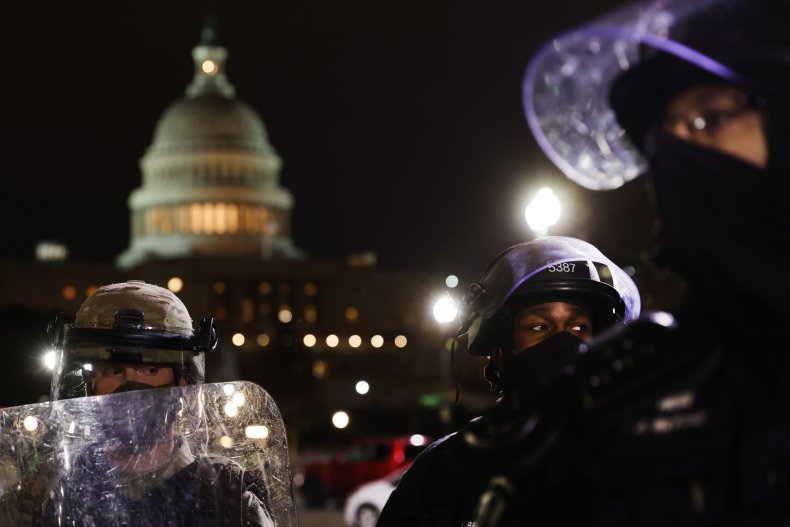 Leading up to the inauguration, National Guard soldiers and airmen from multiple states traveled to the Capital Region to support federal and district authorities. The National Guard was authorized to provide up to 15,000 members to help with the inauguration, according to General Daniel Hokanson, the chief of the National Guard bureau.
While Fellows believes the election was rigged, he told Bloomberg his main motivation for going to Washington, D.C., was anger over COVID-19 restrictions the government implemented. He called the breach of the Capitol "history" and thought there wouldn't be consequences for his actions because of the interactions he had with police officers. In a videotaped encounter, a police officer gave Fellows directions to the National Statuary Hall where there are statues that represent each state.
Law enforcement has made dozens of arrests in the wake of the riot, including the apprehension of several of the most widely recognized faces. Jake Angeli, who was seen bare-chested wearing a fur and horn hat on the dais of the Senate, Adam Johnson, who was seen carrying Speaker Nancy Pelosi's lectern and Richard Barnett, photographed sitting at Pelosi's desk, have all been arrested and face federal charges.
In a joint statement, Washington, D.C., Mayor Muriel Bowser, Maryland Governor Larry Hogan and Virginia Governor Ralph Northam called January 6 a "seminal moment in American history." Looking toward the inauguration with last week's violence as the backdrop, they encouraged people to not travel to the Capital and opt to participate virtually instead.
"In this very trying time, January 6 was a dark moment for our nation. But we know that we will get through this period because American ideals are stronger than one extreme ideology. Together, we will overcome extremism and get back to the work of our residents," the officials said.
Fellows' prediction that there would be violence at the inauguration is one that officials are taking seriously, and the FBI warned there were armed protests being planned for D.C. and all 50 state capitals, Reuters reported. The warnings were in place for next weekend through at least Inauguration Day.