Capitol Rioter 'Yankee Patriot' Who Made 143 Calls to 911 to Receive Competency Exam, Judge Orders
Capitol riot suspect Jonathan Munafo, who is also accused of making 143 threatening 911 under the moniker "Yankee Patriot," has been ordered to undergo a mental health evaluation to determine if he is sane enough to stand trial for his alleged crimes.
Munafo, of Albany, New York, is facing 10 federal charges for his alleged role in the violent storming of the Capitol on January 6. Federal authorities say that he made a series of threatening phone calls to a Calhoun County, Michigan 911 dispatcher using a remote dialing service from a North Carolina truck stop one day earlier, tying up phone lines while threatening to attack and mutilate the dispatcher for not giving in to his demands.
During an arraignment and detention hearing in Grand Rapids on Tuesday, U.S. Magistrate Judge Ray Kent ordered Munafo to undergo the mental evaluation after meeting with prosecution and defense attorneys, according to Michigan Live. Kent reportedly said that he believes Munafo may suffer from "serious mental illness," while noting that the suspect has made two suicide attempts in 2021 and has borderline personality disorder and post-traumatic stress disorder.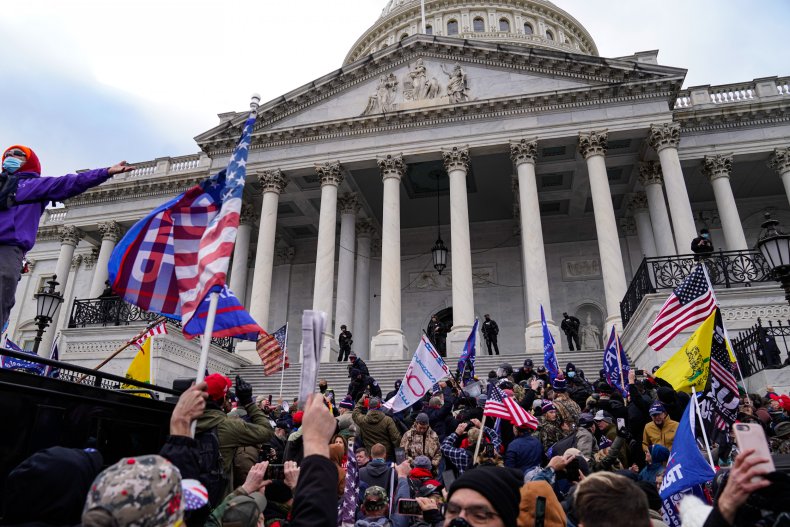 Although possible motives are unclear, Munafo allegedly singled out one Calhoun County dispatcher during his 911-dialing rampage on January 5. Munafo is said to have accurately recited the dispatcher's personal details while he threatened to violently attack her and her family in an expletive-filled rant demanding that he be connected to a deputy sheriff or sergeant.
"Put a f*cking cop on the phone now you stupid bitch, or it's going to go way worse for your family!" Munafo allegedly told the dispatcher. "Bitch, I'm gonna cut your throat. I'm gonna make you eat your f*cking nose. I'm gonna hurt you bad for this."
"It won't be today, it won't be tomorrow, it'll be f*cking soon though, you stupid c*nt," he continued. "Insurrection Act, I'm coming to your door first and it's public knowledge, you stupid, stupid bitch!"
In April, Munafo was arrested in Orlando, Florida on federal charges for his actions during the Capitol riot. Munafo's alleged actions during the riot include punching a Capitol Police officer in the face twice and attempting to break in a window at the Capitol using a flagpole.
He was charged with violent entry and disorderly conduct on Capitol grounds, forcibly assaulting, resisting, impeding or interfering with an officer of the U.S. government and knowingly entering or remaining on restricted grounds without lawful authority and while carrying a dangerous weapon.
Munafo is also accused of threatening to shoot another man at a Massachusetts rest stop in September 2020. Court documents noted that Munafo was driving a car "covered" in stickers promoting former President Donald Trump at the time. A week later, he allegedly made 21 angry phone calls about the incident to Massachusetts state police emergency line, demanding that he receive no punishment.
Defense attorney James Fisher reportedly requested that Munafo be physically present while his mental health evaluation was ordered over concerns that he would not "be receptive to hearing it from counsel." Kent denied the request.
Newsweek reached out to Fisher for comment.