D.C. Officer Michael Fanone Says Republicans 'Peddling That Bulls***' About Capitol Riots
A police officer who helped defend the U.S. Capitol during the January 6 insurrection has taken aim at GOP lawmakers for downplaying the events and said that only the actions of law-enforcement officials prevented widespread fatalities.
D.C. Metropolitan Police Officer Michael Fanone was asked on CNN what he thought might have happened if he and his fellow officers had been unable to push back rioters who were trying to force their way into an entrance in the Capitol.
Fanone said in the "best case scenario" a lot of his fellow officers would have been killed, and that if things had got really bad a huge number of people would have made their way into the Capitol.
"Judging based off the amount of violence that we experienced…I believe that violent group would have killed individuals inside of the Capitol complex," he told anchor Don Lemon, referring to the 147 Metropolitan Police Department officers who fought to defend the crucial West Terrace.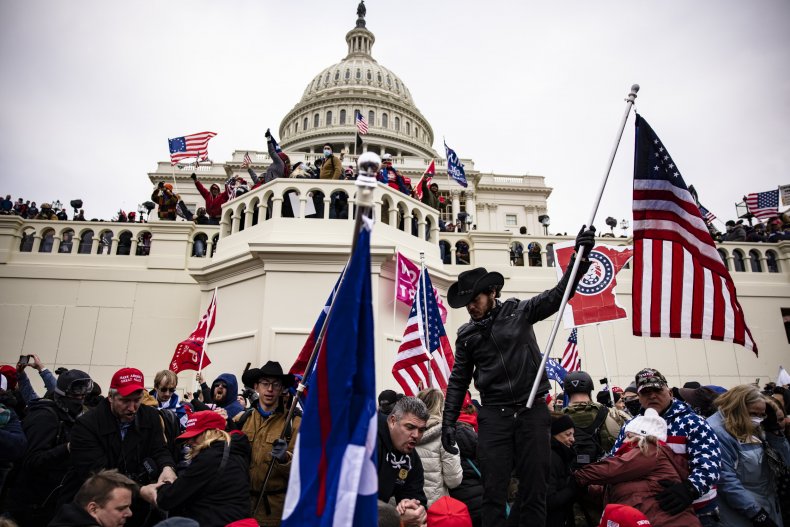 Fanone praised the "courage" and "selflessness" of the officers who in normal circumstances would have been on their way to hospital for treatment.
Instead, he said, "they were picking themselves back up, getting back into the line and fighting to protect the Capitol, protect their fellow officers—that was the most awe-inspiring scene in my life."
Former President Donald Trump was impeached for the second time over the riots, after he was charged with inciting his supporters. There were five deaths connected with the attacks, which led to criminal charges for at least 400 people.
A number of Republicans at a House Oversight and Reform Committee on Wednesday still sought to downplay the violence on January 6 and even defended Trump. Rep. Andrew Clyde (R-GA) compared the actions by the mobs to a "normal tourist visit," The Hill reported.
Fanone was angered when asked about moves by some GOP lawmakers to trivialize the events, telling CNN: "I'm not a politician, I'm not an elected official. I don't expect anybody to give two s**** about my opinions.
"But I will say this. Those are lies, and peddling that bulls*** is an assault on every officer that fought to defend the Capitol. It's disgraceful."
This week, Lemon became emotional after CNN broadcast a video of Fanone being attacked on January 6.
Newsweek has contacted the Republican National Committee and D.C. Police for comment.