Christopher Miller, the former Pentagon chief who served as acting US Defense Secretary under Republican former President Donald Trump, is expected to blame Trump for inciting the January 6 insurrection at the Capitol when Miller testifies at a Wednesday hearing about the incident.
Miller will testify at a hearing by the House Oversight Committee entitled "The Capitol Insurrection: Unexplained Delays and Unanswered Questions." The committee has said that it wants to examine the Executive Branch and District agencies' preparations for and responses to the insurrection.
In early March, Miller said that the insurrection occurred because of Trump's "Stop the Steal" rally and speech held beforehand. At the rally, Trump continued to baselessly claim that an unprecedented nationwide "criminal enterprise" of voter fraud "stole" the presidential election from him.
"If you don't fight like hell," Trump told the rally crowd, "you're not going to have a country anymore."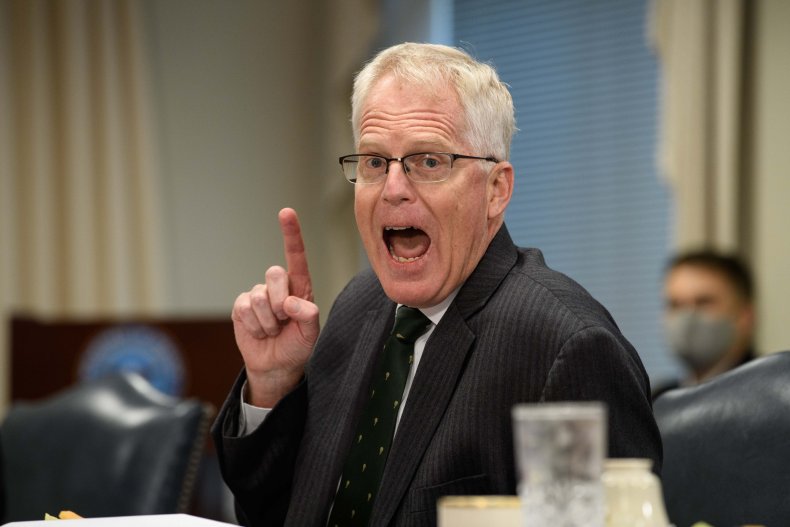 Blaming Trump for the riot that followed, Miller told VICE in mid-March, "Would anybody have marched on the Capitol, and tried to overrun the Capitol, without the president's speech? I think it's pretty much definitive that wouldn't have happened."
Miller said he wasn't sure whether Trump knew that his speech would incite an insurrection. But Miller said that Trump's speech still incited it nonetheless.
After the insurrection, Miller faced criticism for deploying the National Guard several hours after Capitol police requested their assistance to help quell the insurrection.
Miller has called the deployment "normal by military standards." Guard members were scattered around the city, had to get equipment and receive information on their new mission before responding, the Associated Press reported. On January 15, Miller announced a Department of Defense (DoD) investigation into his department's response.
The other witnesses for Wednesday's House hearing include Trump's former acting Attorney General Jeffrey Rosen and Metropolitan Police Department Chief Robert Contee III. The hearing will also discuss the possibility of creating a commission to investigate the events surrounding the insurrection, Axios reported.
Trump appointed Miller to lead the DoD on January 9 after firing then-DoD head Mark Esper. The firing occurred 11 days before Trump's final day in office.
At the time, Democratic House Speaker Nancy Pelosi of California called Esper's sudden firing "disturbing evidence" that Trump is now "intent on using his final days in office to sow chaos in our American Democracy and around the world."
"Again and again, Trump's recklessness endangers our national security," Pelosi continued. "It is disturbing and dangerous that, at this precarious moment, our military will now be led by an official who has not been confirmed for this position by the Senate."
Newsweek contacted the committee for comment.