Capitol Riots Were a 'Breakdown in Risk Intelligence', Obama-era Secret Service Agent Says
A former Secret Service agent has said he is "stunned" at law enforcement officials' claims that there was no reason to expect an attempt to breach the U.S. Capitol ahead of Wednesday's riot, as he criticized intelligence failures and a lack of preparedness.
Jonathan Wackrow, a security expert who served in the presidential protection division during Barack Obama's presidency, told CNN that building was stormed due to a "breakdown in risk intelligence planning."
With threats of violence brewing on social media for days before the protest in which it was known that right-wing extremists would be turning up, there has been outrage at how demonstrators managed to breach the Capitol.
Anchor Jake Tapper asked Wackrow to respond to assertions by Homeland Security and D.C. police that there was no intelligence suggesting there would be violence.
"I am literally stunned. My junior analysts had been looking at this for weeks. So, trained law enforcement professionals and intelligence professionals missed it? No way. I don't buy it," Wackrow said.
"I mean, this was a huge miss. And, again, it speaks to the governance and oversight of the law enforcement entity that's protecting the Capitol, the Capitol Police," he added.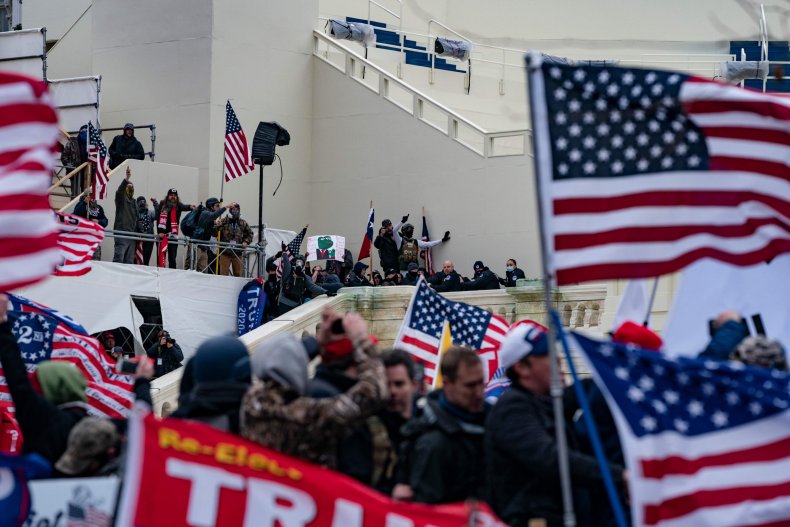 His remarks follow D.C. Police Chief Robert Contee's comments that there was "no intelligence that suggested there would be a breach of the U.S. Capitol."
However, Wackrow said police "were basically overwhelmed," and that he believed a lack of understanding of the vulnerabilities of the Capitol building contributed to the chaos.
"A lot of people try to associate the Capitol with the White House in terms of the level of physical security. They're actually very different. And just by looking at it, there are no fences around the Capitol Building, as opposed to the White House," he said.
"This is not about the individual officers. This is about the entity and the structure itself of the institution of the Capitol Police."
The head of the U.S. Capitol police Steve Sund and two other senior security officials have resigned amid the criticism of law enforcement's response.
In a lengthy thread on Saturday, Representative Tim Ryan (D-OH), who as chair of the House Appropriations subcommittee, oversees the Capitol Police, tweeted that the resignations were an "important step to fully uncover the failures of this event & re-establish trust in the security on Cap. Hill."
"There was an epic failure of intelligence/preparation among leadership in the department," he said.
While he praised the majority of DC officers who "put their lives on the line," he said that "for the entire U.S. Congress, including key figures in the line of succession, to be left so vulnerable to violent insurrectionists is a failure. Plain and simple.
"It's unacceptable, and can never be allowed to happen again," Ryan said.
Police officer Brian Sicknick was among the five people who died in the unrest.