Car Goes Airborne, Driver Ejected in 'Surreal' Brooklyn Bridge Crash: NYPD
A driver was left in critical condition following a "surreal" car crash on New York City's Brooklyn Bridge on Saturday afternoon.
The crash occurred around 3 p.m., according to the New York City Police Department (NYPD), involving multiple cars and closing eastbound lanes for hours. One man, 30, was left in critical condition after being violently ejected from his vehicle. He was taken to Bellevue Hospital for treatment. Six others suffered minor injuries and were treated on the scene, according to NBC New York.
The exact cause of the pileup remains unknown at this time and the investigation into it is ongoing.
Witnesses to the crash itself described it as "surreal," with one vehicle reportedly becoming airborne.
"I saw a car on its roof. Other cars, their roofs were smashed," Brooklyn resident Alex Rostocki told NBC New York. "It looked like one of the cars had become airborne."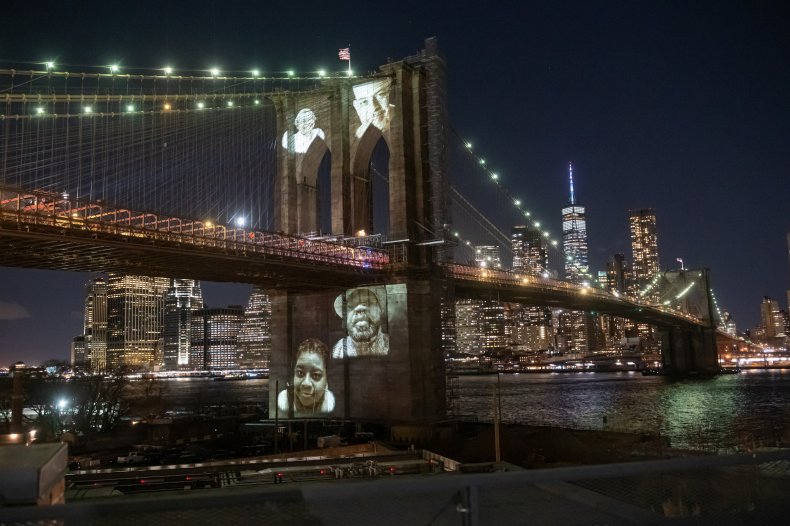 With multiple lanes of the Brooklyn Bridge closed, traffic heading out of Manhattan slowed to a standstill for hours as police handled the scene. Drivers waiting to cross into Brooklyn could be seen getting out of their cars and walking around. NBC New York reported that traffic began moving steadily again at around 8 p.m.
"It was the most horrific thing I've ever seen," one unnamed tourist from Washington, D.C., told the New York Post. "It was a pretty surreal scene. People were just wandering around. There were bodies lying in the street."
The Post captured several photos from the aftermath. In them, a black Kia model can be seen on its side and a black van of some kind appears completely totaled with its roof crumpled down.
When reached for comment by Newsweek, the NYPD on Sunday said that the critically injured man had been "operating a 2021 Jeep at a high rate of speed," but could not definitively confirm the cause of the crash. They also reported that the man remains in critical, but stable condition.
A similarly chaotic multi-vehicle crash played out last week, not far from Brooklyn in Paramus, New Jersey. On March 25, a truck hauling a horse trailer collided with a Jeep that had slowed down in the face of traffic, causing a chain reaction that ultimately resulted in a five-car pileup.
The incident saw a human corpse ejected from a vehicle. A Honda Odyssey had been hauling a body wrapped in a sheet on a stretcher to a nearby funeral home. The corpse was undamaged and was later picked up by another vehicle, finishing its journey.
Earlier this week, a pileup on a Pennsylvania highway involving at least 80 vehicles resulted in six deaths and dozens of injuries.
This story was updated on 4/3/22 at 4:01 p.m. to include a comment from the NYPD.