Previously: The Eleanor Friedberger Guide to the Hudson Valley
Will Toledo, the soft-spoken 23-year-old songwriter behind Car Seat Headrest, is riding to band practice and yelling at the radio.
We're driving around Seattle in a rickety blue van, drums bouncing in the back. Up front, bandmates Andrew Katz (drums) and Ethan Ives (bass) debate whether the band's house show is going to be busted by the police. R.E.M.'s 1984 single "(Don't Go Back To) Rockville" blares on the local station. The DJ goes on a tangent about R.E.M.'s cover of Archie Bell & the Drells' "Tighten Up," which he claims originally appeared on the album Reckoning.
"That's bullshit," Toledo retorts. He's right. Not that it's a surprise Toledo has memorized the all-American indie-rock canon. It's embedded in his music, self-deprecating songs with lo-fi melodies that capture the anxiety of bad drug trips and post-collegiate misery. ("You have no right to be depressed!" Toledo sings mockingly in "Fill in the Blank.") After putting a dozen home-recorded albums on BandCamp during his college years, Toledo moved to Seattle and landed a record deal.
Car Seat Headrest's new release, Teens of Denial, has already gotten rapturous reviews, but success hasn't changed the band's grungy northwest lifestyle. Toledo told us about his favorite Seattle haunts as we made our way to the band's dungeon-like practice space in Capitol Hill.
Rancho Bravo Tacos: "We've been coming here fairly regularly since we started practicing around here. We usually walk from the practice space. It's just a funny restaurant. Until recently, there wasn't even a sign on it—you just had to know where it was. It's always been weird to me that they have these nice flat-screen TVs, but everything else is so beat up about it."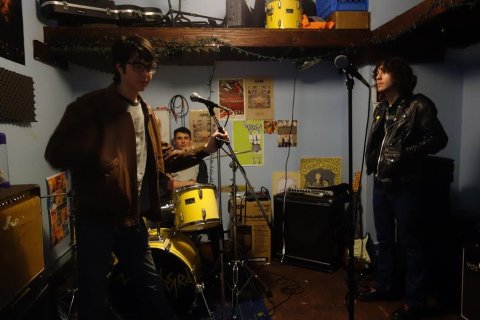 Band practice space: "It's kind of subterranean. You go down this long, rickety set of stairs before you get to the practice rooms. There's kind of a punk aesthetic going on. The bathroom is just two stalls and a sink that didn't have any soap for a year. Sometimes it floods during—is it the rainy season? The winter? I think the rooms are raised a little bit so the water doesn't go in there, because it does flood semi-regularly."
Ground Zero (in Bellevue): "For live music, my favorite place to go is Ground Zero in Bellevue, which usually holds smaller concerts and hosts a lot of teen bands. During the day it doubles as a teen center or youth center. There's a lot of very young bands. You get a lot of variety in quality and style night-to-night. We had our first couple of shows there because it's pretty easy to get a gig there."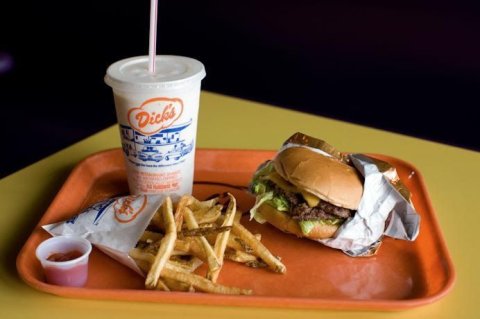 Dick's Drive-In: "Typically after a show we'll go to Dick's. It's a burger drive-in joint. I think it's Seattle-only—it's pretty ubiquitous in Seattle—but they have really good burgers for cheap. And they're open until 2 a.m., so it's a good stop when it's after a show and it's past midnight."
The Future: "I saw some of my first shows in Seattle here. It's a house venue. We played a basement show. It was before [2015 album] Teens of Style came out, and I feel like that was our first Seattle show that a lot of people came to. That was probably one of our better house show experiences."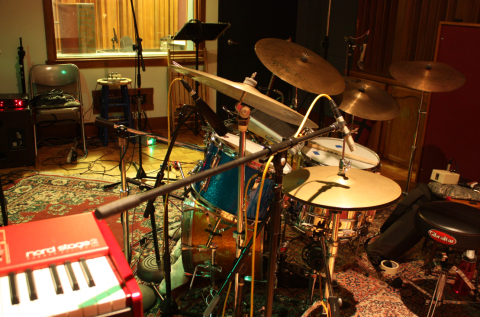 Soundhouse Recording Studios: "For the new album, we had to re-record a song at the last minute—I think that was in February—and we went back to Soundhouse to record it. It's a good spot. It's [managed] by Jack Endino. It's behind another house, so you can get work done and not be bothered by anybody, which is nice. It's literally just the main recording room, like, a side room, and then the production booth. That's it. That's what suits our needs."
Will's house (in Kirkland): "It's a pretty old home, probably three generations old. It's pretty small. There's not a lot of modern conveniences. When I moved in, we had to add a washer and dryer. It keeps cool in the summer when we keep the blinds shut. Doesn't get too cold in the winters. Well, it gets pretty cold in the winters. The first year I was here, I didn't really have enough money to use the furnace as much as I would like to so it was a pretty cold winter. It's a little more decrepit than I prefer in a home space. A lot of spiders hanging about. But I kind of got used to them, and they don't really do anything to you if you leave them alone. And they eat other insects…"