Reddit users shared their frustration upon seeing a photo on the forum "Mildly Infuriating" that showed a car parked across three accessible parking spaces.
"This a**hole's parking," read the title of u/Brutal_Expectations' post, which amassed nearly 50,000 votes since it was shared on Friday. "Needless to say there was no 'disabled' sticker on the car."
Redditor u/Brutal_Expectations noted that they took the photo in Israel.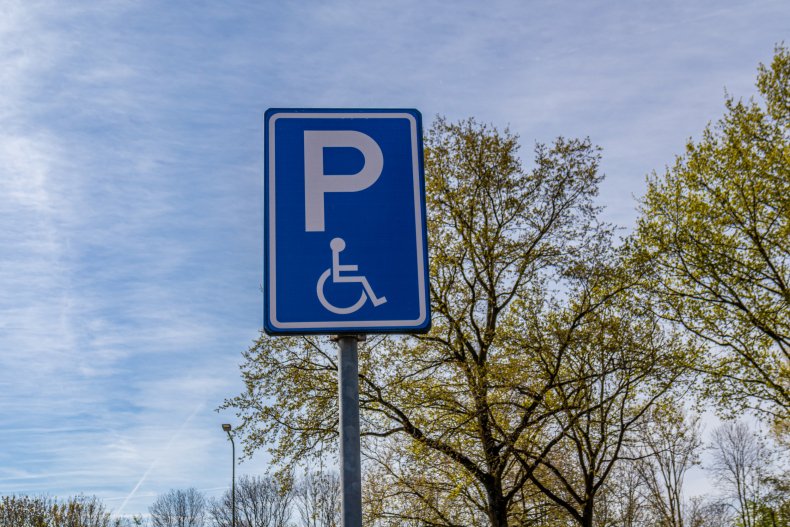 According to Israel's National Insurance Institute, permits are granted to people with disabilities to park in accessible parking spaces.
Nefesh B'Nefesh reported that the parking card must be seen on the left side of the car in either the front window or on the side window near the front of the car.
The card can only be used by a person with a disability, who must either be driving the car or riding in the car with a different driver.
If someone uses the card when the person granted the permit is not in the car, they may face a $3,796 USD fine.
The photo showed a car parked nearly horizontally across three parking spaces.
Each space displayed a sign that indicated it was a designated accessible parking space.
Redditor u/Brutal_Expectations wrote to Newsweek that while they were tempted, they did not report the car to the police because they were out with their family at the time.
"I see a lot of irresponsible parking, but not a lot of it happening in the disabled parking spots," they said. "This bad though? First time I saw something like this."
Fellow Reddit users were just as angered by the photo as u/Brutal_Expectations and took to the comments section to share their thoughts.
"Triple parking in handicapped, triple the fine," a Reddit user wrote.
"I hope it gets expensive," another comment read.
One Reddit user wrote, "100 percent getting blocked in. Play with me."
"What motivates this behavior? I don't know what goes through these people's minds, and I don't know if I want to find out," a comment read.
A Redditor suggested calling the police department's non-emergency number to inform them of a car parked illegally.
"Shocked on how often police will drive on quickly by after hearing that due to the cost of the ticket it will be," they wrote.
One commenter who said they work for a police department's dispatch center said they enjoy receiving these types of calls, and officers enjoy responding to them.
"If someone is so petty as to do something like this? They absolutely deserve the pettiness that is a ticket for parking in a handicap and triple parking," they said.
Some said that it is common to find cars parked in accessible parking spaces without a sticker.
"Sadly, you'd be surprised the amount of people doing this," a Redditor said. "We literally have this issue on a near daily basis where I work."
Newsweek reached out to u/Brutal_Expectations for comment.
Other posts have previously gone viral on the "Mildly Infuriating" forum.
Commenters were divided over a teacher's bathroom policy, while a landlord faced criticism for the "Home Guidelines" they shared with a tenant.
One man said his roommate's girlfriend refused to formally meet him despite coming to the house almost every day.
Updated 09/19/2022, 11:58 p.m. ET: This story has been updated with comments from Redditor u/Brutal_Expectations.