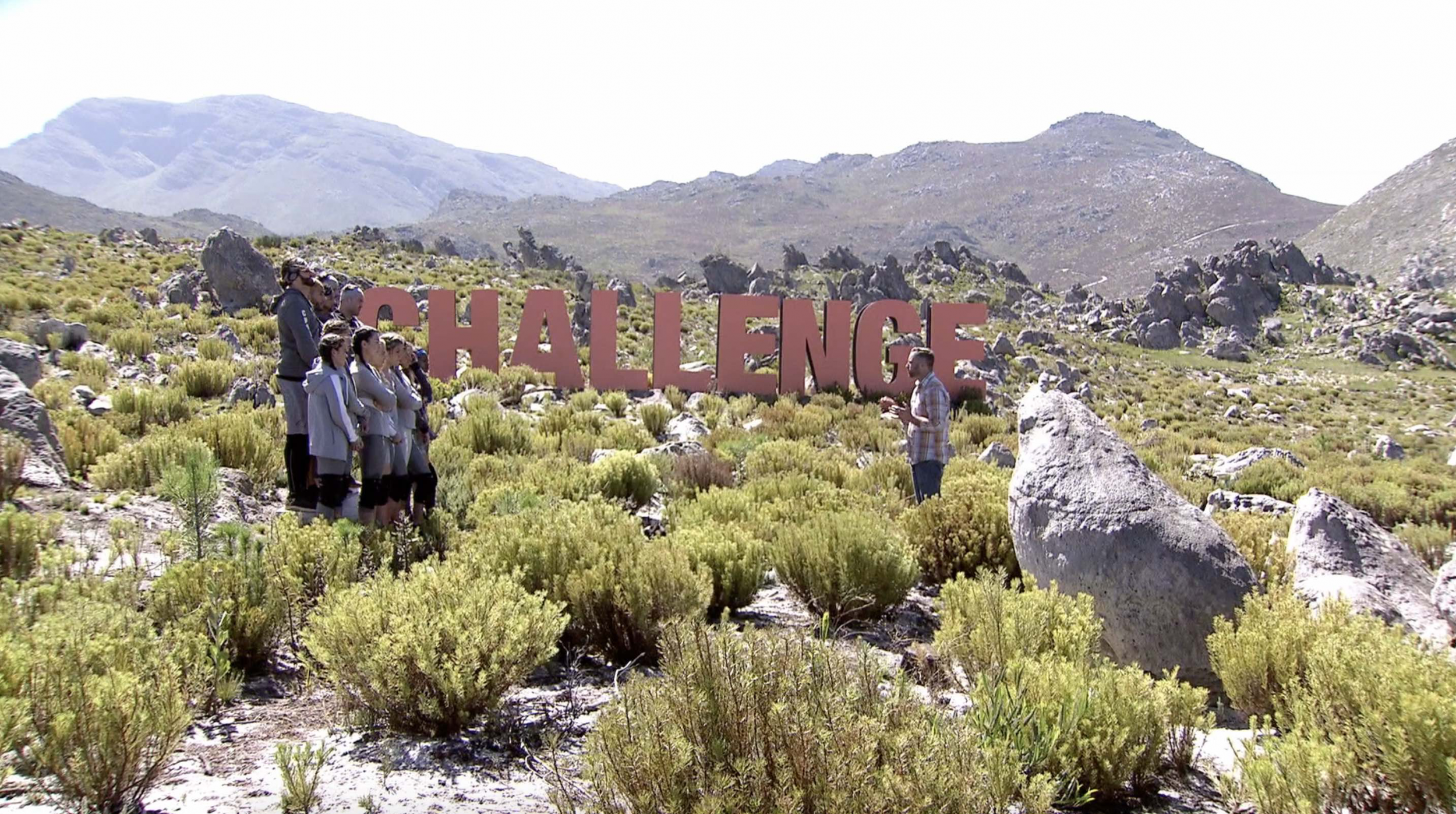 In The Challenge: Final Reckoning, the players have to work with their enemy to win $1 million, and it all started with half of the team digging up their partner in the Season 32 premiere on Tuesday. While multiple teams were eliminated before they even made it to the house they'd be staying in, that didn't mean those players were out of the game.
The two teams that dug up their partners last were eliminated on the spot: Britni Thornton and Chuck Mowery, exes from MTV's Are You The One? in 2015, and Jenna Compono and Jemmye Carroll. Jemmye used a Double Cross to send Jenna into elimination against Kailah Casillas, her best friend in the house during The Challenge: Dirty XXX in 2017.
Since Zach Nichols dug up rival Amanda Garcia first, they had power as the winning team: choosing one more team to go home. They chose Jozea Flores and Da'Vonne Rogers—he said she was behind his eviction from Big Brother in 2016—because it would "cause the least resistance" for them.
As the eliminated players soon learned, there is a redemption house. Unlike previous seasons, where everyone could get back into the game, this time, it was "more competitive." "Not everybody is going to get a chance to get back into the game, so you're going to have to really dig deep," host T.J. Lavin informed them once the six players entered the house. "Information is key. If you pay attention here, you can learn a lot about what's going on in the game."
The Challenge veteran and three-time winner Cara Maria Sorbello wasn't surprised by the redemption house. "You don't just bring out a bunch of people to South Africa, a bunch of teams that are going to butt heads and are integrated into this crazy story in our world and just be like, 'Oh, yeah, you guys are going straight home,'" she told Newsweek Monday.
That doesn't mean she likes the redemption house. "It's annoying. If you're gone, go home," she said, adding it would "keep things interesting" since "there's a little twist" that "definitely ups the game."
That's not the only surprise this season. "This is legitimately the most insane season I have ever been on," Cara Maria shared. "You think you know what's happening but there are twists within the twists within the twists. T.J. always has something up his sleeve. … The way that things played out and the way that stories come together between people and relationships and the way that karma comes back, you can't write what this season will bring you."
Things got intense the first night in the house, as an argument that turned physical led to two players going home. After The Challenge: Vendettas earlier this year, Kayleigh Morris and Melissa Reeves had said that Kailah hooked up with Tony Raines. Kailah and Melissa brawled in the Final Reckoning house and T.J. sent them home for their unacceptable behavior.
As someone with 12 seasons of The Challenge under her belt, Cara Maria found the fight disappointing and frustrating because "it's $1 million on the line." Even if someone was "literally a centimeter from my face … telling me, 'I hope you die,'" she wouldn't do anything.
Cara Maria was also frustrated and disappointed because it meant not getting to see more of Melissa. "She's a little fighter," she explained. "She's fun to watch in the house. She gets naked, I love looking at her naked, she makes out with people, she's pretty, and I think she's going to be great at Challenges."
She was also "rooting for [Kailah] to be better." She added: "It's a waste of two really pretty faces."
The teams hadn't started competing yet, but the premiere showed Season 32 is going to be a challenge. When the competitions begin, the feuds might get worse.
"People are serious rivals and they hate each other—and hate each other to an extent that will change the game," Cara Maria teased, adding that fans will see that hate be "so strong that it can change everything."
There are two alliances in the house, with each person on a team part of a different one. "When it comes time for decision making, there's going to be some serious head-butting," she said.
The Challenge: Final Reckoning airs Tuesdays at 9 p.m. on MTV.