Cardi B 'Big Paper' Lyrics As Diss-Filled Tracks Prompts Wave of Memes
Cardi B has featured in her second track of 2021, a DJ Khaled production called "Big Paper," and it has caused a stir on social media Friday.
In the A-list-filled "Khaled Khaled" album, rapper Cardi B has reunited with the producer for another track with the central message being: "I get big paper, so I deal with big haters."
The song is a fast-paced expletive-laden track that shows the darker side of the performer, whose real name is Belcalis Marlenis Almánzar.
Cardi B reportedly submitted her lyrics just in time to be included in the album.
In a video posted by DJ Khaled to Instagram, the producer is seen being informed that Cardi is taking part in his project and he reacts by excitedly jumping in a swimming pool.
"CARDI B VOCALS IS IN!!" he captioned the clip.
Announcing her participation on Twitter, the 28-year-old "WAP" hitmaker tweeted: "Thank you guys on the support for BIG PAPER. Make sure ya check out @djkhaled album. I just finish listening and I love all the good vibes on the album. Different type of songs with different type of moods."
Fans have been reacting to the track with many commenting how Cardi B "snapped" in her lyrics.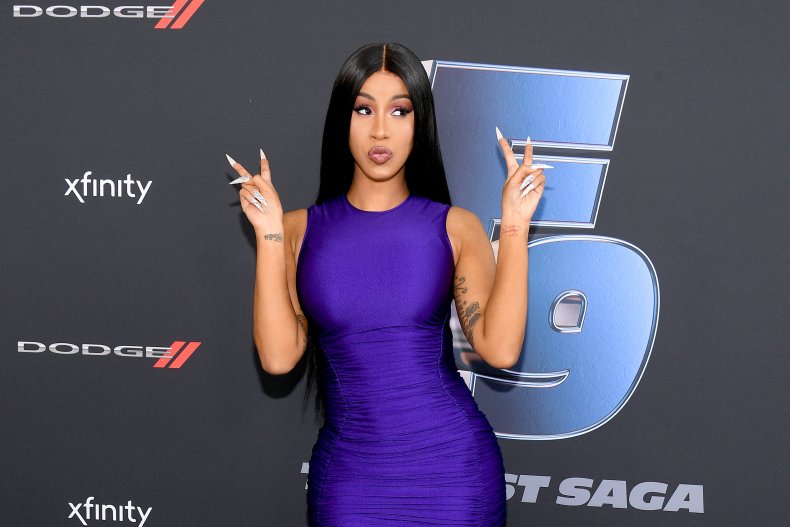 "I son b******, move Kulture out thе car seat," she raps in one line, referencing her daughter which has gotten a big reaction from fans on Twitter.
"Okay Cardi B talk yo s*** then sheesh," reads one tweet.
While another person added: "Damn Cardi B high key snapped on that new Khaled Khaled album! Sheeeeeesh."
"Now why cardi b serve on big paper like this ! Cardi Is HERE TO STAY !!!"
"WAIT WHY DID CARDI SNAP ON BIG PAPER" asked another.
The star-studded album, released on Friday, also features JAY-Z, Megan Thee Stallion, Nas, Drake, Post Malone, 21 Savage, Justin Timberlake, Lil Wayne, Justin Bieber, Lil Baby, DaBaby, Migos, H.E.R., Roddy Ricch, and Puff Daddy.
Cardi and DJ Khaled previously worked together on "Dinero," Jennifer Lopez's 2018 hit, as well as Khaled's "Wish Wish" in 2019.
Cardi B released her first track of the year "Up" in February.
"Up" was an immediate hit, garnering millions of views on YouTube within the first few hours of its release. It has since gone on to inspire a viral TikTok dance.