Cardi B's 'Up' Storms YouTube As Music Video Watched 2 Million Times in 5 Hours
Cardi B has released her brand new single "Up," and it has already garnered millions of views on YouTube.
The new highly anticipated video was directed by Tanu Muino and is the follow-up to the hugely successful and controversial "WAP."
The song dropped on streaming platforms on Friday morning but the video—which is steeped in 90s-style music video visuals—had already reached more than 2.1 million views on YouTube at the time of publishing, just five hours after it dropped.
The rapper, whose real name is Belcalis Marlenis Almánzar, has said the track is inspired by the Chicago drill scene.
"I was young, and I liked that and everything, so my mixtape was very all about gangster violence," she said in a new interview with Zane Lowe on Apple Music. "If it's up, then it's stuck, and that's where I wanted to take it with this record."
Quoting the song's chorus, she said: "If it's up, then it's stuck, and that's where I wanted to take it with this record."
The central phrase of the chorus "If it's up then it's stuck" is slang that refers to having unsettled beef with someone.
Per Urban Dictionary: "There is an issue with someone/ somebody and it's gonna stay that way until the beef is settled."
Cardi also revealed that she's recorded 50 songs for her new album, but she's "still not satisfied" with the final product.
"I just need to stop with the fear," she said. "Like, music is in a different stage right now. Because I don't even be knowing what should be, like, the base of my album sometimes. I'll be like, 'Should most of my songs be freaky songs? Most of my songs should be about tricking?' I've got my sensitive songs and stuff, and it's just like, 'Are they enough?'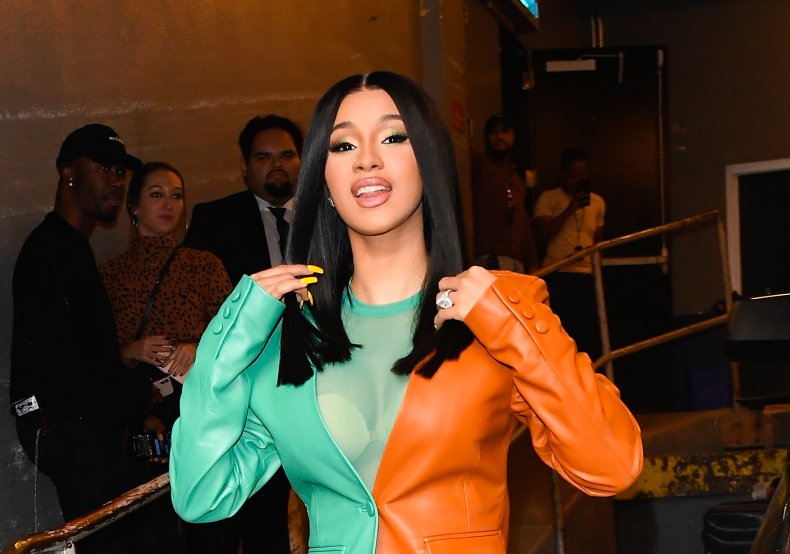 "I just feel like I'm just not satisfied anymore, because it's like the expectations are so high," she continued.
The 28-year-old spoke about expectations and restrictions she is facing amid the ongoing coronavirus pandemic.
"It's like, you want to go on tour after you drop your album and everything, and then it's like that's another thing," the rapper said.
"You're hearing different types of dates. When it is open in 2022, everybody's going to want to tour, so you've got to wait for your slot. It's like, 'I don't want it to be almost nine, eight months when it's my slot.'
"You've got to compete with arenas of basketball players, like that, the sports and other artists that are going to go on tour. It's just a lot."
Last month, Cardi made headlines when she joked that she was due to perform "WAP" at the inauguration of Joe Biden.