Cardi B Jokes She Was Supposed To Perform 'WAP' At Joe Biden Inauguration
Cardi B has joked that she was meant to perform "WAP" at Joe Biden's inauguration.
In what would have been a "wet a** performance" the rapper went viral for her joke, painting a hilarious image of the sexually explicit hit being sung at such a stoic and historical event.
"Ugh I was supposed to perform wap at the inauguration today but I had a dentist appointment ....maybe next time," she joked.
The joke quickly went viral, garnering almost 75,000 likes at the time of publishing.
Yesterday's ceremony saw Lady Gaga, Jennifer Lopez and Garth Brooks perform during the ceremony itself with the "Chromatica" hitmaker singing the national anthem.
Acts like Bruce Springsteen, Jon Bon Jovi, Katy Perry and John Legend performed during the following Celebrating America inaugural ball.
The rapper, whose real name is Belcalis Marlenis Almánzar—has been a vocally staunch Democrat throughout 2020 and participated in Biden campaign promotion.
In August, the 28-year-old took part in a Zoom interview for Elle with the then-presidential candidate.
During their conversation, Cardi spoke about issues her fans want to be resolved during the next presidential term, such as free college and Medicare.
Similarly, Cardi has shown her support for Bernie Sanders—who stole the show with his mittens at yesterday's ceremony—who she interviewed twice previously.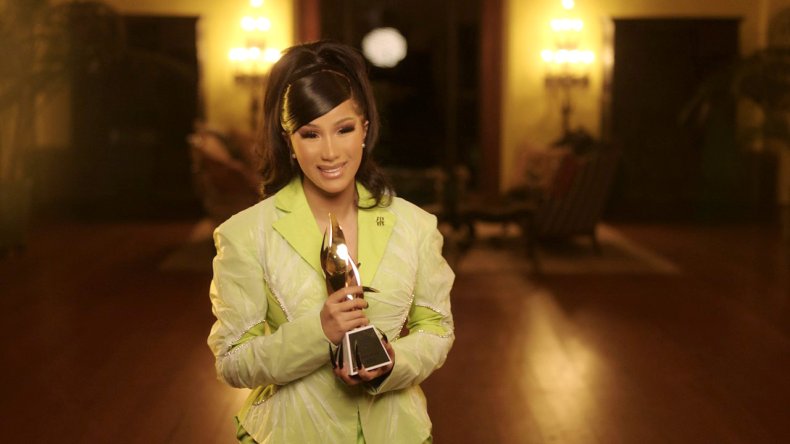 The song "WAP" which Cardi collaborated with rapper Megan Thee Stallion on, caused a huge ruckus and moral outrage when it was released in the summer of 2020.
Standing for "Wet A** P****" the song's explicit lyrics about sexual pleasure was heavily criticized by numerous conservatives.
Conservative pundit Ben Shapiro was outraged by the song, expressing concern for the performers' health and Fox News' Tucker Carlson launched a tirade against the track on his, asking what the lyrics are "doing to our kids?"
"That's garbage," he said. "You don't need to be a puritan to think so. It's garbage. It's aimed at young American girls—maybe your girls, your granddaughters, and what is it doing to them? Can you imagine what it's doing to them?"
Cardi responded to critics in an interview with I-D at the time.
"I always encourage people to be confident, especially when it comes to your sexuality," she said. "Some of these men are uncomfortable, they're not even comfortable being sensual.
"Maybe you're conservative, but everybody got a little freak inside them, you know?" she added. "Every single person," she concluded. "Everybody gets horny, everybody gets a little tingle down there, you know what I'm saying. Just embrace it. Don't be scared about it."