The inauguration of Joe Biden as the 46th President of the United States and its subsequent celebration concert may not have had a full audience due to COVID-19 restrictions, but that did not stop some of the biggest stars from performing in support of Biden and his Vice President Kamala Harris.
Lady Gaga and Jennifer Lopez performed during the ceremony itself, while acts like Bruce Springsteen, Jon Bon Jovi, Katy Perry and John Legend performed during the Tom Hanks-hosted Celebrating America inaugural ball that followed.
Throughout his presidential campaign, Biden has spoken about uniting America, and his inauguration saw him manage to reunite iconic '90s one-hit wonders New Radicals to perform "You Get What You Give," a song that has a special place in the heart of both Biden and the Second Gentleman, Harris' husband Doug Emhoff.
All the inauguration day 2021 performances
Lady Gaga - "The Star-Spangled Banner"
The U.S. national anthem has been sung by any number of singers in the past brave enough to tackle the famously difficult song, with Beyoncé, Fergie and Whitney Houston (whose version was a top 20 hit) among the most famous (and infamous) versions. Now, Lady Gaga has added herself to that list.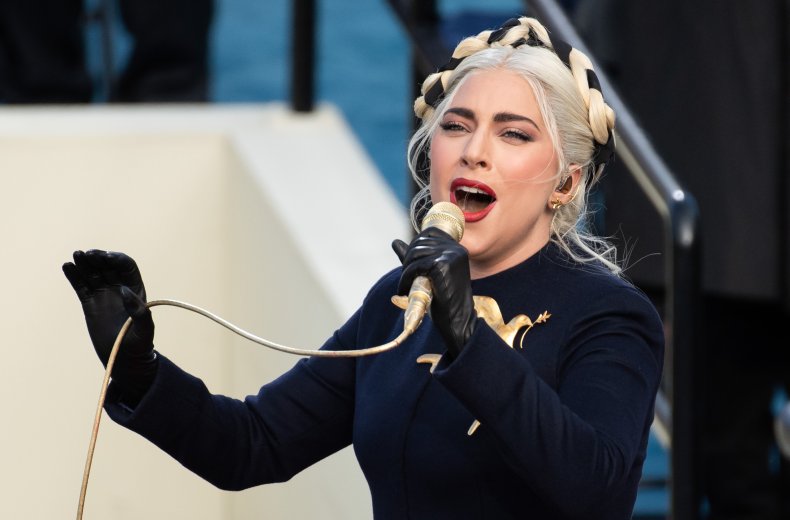 Jennifer Lopez - "This Land Is Your Land" and "America the Beautiful"
Just under a year after delivering one of the all-time great Super Bowl half-time performances, J.Lo was back on the world stage. Though it was a more low-key performance (no acrobatic pole-dancing here), she did manage to slip in a reference to her song "Let's Get Loud."
Garth Brooks - "Amazing Grace"
Despite a largely conservative fanbase, and Brooks joking that he might be the only Republican at the ceremony, the country superstar still answered Biden's call for bipartisan unity by performing at the inauguration.
Amanda Gorman - "The Hill We Climb"
National Youth Poet Laureate Amanda Gorman became the youngest ever inaugural poet (at 22) when she took to the stage to perform her poem "The Hill We Climb."
New Radicals - "You Get What You Give"
The 1998 hit had previously been used by Emhoff at campaign rallies, while Biden has called it his family's "rallying theme song" during his son's Beau's illness. The band, however, had not performed it for 22 years until deciding to reunite to honor Beau Biden and the Biden administration.
Bruce Springsteen - "Land of Hope and Dreams"
No Democratic inauguration would be complete without The Boss, and Springsteen kicked off the Celebrating America special with "Land of Hope and Dreams," a song that had previously been used in John Kerry's unsuccessful Presidential campaign and played after Barack Obama's farewell address.
Jon Bon Jovi - "Here Comes the Sun"
Celebrating America tried to do just that, with the all-star cast introduced by a roster of everyday heroes. Jon Bon Jovi's acoustic cover of the Beatles track, for example, was introduced by UPS deliveryman Anthony Gaskin.
Yo-Yo Ma
Amidst the pop performances were the world-famous cellist, who performed a solo including elements of "Amazing Grace," Dvořák's 9th symphony and the Shaker song "Simple Gifts."
Ant Clemons and Justin Timberlake - "Better Days"
Performing from Memphis, Tennessee was rapper Ant Clemons and Justin Timberlake with the newest song performed at the inauguration.
Foo Fighters - "Times Like These"
After being introduced by elementary school teacher Mackenzie Adams, Dave Grohl paid his own tribute to teachers before launching into "Times Like These."
Broadway stars - "Seasons of Love" and "Let the Sun Shine In"
Performing from their homes, a cast of TV, film and Broadway stars including Rosie Perez, BD Wong, Audra McDonald, Wayne Brady, Vanessa Williams, Grey's Anatomy star Chandra Wilson, RuPaul's Drag Race alum Peppermint and Hamilton star Renée Elise Goldsberry performed songs from Rent and Hair.
Lin-Manuel Miranda - "The Cure at Troy"
Speaking of Hamilton, Lin-Manuel Miranda performed a version of poet Seamus Heaney's "The Cure at Troy," a favorite of Biden's.
John Legend - "Feeling Good"
John Legend performed the Nina Simone standard following one of Harris' first speeches as Vice President.
Tyler Hubbard and Tim McGraw - "Undivided"
Florida Georgia Line's Tyler Hubbard and Tim McGraw united in Nashville for "Undivided," a song pleading for an end to the divisiveness of American political discourse. They were introduced by Sandra Lindsay, the nurse who was the first U.S. citizen to receive the Pfizer COVID-19 vaccine.
Demi Lovato - "Lovely Day"
Nearly a year after the death of Bill Withers, Demi Lovato paid tribute to him and to frontline healthcare workers with her version on the 1977 classic.
Katy Perry - "Firework"
Ending the night was Katy Perry, whose "Firework" signaled the launch of...you guessed it...fireworks over the Washington Monument.