Inauguration Day Isn't the First Time Jennifer Lopez Used 'Let's Get Loud' to Get Political
Some Americans were shocked to hear Jennifer Lopez insert one of her own songs into her inauguration performance on Wednesday, but it isn't totally surprising given her history. J. Lo used the song "Let's Get Loud" to make political statements before, and President Joe Biden's welcome wasn't much different.
Reactions were mixed when Lopez added the simple, lyrical line "Let's get loud" to her rendition of "America the Beautiful." Lopez used the song, which was released in 1999, to speak for her Black Lives Matter and immigration views, making it a politician charm of sorts in places Lopez hopes to see change.
When Lopez first used "Let's Get Loud" a year ago during the 2020 Super Bowl Halftime Show, it wasn't surprising: The song is one of her biggest hits. But she also introduced the dance track while children were pictured in cages while wearing American flag sweaters—a reference to Immigration and Customs Enforcement (ICE) detainment centers.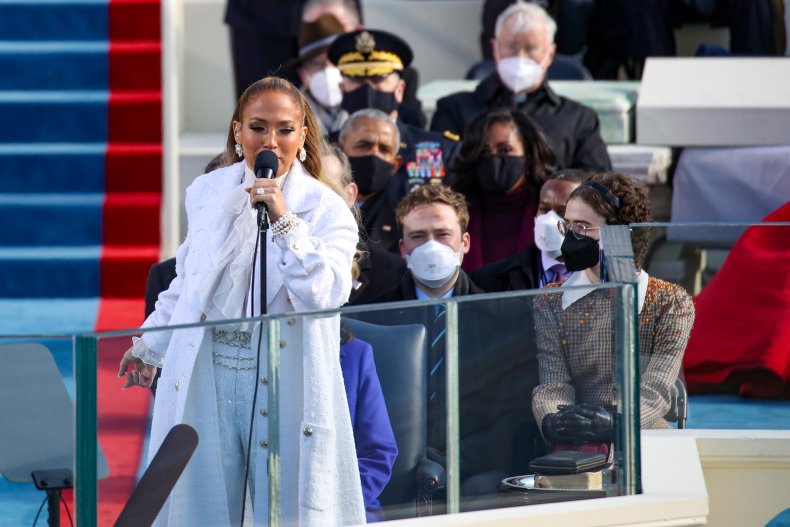 Lopez used the same lyrics when she and Alex Rodriguez marched in a Black Lives Matter protest in June. Rodriguez carried a sign that said: "Let's Get Loud for Black Lives Matter."
So, given the use of "Let's Get Loud" in her political statements this past year, Lopez's inserting a quick snippet of the song makes sense. Politically, Lopez has been supportive of Biden since before the election. When Biden was elected in November, Lopez tearfully shared her support for the president-elect on Instagram.
"Echoing the words of everyone saying that we are headed toward a better day, a more united country. I'm just crying tears of joy," she said. "I hope that we can all come together and love each other and appreciate each other. It's a new day."
As "Let's Get Loud" came up in yet another Lopez statement, it didn't necessarily sit right with every viewer. Jokes about Lopez's decision to include her own song in a rendition of "America the Beautiful" and "This Land is Your Land" blew up the internet before Biden was even formally sworn in as president. The moment sparked hilarious commentary from all over Twitter.
While the internet continues to enjoy Lopez's improvisation, it seems, her use of the song on Wednesday likely signified her praise for change and the right of Americans to "get loud" in support of a new beginning.
Lady Gaga and Garth Brooks also sang songs to celebrate the inauguration of President Joe Biden and Vice President Kamala Harris.