Garth Brooks Performs at Joe Biden's Inauguration, But Where's Chris Gaines?
Viewers of President Joe Biden's inauguration today took to social media following Garth Brooks' performance to give a shout-out to Chris Gaines. While the name seems like an obscure reference to many, Gaines stormed out of the gates when he was introduced to the music world in 1999. A heavily promoted album, a movie deal, and a televised musical performance on no less than Saturday Night Live—it seemed like Gaines was on top of the world.
But in reality, music fans were mostly confused by Chris Gaines. That's probably because Gaines wasn't actually even a real person, but a bizarre idea concocted by country music megastar Garth Brooks. The fact that Gaines played alternative rock and had an Australian accent only served to further confound fans.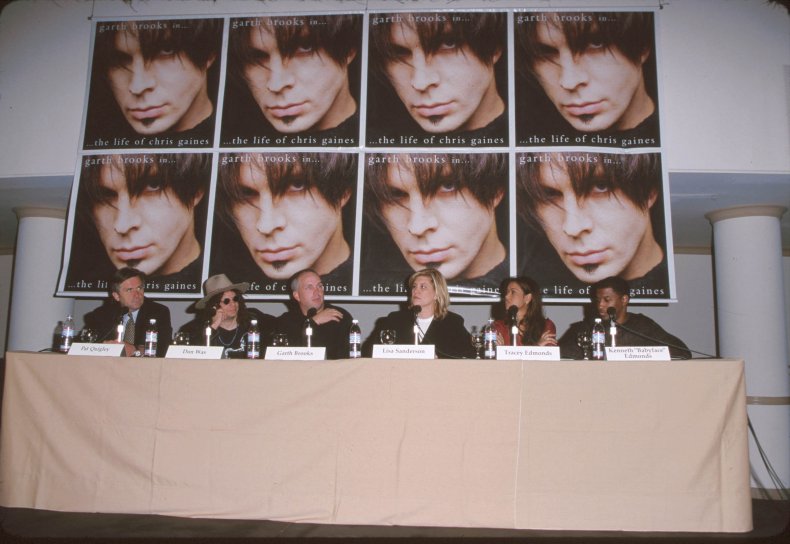 For the fans fully invested into the strangeness that was Chris Gaines, Garth's performance today provided ample opportunity to reference the misguided alter-ego concept on Twitter.
Of course, all the tweets were humorous takes.
The sentiment of this writer was probably shared by many.
Even CNN's Jake Tapper dropped a Gaines reference.
For anyone too young to know about Chris Gaines, there is a lot to explain. First there was an album released in September of 1999 with two titles. According to the album art and CD spine, it was Chris Gaines: Greatest Hits, but it also was known as Garth Brooks ... In the Life of Chris Gaines. Strangely, "Gaines" was being billed as an alternative rock singer, but his songs were decidedly more mainstream pop with only hints of rock.
In fact, the principal songwriters behind Brooks' concept were Gordon Kennedy and Wayne Kirkpatrick, who penned the hit "Change the World" for Eric Clapton, which many fans of the elder rock legend felt was a grasp for pop relevance. The Clapton song, incidentally, was produced by the It Producer of the time, Kenneth "Babyface" Edmonds, who was supposed to executive produce the Chris Gaines movie. (More on the movie later.)
For the album's cover—and subsequent Gaines appearances—Brooks wore an angular wig, eye make-up, and topped off the look with a soul-patch. Even by 1999, the look seemed a little dated. Undaunted, Brooks stayed in character when portraying Gaines, though he took some light jokes in good spirit the night he hosted SNL with Gaines as the musical guest.
If all that doesn't sound weird enough, there's even more. How about Chris Gaines' backstory? VH1 played along with the project's promotion with a faux Behind the Music documentary that delved deep into Gaines' "life." The story went that he first found fame in a band called Crush, then went solo before becoming a sex addict. While struggling with his demons and sex addiction, he got into a horrible car accident that required extensive plastic surgery that made him resemble someone that looked like Garth Brooks.
Needless to say, the entire project proved to be mostly a failure, which resulted in the movie to be scrapped. But about that movie—it was to be named The Lamb. The film was described as a suspense thriller about a Gaines fan who is obsessed with proving that Gaines was murdered. Though the resounding thud of an introduction to Chris Gaines sunk the project, the screenplay at least had some promise, since it was being penned by Jeb Stuart, who wrote Die Hard and The Fugitive.
For his part, Brooks can at least see the humor in it now. In an interview discussing the project's 20th anniversary with Yahoo! Entertainment in 2019, he said "my ribs are still sore from getting the s*** kicked out of me for it."
While it may seem like an odd chapter in Brooks' career, one could argue it wasn't a total flop. The album sold 2 million copies, and it gave Brooks his only Billboard Hot 100 Top 40 single to date with "Lost in You."