Garth Brooks Hugs Barack Obama as Some Fans Fume Over Inauguration Role
Following his performance of "Amazing Grace" at President Joe Biden's inauguration ceremony on Wednesday, Garth Brooks embraced former President Barack Obama with a big hug, much to the chagrin of some of his more conservative fans.
After he finished singing on the inauguration stage, Brooks first shook hands with Biden, as well as Vice President Kamala Harris and former Vice President Mike Pence. Someone filming their TV screen also captured Brooks embracing Obama in the background, and shared the clip on social media. The country superstar was seen in another clip online hugging former Presidents Bill Clinton and George W. Bush, and former First Ladies Hillary Clinton and Michelle Obama.
Brooks has recently come under fire from conservative-leaning fans, for offering his musical talents to Biden's inauguration. He's also been criticized by some in the past for embracing Democratic politicians—or, at least, for being perceived as having embraced them. The singer drew some backlash last year for wearing a Barry Sanders Detroit Lions jersey onstage, after many people mistook the gesture as a show of support for Vermont Senator Bernie Sanders, who was competing for the Democratic nomination for president at the time.
On Twitter on Wednesday, a few people tweeted about their frustration with Brooks for participating in Biden's Inauguration Day ceremony. A couple of folks in particular mocked concerns about COVID-19 by suggesting that Brooks wasn't abiding by social distancing guidelines when he hugged the former president.
While some people might be taking issue with Brooks' performance, the singer reiterated the new president's message of unity. "This is not a political statement," he said on Monday, according to The Tennessean. "This is a statement of unity."
In anticipation of Brooks' performance, the singer caught some blowback for being involved with the ceremony. One person mocked his message about why he was performing, calling it a "statement of submission" rather than one of unity. Another person called for a boycott of Brooks' music.
Radio host Peter Rosenberg took joy in Brooks and Obama's hug, precisely for the reason that it would tick off a certain faction of Brooks' fans.
Despite some negative backlash, other people were happy to see the embrace between Brooks and Obama, and many alluded to the time that Obama sang "Amazing Grace" in June 2015 at the funeral for Clementa Pinckney, following a shooting at Charleston, South Carolina's Emmanuel African Methodist Episcopal Church. Many people online pointed out that Obama could be heard saying "Amen" as Brooks finished. There were also calls for the two to duet, and a debate about which of the two did a better job singing "Amazing Grace."
Brooks' admiration for the 44th president is no secret. The country superstar had performed at Obama's inauguration back in 2009.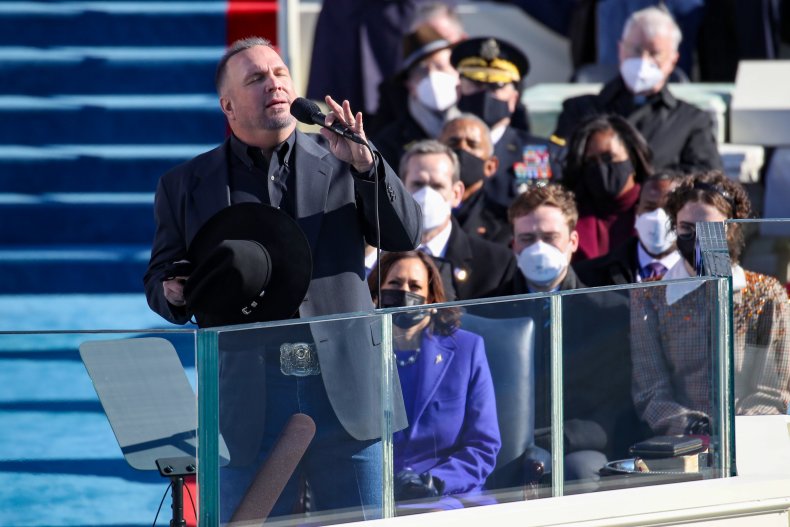 Correction: An earlier version of this story had misspelled Hillary Clinton's name.