Country music fans are outraged with Garth Brooks, after the singer announced that he will perform at President-elect Joe Biden's inauguration on Wednesday.
Speaking at a press conference on Monday, Brooks confirmed that he would hit the stage on Inauguration Day, joining such artists as Justin Timberlake, Lady Gaga, Jennifer Lopez, Demi Lovato, Ant Clemons, Jon Bon Jovi and Tom Hanks, who is slated to host the post-inauguration television special, Celebrating America.
"The message they're pushing is unity, and that's right down my alley, man," Brooks said. "If we're gonna get anywhere, we're gonna get there together."
Brooks teased that he will likely be "the only Republican at the ceremony." Despite his message of wanting to signal unity and coming together, his decision to perform at the event has not gone over well with conservative fans who support President Donald Trump. Twitter was set ablaze with complaints over Brooks' upcoming performance, with many of his followers criticizing him for allying with Biden, a Democrat.
"It is a statement of submission. 'I accept your fraud and to hell with the people who made me rich because I already got mine,'" one person tweeted on Tuesday, arguing that Brooks isn't concerned with what his conservative-leaning fans think.
"Just lost all respect for @garthbrooks this is his Dixie Chick's moment," one person wrote, referencing the 2003 incident in which the Dixie Chicks' singer Natalie Maines made disparaging comments about President George W. Bush that resulted in the band essentially being blacklisted by the country music machine.
Others apparently think a boycott of Brooks' music is in order.
This latest backlash comes almost one year after confused fans blasted Brooks for wearing football legend Barry Sanders' jersey, mistaking Brooks' outfit for support of Vermont Senator Bernie Sanders.
Brooks shared a photo of himself sporting the No. 20 jersey of Detroit Lions player Barry Sanders during a concert at Ford Field—where the NFL team plays—back in February 2020. During the concert, Brooks gave the former athlete a shoutout, calling Barry Sanders the "greatest player in NFL history," and Brooks also reminded fans that he attended Oklahoma State University, the same college that put Barry Sanders on the path to the NFL.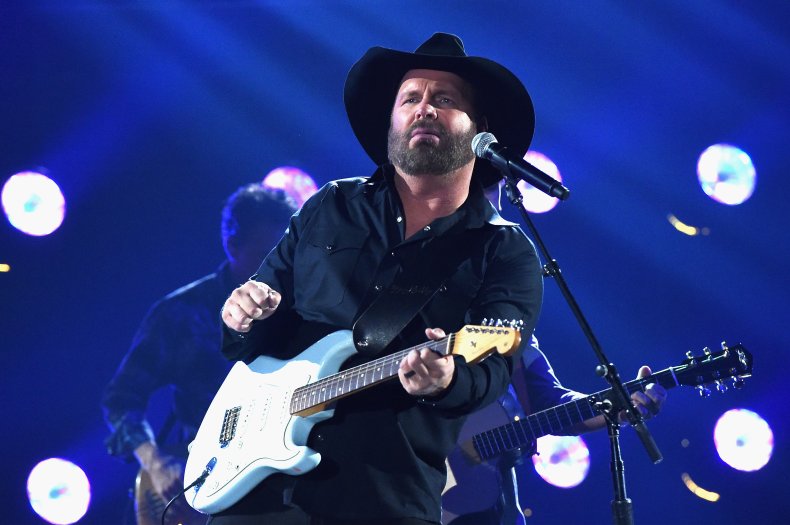 However, some fans thought the jersey was a sign that Brooks was endorsing Senator Bernie Sanders, who, at the time, was contending against other Democratic hopefuls (including Biden and Vice President-elect Kamala Harris) for the party's nomination in the 2020 presidential election.
Incensed by the idea that Brooks was a Bernie bro, confused fans took to social media to lambast Brooks and accused him of being a "big freaking liberal socialist." Some folks even vowed to stop listening to Brooks' music.
"If this is for Bernie Sanders, I'm done with you. I thought you were a true American that loves our country," one person commented on the photo.
Throughout his career, Brooks has performed for every U.S. president since Jimmy Carter, with the exceptions of President Ronald Reagan and Trump. He was invited to sing at Trump's inauguration in 2016, however, he had to decline due to scheduling conflicts.