Cardi B Shares Pro-Mask 'WAP' Parody From Johns Hopkins University
A new "WAP" parody posted this week by Johns Hopkins University (JHU) has received the blessing of one of the creators of the original song.
On Tuesday, JHU posted "WAmP: Wear a Mask, Please," a reworking of the massive hit by Cardi B and Megan Thee Stallion, rewritten to promote wearing face masks to slow the spread of COVID-19. The track is credited to Birdi Jay feat. Thee Mental Notes. Birdi Jay is portrayed by JHU's mascot, the Johns Hopkins Blue Jay, while The Mental Notes—who gained an extra "e" in tribute to Megan Thee Stallion—is one of the university's thirteen a cappella groups. The Mental Notes are described on JHU's website as a co-ed "group that blends comedy with their singing."
Though "WAP" is notorious for its explicit lyrics, the parody is all-ages, and includes lyrics like "Don't just hold it like a prop / you've got to wear a mask, please," and "Rock the science with a pose / with the mask right on your face / so it covers your mouth and nose."
On Thursday, Cardi B herself shared the video, writing "Sksksksk," which is internet slang that represents "enjoyment or laughter," according to Urban Dictionary. As of publication time, Megan Thee Stallion has not responded to the parody.
Since sharing the parody on Twitter, the video has received about 445,000 views. On YouTube, the video has been seen an additional 20,420 times. Speaking to The Baltimore Sun, the producer of the video, Nick Moran, said he had originally hoped that the rapper would share their video.
"The pie-in-the-sky hope for the video, all along, was like, 'What if Cardi B retweeted it?'" Moran said. When he's not producing music videos, Moran is the associate director for audience engagement at the Bloomberg School.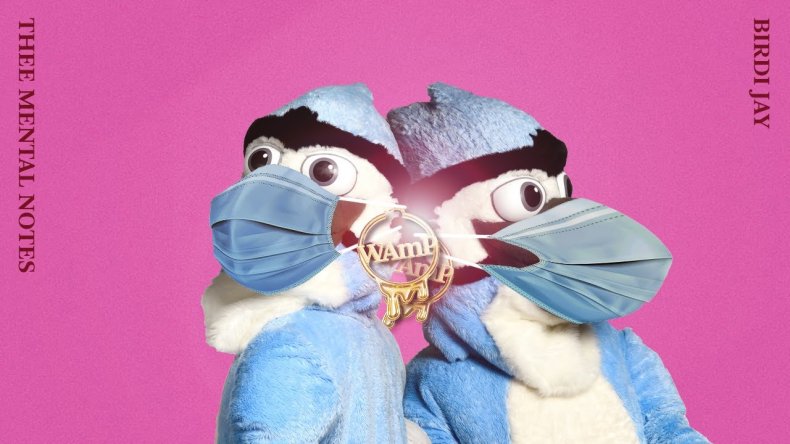 The track was written by Aliza Rosen, JHU's online community specialist. Rosen also directed the video. Rosen told Newsweek that writing the parody came easy to her as she'd already had experience.
"I grew up in a language-loving family, and I remember making up funny songs and parody lyrics with my dad when I was growing up. So the lyrics for this actually flowed pretty quickly from my brain to the (digital) paper, once I decided the direction I wanted to take them in," Rosen said.
She also shared that "WAmP" wasn't her first idea for a parody.
"Back in early October, the 'WAP dance' was trending on TikTok, so the tune was stuck in my head. I thought of how 'WAP' (as an acronym, not an initialism) rhymes with 'Hop,' which is a nickname for Johns Hopkins ("The Hop"). My first thought was to make a Hopkins-specific parody, but that seemed too niche and I still didn't have anything that 'W.A.P.' actually stood for as an initialism. Wear A Mask... no, that's WAM... Wear A mask, Please! There it is!" she said.
"I had only written the first verse or two when I sent the idea to Nick over at Public Health. He had already posted some shorter parody lines and verses promoting flu shots and confirmed I was on a roll and should keep writing. With Johns Hopkins having been central to so much of the research, data, and discussion around COVID this year, Nick and I have worked very closely since January to amplify important public health information on social," she continued.
JHU is the home the Coronavirus Resource Center, which keeps track of new cases of COVID-19, recoveries and deaths around the world. The resources has been used by many news outlets, including Newsweek, for accurate and up-to-date COVID information.
Rosen also assures Newsweek that the shot was "as safe as the message we were promoting," with the recordings done at the singers' homes and minimizing the time spent in indoor spaces, small shooting crews and, of course, masks being worn at all times by everyone. She also gave a peek into some of the original ideas that didn't quite make it into the video.
"There was one thing on my original "what if" shot list that we didn't end up getting to include: a cut to Dr. Fauci, silently and slowly walking down a hallway in the middle of the video, wearing a long, flowing white lab coat, and a leopard-print mask. Who knows, maybe he'll see this and reach out to star in the next one," she said.
Though Rosen didn't get to work with Dr. Anthony Fauci, director of the National Institute of Allergy and Infectious Diseases, she was overjoyed that Cardi B saw and shared the video.
"As the pieces all came into place – including the incredible videography and editing done by the SPH team – Nick and I knew this had potential. We thought it could totally be something Cardi or Megan might share, but when it finally happened, we were both absolutely over the moon. You can be sure many all-caps texts were sent," Rosen said.
Newsweek reached out to representatives for Cardi B and Megan Thee Stallion for comment.
Though masks can help slow the spread of COVID-19, there have been anti-mask protests across America. On Friday, anti-mask protesters paraded through a Target and a Wal-Mart in Arizona, carrying signs like "End A1 Mask Mandate" and "Masks=666."
Earlier this month, protesters in Idaho forced a board meeting of health commissioners in Idaho to adjourn due to safety concerns. Protesters also demonstrated outside of some of the commissioners' homes, according to Boise police.
Though anti-mask protests have received much in the way of media coverage, an October poll from National Geographic and Morning Consult showed that 92 percent of Americans always wear a face mask, including 84 percent of Democrats and 66 percent of Republicans. The poll asked 2,200 Americans about their mask habits, and has a margin of error of plus or minus 2 percent.
Update (12/19/2020, 9:45 p.m.): This article has been updated to include comments from Aliza Rosen.