Cardi B Thanks Candace Owens for Complaining About 'WAP' on Fox News
Cardi B thanked Candace Owens on Tuesday for criticizing her recent Grammys performance of "WAP," claiming that the extra attention has just earned the clip more views.
During a Monday night appearance on Tucker Carlson Tonight, Owens called Cardi B and Megan Thee Stallion's duet during the telecast an "attack on American values" and "trying to make children aspire to things that are grotesque."
On Twitter, Cardi first posted about the Fox News segment at 2:27 a.m. Her message read : "Yaaaayyyyyyy WE MADE FOX NEWS GUYS !!! Wap wap wap."
The song's rendition at the Grammys featured heavily censored lyrics, naturally, but it still contained suggestive dancing and imagery. Owens—a popular conservative political commentator and the author of The New York Times-bestselling book Blackout—discussed culture and values with Carlson. The two agreed that Dr. Seuss being denounced was unjust in comparison with "WAP" being shown on national TV. Owens also ranted against Cardi B personally and said "parents should be terrified" of what the artist represents.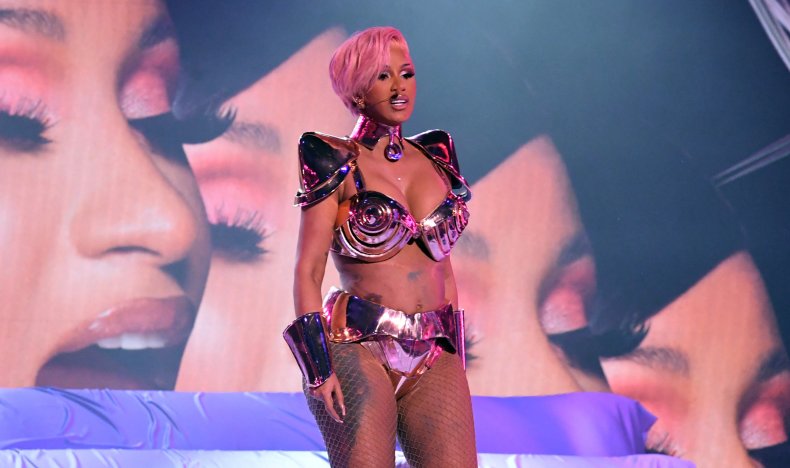 After the initial tweet from Cardi, Owens replied with her own messages. In one, she wrote to the rapper, "You are in a position to empower young women to aspire to something more than taking off their clothes but you don't feel you can be more."
This came after a more incendiary tweet, in which she called Cardi "a cancer cell to culture" and told her she should thank her for having the "courage to tell you the truth."
Roughly twenty minutes after Owens' tweet, came another from Cardi B, which may or may not have been directed to Owens saying she should be thanked.
"Matter fact I'm just going to thank Candy. She put my performance on Fox News giving it more views that boosted the views on YouTube and is counting towards my streams and sales STREAM UP AND WAP .REMEMBER GROWN PARENTS ONLY YOU CAN MONITOR WHAT YOUR KIDS WATCH NO1 ELSE."
Cardi continued tweeting attacks at Owens, as well as conservatives in general. She even brought up Melania Trump. Sharing an old nude photo from Trump's modeling days attached, Cardi wrote: "I don't know why candy is so bothered by WAP. I was just inspired by our former First Lady."
This was only the beginning of what soon escalated into a full-blown Twitter battle between the two.
Owens replied to the Melania posting by writing, "What is your obsession with the Trump family? You are digging up modeling shots from our former First Lady from 3 decades ago. She has evolved, you have not. What you did at the Grammy's was disgusting. Own it."
A swift response came from Cardi, who wrote: "I'm obsessed she's my idol 😍 She showed me I can be naked perform wap and still be a First Lady one day! ....wait so only White women can be naked and show their sexuality and evolve in their 30s but I can't? Wow America is soo unfair. To think this was the land of the free."
The rapper also brought Owens' husband into the heated exchanges by tweeting a video of Candace making him a sandwich. Cardi B claimed the clip proved Owens was "submissive" to her white husband. Needless to say, this didn't set well with the conservative pundit who wrote, "Making my husband a sandwich is not submissive. Cooking for your family is not submissive. Yes, a good woman should take care of her family. And yes, a good man does the same. My relationship is healthy. You can't say the same so maybe take some notes."
Cardi B clapped back that the video implies a message that women are supposed to serve men, which is a statement that "set us women Black or white" back. The two were still trading insults on Twitter as of press time, with the latest thread concerning an image capture that Cardi B tweeted. She alleges it shows Owens once voiced support for her on social media, though Candace claims it was photoshopped.