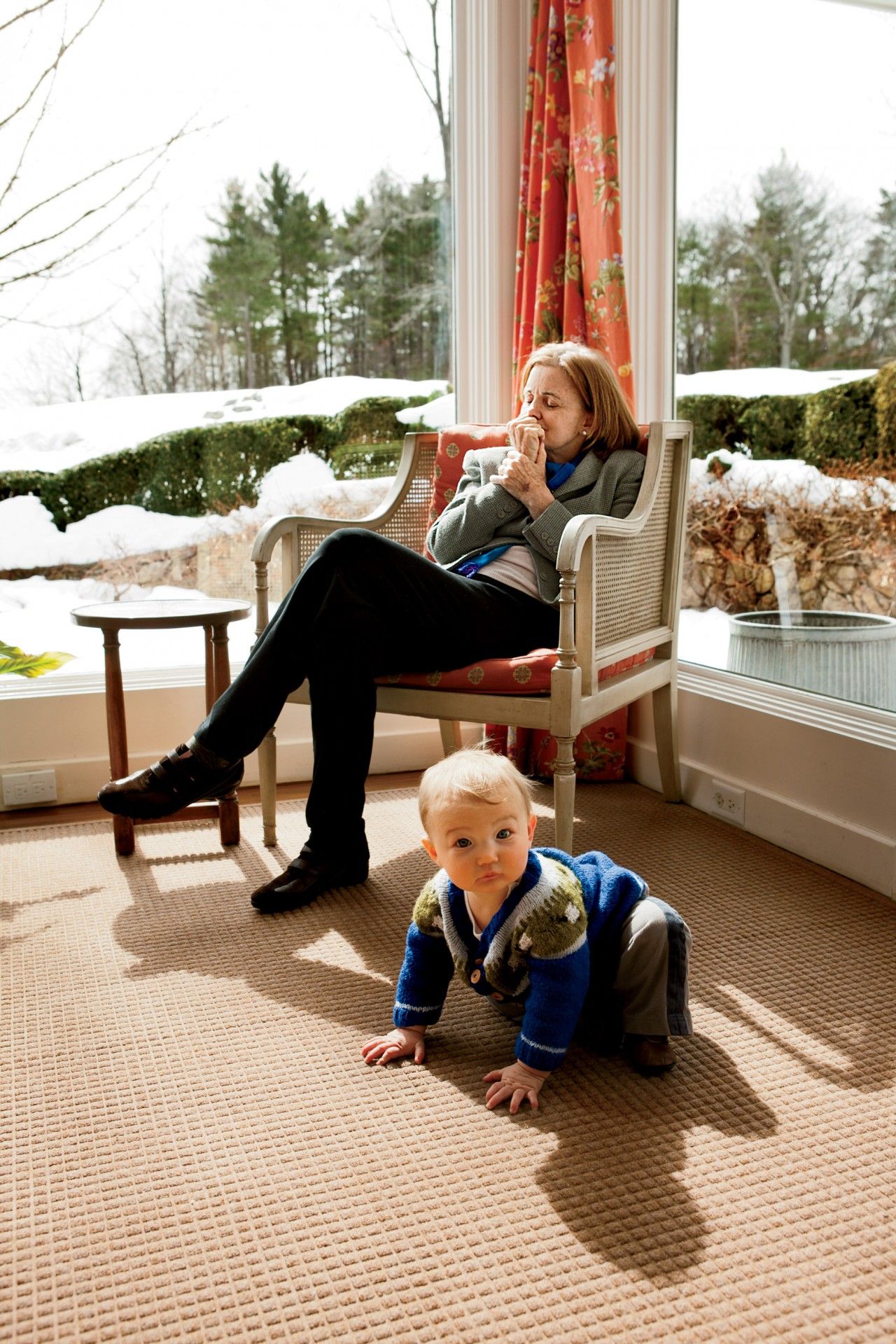 About two dozen men and women sit in pairs in the sanctuary at Saint Peter's Church in midtown Manhattan, reading sheet music and singing the Rodgers and Hammerstein classic "Getting to Know You." A sizable audience has gathered in the pews, listening. The performers' hair—a mix of grays, whites, dyed bobs and receding hairlines—betrays their age, but it is almost impossible to tell that half of the people singing have dementia or Alzheimer's disease, and that's entirely on purpose.
"The chorus is a way of making it clear to the outside world that people with dementia are still people. You have to focus on the personhood as opposed to the illness," says Mary Mittelman, a research professor in the psychiatry department at the New York University School of Medicine, who in 2011 founded the Unforgettables, a chorus for people with Alzheimer's and their caregivers. The scene above is one of their early concerts, captured in an online video.
(Related: In 2050, Alzheimer's will cost $1.2 trillion in health care, long-term care and hospice care)
Mittelman spent more than 20 years as the principal investigator of the NYU Caregiver Intervention study, first funded by the National Institutes of Health (NIH) in 1987. Her work focuses on counseling and support interventions for spouse and partner caregivers of people with dementia. She started the chorus to give families and people with Alzheimer's a respite from the disease—a sense of normalcy, a moment of happiness and ease. The Unforgettables rehearse weekly, selecting their own songs and learning standard breathing and performance techniques. They will perform their 11th concert on April 5.
"The chorus is a place where they get social support from people in a similar situation. There isn't any stigma," says Mittelman. "They don't have to worry about being embarrassed. People attend religiously through heat, rain and snow," she adds. "To my knowledge, no one has dropped out who has not died."
Last year, 15.5 million caregivers provided an estimated 17.7 billion hours of unpaid care for people with Alzheimer's disease and other dementias. Although it's hard to put a monetary value on caring for a spouse or parent, the Alzheimer's Association's 2014 Alzheimer's Disease Facts and Figures report estimates that amounts to $220 billion worth of unpaid work or lost wages. (That's more than 400 times the annual Alzheimer's funding from the NIH.) While most people with Alzheimer's live four to eight years after diagnosis, many can live another two decades, adding to the financial, emotional and physical burdens on families.
Alzheimer's caregivers are primarily immediate family members, and they play countless roles, from arranging doctor's appointments and monitoring medications to managing family finances. They help with bathing, dressing, shopping, cooking and cleaning. It is a never-ending job, and caregivers' health often suffers. Many experience anxiety or depression. More than half of family caregivers rate their emotional stress as high or very high, according to the Alzheimer's Association, and 74 percent report they are "somewhat" to "very concerned" about maintaining their own health. In 2012, the emotional and physical impact of caregiving was estimated at $9.3 billion in elevated health-care costs for Alzheimer's caregivers, the Alzheimer's Association says.
It can be particularly challenging to care for someone with Alzheimer's while working full time. Many caregivers transition to part-time work, take leaves of absence or quit. Women bear the brunt of this burden. They are 2.5 times more likely than men to give "on-duty" care around the clock in the late stages of the disease, according to the Alzheimer's Association. More than twice as many women as men provide care for more than five years.
"Many spouse or partner caregivers become very isolated because their friends drop away, or they are embarrassed to take the person with dementia out with them," says Mittelman. "Often, even their own adult children aren't aware of how isolated they are."
It is said that you know it's time for your loved one to be in a nursing home when your exhaustion exceeds your guilt. Even then, it's a herculean decision.
"The dirty little secret is, everyone despises nursing homes. Rarely do we see a positive article in the press, and yet this is where most people die," says Mary Ersek, director of the Veterans Affairs Department's PROMISE Center, which is dedicated to improving end-of-life care, and an associate professor at the University of Pennsylvania School of Nursing. "The fact is, there are few families who can garner the resources to keep somebody at home."
"If you look at why people with Alzheimer's end up in nursing homes, it's not because they have poor memory or can't shower but because they are so behaviorally disturbed that families can't manage it anymore," says Dr. Brent Forester, director of the Geriatric Mood Disorders Research Program at McLean Hospital in Belmont, Mass., and an assistant professor of psychiatry at Harvard Medical School. Most people with Alzheimer's experience agitation, which can include everything from yelling and screaming to pacing and shoving.
The Alzheimer's Association has a nationwide, professionally staffed, 24/7 help line, as well as local chapters across the country that offer support, education and assistance. Caregiving experts are advocates for early diagnosis and early education. Improving social support for spouse-caregivers has been shown to delay nursing home placement by about a year and a half, reduce symptoms of depression in caregivers and improve their physical health. Art and music are also proven therapies. The Museum of Modern Art launched a MoMA Alzheimer's Project, a nationwide expansion of the museum's art and dementia programs in New York City. Along with Mittelman's chorus, these kinds of programs emphasize that there is much life to be lived after diagnosis, both for people with dementia and for families and caregivers.
As Susan Rowlett, manager of care consultation and clinical education at the Alzheimer's Association's Massachusetts/New Hampshire chapter, puts it, "My goal with families is to help them live with Alzheimer's."