Carnival Cruise COVID Vaccination Requirements
Two cruise lines under Carnival Corporation, the British-American cruise operator, have announced COVID-19 vaccination requirements for some of its cruises.
Carnival's Princess Cruises and P&O Cruises are limiting some U.K. cruises to residents in the U.K. who have received a COVID-10 vaccine.
All other cruise sailings with P&O and Princess Cruises currently do not require guests to be vaccinated.
Which cruises require COVID-19 vaccination?
The vaccination requirement applies to sailings on P&O's Britannia and Iona cruise ships for select departures from June through September.
P&O said: "Britannia is P&O Cruises' flagship and Iona is our newest ship. These are our newest ships and therefore give us the space to implement the new health protocols to ensure a smooth return to service."
The vaccine policy also applies to select voyages aboard the Princess Cruises' Regal Princess and Sky Princess cruise ships, for sailings from July 31 to September 28.
These sailings are available to vaccinated U.K. residents "given the advanced progress of the UK vaccination program and strong expressed preference on the part of our guests for this limited series of UK coastal cruises," both companies said.
COVID-19 vaccination requirements
There is no age restriction for these U.K. cruises "but all guests of all ages must meet the requirements of the COVID-19 vaccination policy," both companies state.
"For these cruises the definition of 'vaccinated' is a minimum of seven days following the second dose of the currently approved COVID-19 vaccines being administered," the cruise lines said.
Guests of these U.K. cruises will need to produce proof of vaccination, including the dates they were administered. Approved forms of evidence for vaccination will be confirmed closer to the time of departure.
Proof of vaccination will need to be shown at the terminal prior to boarding. Those who fail to provide this evidence will be denied boarding, the cruise lines said.
P&O said: "As the vaccine roll out progresses and the government has announced its intended roadmap for the future, the guidance is continually evolving. Pre-embarkation COVID-19 tests may be required as part of our framework of protocols and will be complimentary in the price of your holiday.
"We will update this page as necessary and update all guests prior to their holiday departure date. Please do ensure that your preferences and details are up to date in My Account," the P&O Cruises website advises.
See the websites for Princess Cruises and P&O Cruises for more information on the COVID-19 vaccination requirements for their latest U.K. sailings.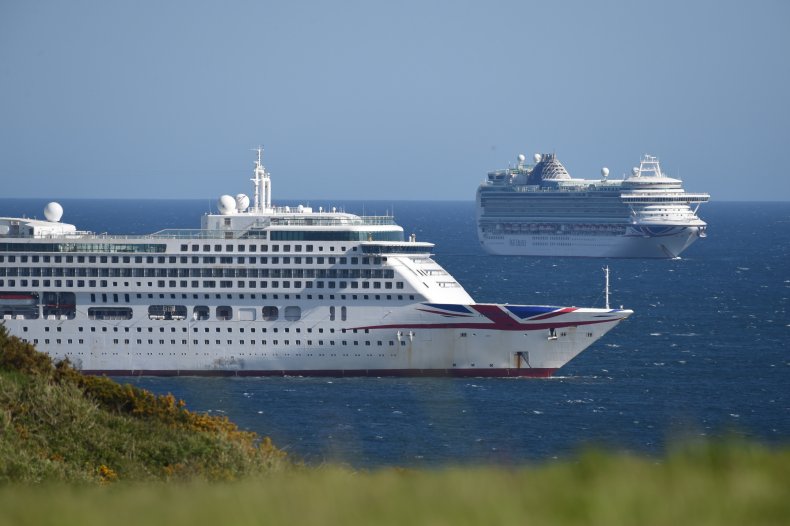 The wider picture
Coronavirus has infected more than 124.9 million people, including over 30 million in the U.S., since it was first reported in Wuhan, China.
More than 2.7 million people have died worldwide and more than 70.8 million have recovered as of Thursday, according to Johns Hopkins University.
The graphic below, produced by Statista, illustrates countries with the most COVID-19 vaccine doses administered per 100,000 people.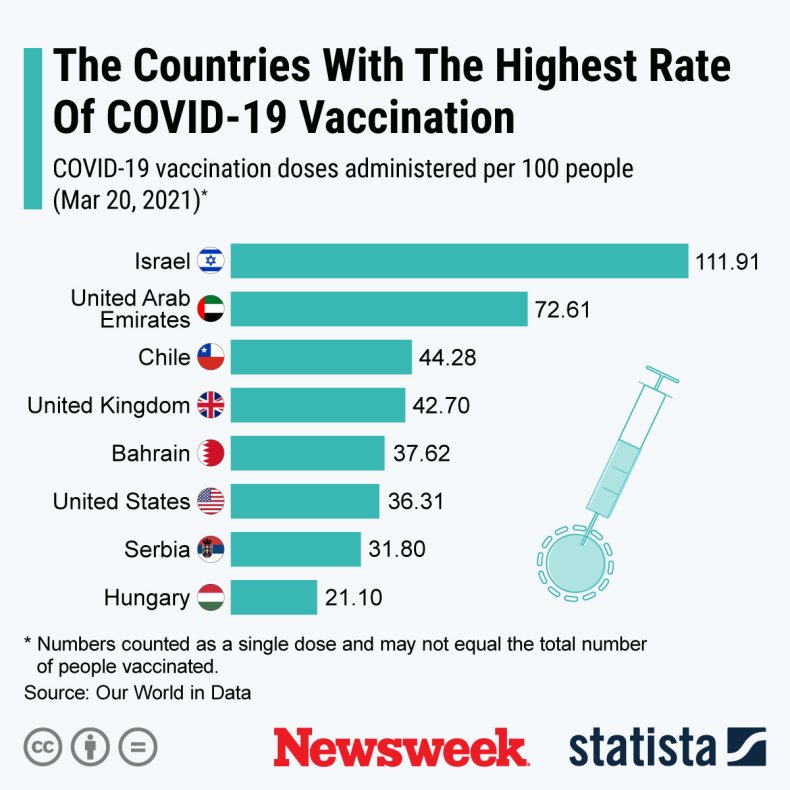 The graphic below, produced by Statista, illustrates the spread of COVID-19 in the U.S.