When Will Cruise Ships Sail Again? CDC Cruise Guidelines
The country's current conditional sailing order, which restricts cruises in the U.S. amid the ongoing COVID-19 pandemic, will remain in place until November 1, the U.S. Centers for Disease Control and Prevention (CDC) said Wednesday.
Passenger operations remain suspended during the initial phases of the current order.
"Returning to passenger cruising is a phased approach to mitigate the risk of spreading COVID-19," a CDC spokesperson said in a statement Wednesday. "Details for the next phase of the [order] are currently under interagency review."
The CDC's latest statement followed calls for the "outdated" order to be lifted made by the Cruise Lines International Association (CLIA).
The trade group urged the CDC to "allow for the planning of a phased resumption of cruise operations from U.S. ports by the beginning of July" in a statement Wednesday.
CLIA claimed "the very small fraction of reported COVID cases (fewer than 50 based on public reports) is dramatically lower than the rate on land or in any other transportation mode."
CDC guidelines for U.S. cruises
The cruise industry came to a halt last year amid the outbreak. A "No Sail Order" for cruise ships was issued by the CDC on March 14, as the national health body had "reason to believe that cruise ship travel may continue to introduce, transmit, or spread COVID-19."
The No Sail Order was most recently extended on September 30, 2020. But on October 30, the CDC issued the current "Framework for Conditional Sailing Order" for cruises in the U.S.
The latest order outlines a phased approach for resuming passenger cruises, with detailed guidelines for resuming cruise operations in U.S. waters.
However, "passenger operations continue to be suspended during the initial phases of this order.
"The initial phase requires crew screening to determine the prevalence of COVID-19 among all crew members currently on cruise ships in U.S. waters," the CDC advises.
CDC advice for international cruises
Some cruises have resumed in other regions around the world, such as in parts of Europe, Asia, the South Pacific as well as the Caribbean.
Last week, Royal Caribbean announced that COVID-19 vaccinations will be required for adult guests on its upcoming new sailings from the Bahamas and St. Maarten.
But the CDC currently recommends that "travelers avoid cruise travel worldwide."
The health body advises people to avoid any travel on cruise ships, including river cruises, worldwide "because the risk of COVID-19 on cruise ships is very high.
"Cruise passengers are at increased risk of person-to-person spread of infectious diseases, including COVID-19, and outbreaks of COVID-19 have been reported on cruise ships.
"It is especially important that people with an increased risk of severe illness avoid travel on cruise ships, including river cruises," the CDC warns.
CDC advice for cruise travelers
Those who do decide to go on a cruise at this time are advised to take the following precautions for 14 days after they return from a cruise journey, as outlined by the CDC:
Get tested 3–5 days after your trip and stay home for seven days after travel. Even if you test negative, stay home for the full 7 days. If your test is positive, isolate yourself to protect others from getting infected.
If you don't get tested, it's safest to stay home for 10 days after travel.
Avoid being around those who are at increased risk for severe illness for 14 days, regardless of whether you get tested or not.
Follow state and local recommendations or requirements related to travel.
See the CDC website for more information on cruise ship travel during the COVID-19 pandemic.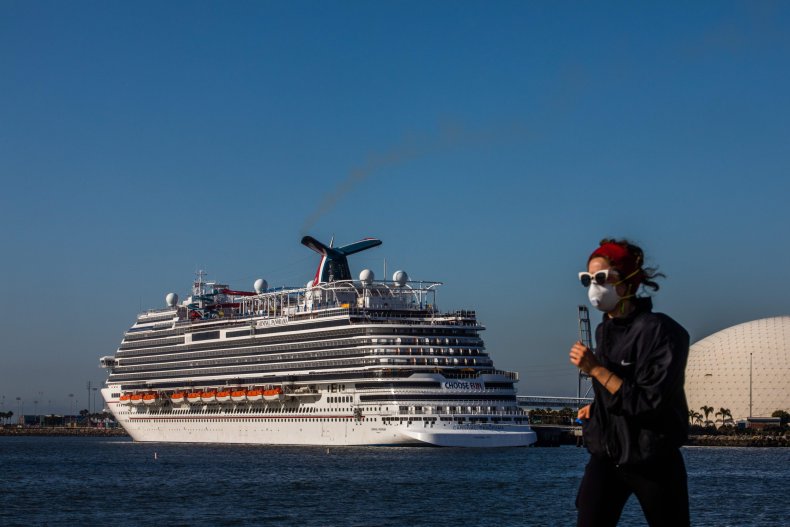 The wider picture
Coronavirus has infected more than 124.9 million people, including over 30 million in the U.S., since it was first reported in Wuhan, China.
More than 2.7 million people have died worldwide and more than 70.8 million have recovered as of Thursday, according to Johns Hopkins University.
The graphic below, produced by Statista, illustrates the spread of COVID-19 in the U.S.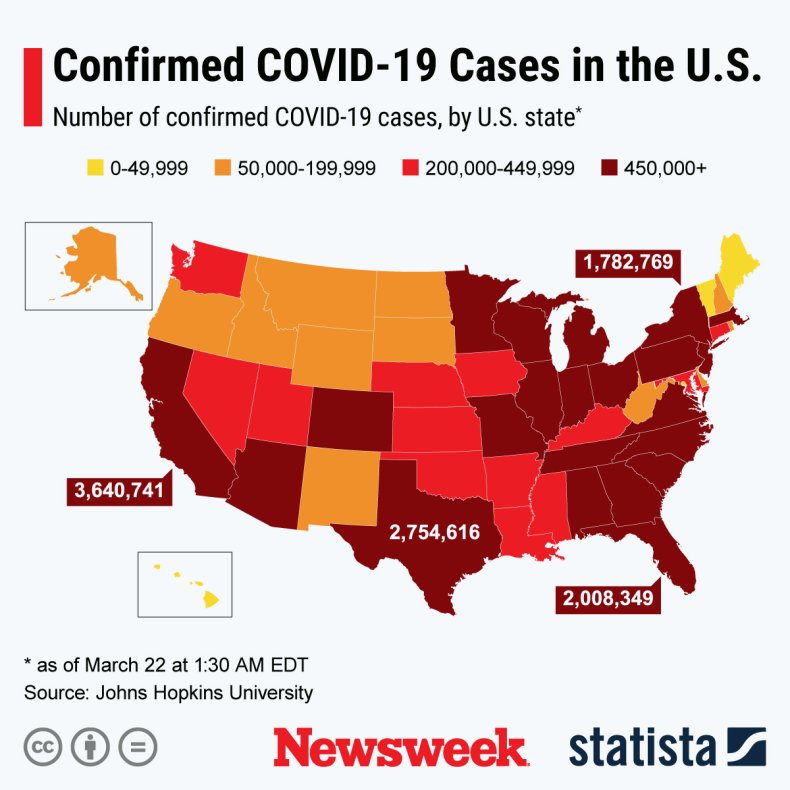 The graphic below, produced by Statista, illustrates countries with the most COVID-19 vaccine doses administered per 100,000 people.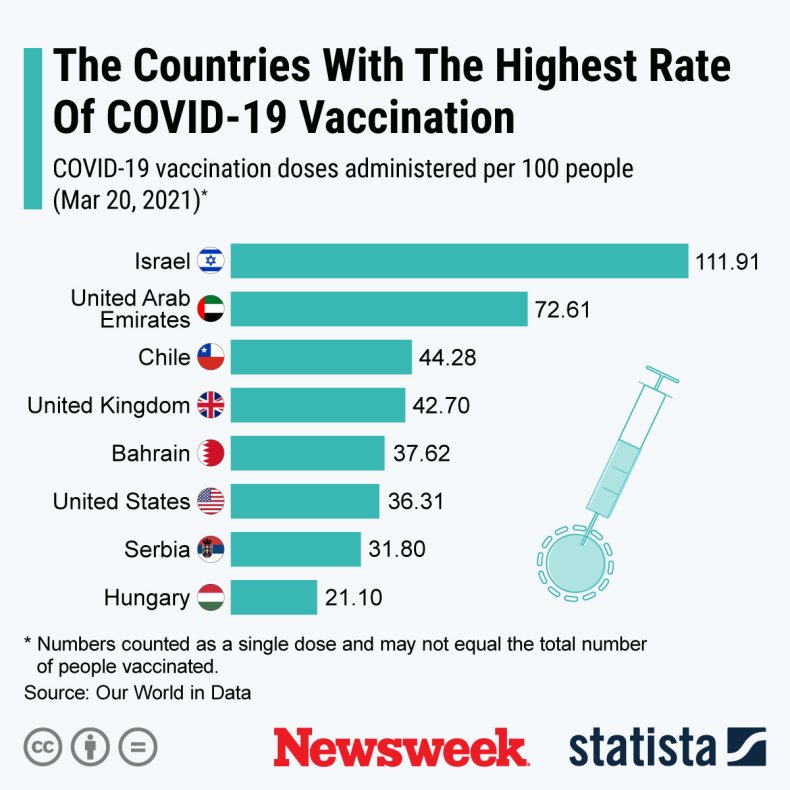 Newsweek, in partnership with NewsGuard, is dedicated to providing accurate and verifiable vaccine and health information. With NewsGuard's HealthGuard browser extension, users can verify if a website is a trustworthy source of health information. Visit the Newsweek VaxFacts website to learn more and to download the HealthGuard browser extension.