An incident occurred at animal activist Carole Baskin's Florida facilities on Thursday morning. According to NBC affiliate WFLA, someone was bitten by a tiger at Tampa's Big Cat Rescue a little after 8 a.m. CBS Miami reported that the person involved was a staffer at Big Cat Rescue, and paramedics were rushed to the scene. The staffer was treated at the scene, and then taken to the hospital. Hillsborough County Fire Rescue did report that the person bitten by an animal is expected to survive.
Newsweek reached out to Big Cat Rescue for further details regarding the incident. As per their email, on Thursday morning during feeding, Candy Couser, "who has been a volunteer at Big Cat Rescue for five years, and a Green Level Keeper (lions, tigers, etc.) for almost three years" was feeding Kimba, a tiger.
"She saw that he was locked in a section that was away from where he was usually fed and radioed the coordinator to find out why. Kimba had been locked away from that section for several days as cameras were being installed there. She opened a guillotine tunnel door at one end of the tunnel, and when she went to raise the second door she saw it was clipped shut. This is our universal signal NOT to open a gate without the coordinator coming to assist, but Candy said she just wasn't thinking when she reached in to un-clip it." Big Cat Rescue noted that it is against their protocols for anyone to stick any part of their body into a cage with a cat in it.
As a result of Candy's actions, "Kimba grabbed her arm and nearly tore it off at the shoulder."
The emailed continued, presumably referring to other staffers at Big Cat Rescue: "Jane heard the commotion and came running. Kimba dropped his grip and Candy fell away from the side of the tunnel. Gina being a nurse held off the artery under Candy's armpit to stop the bleeding and Marc, who had pulled Candy to safety, used his belt as a tourniquet as others called for an ambulance. Gina packed her arm in ice packs to try and save it." An ambulance arrived to the scene within 15-20 minutes of the accident.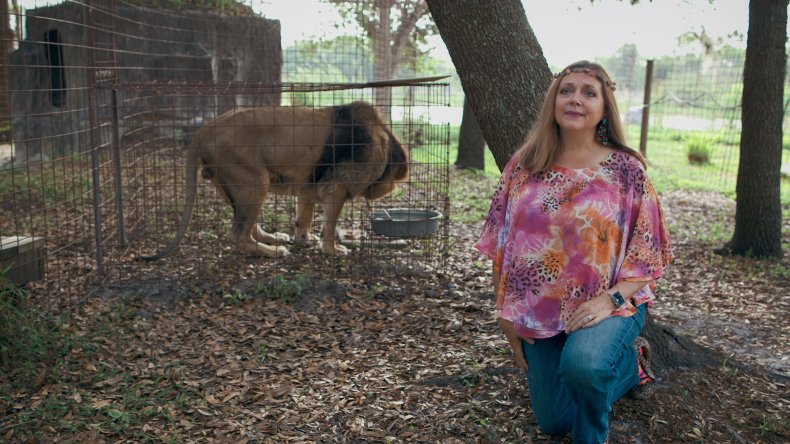 "Candy's husband was called, and we left messages for him that she's been taken to St. Joseph's Hospital. Candy was still conscious and insisted that she did not want Kimba Tiger to come to any harm for this mistake. He is being placed in quarantine for the next 30 days as a precaution, but was just acting normal due to the presence of food and the opportunity."
According to the email, the staff and volunteers onsite met site after the incident, and Baskin reminded everyone that "this sort of tragedy can happen in the blink of an eye and that we cannot relax our guard for a second around these dangerous cats." Grief counseling is available in our grief group with Dr. Kim, to help those who have been impacted by this tragic event.
Baskin became famous after appearing as a central figure on the Netflix docuseries Tiger King: Murder, Mayhem and Madness. She also appeared on the most recent season of Dancing With the Stars.
Big Cat Rescue is home to exotic cats (mostly tigers), and the sanctuary cares for the animals after they re rescued from captivity. It is currently closed due to the coronavirus pandemic.
Updated, 12/3/2020 11:15 a.m., EST: This article has been updated to provide further context and an email from Big Cat Rescue regarding the incident.