Carson Daly, Who Officiated Gwen Stefani's Wedding, Used to Disapprove of Blake Shelton
When Gwen Stefani and Blake Shelton tied the knot on Saturday, their ceremony was officiated by none other than Carson Daly—their co-star on The Voice.
According to the Today show, Daly was on hand to officially pronounce the lovebirds husband and wife as they exchanged vows during an intimate ceremony at Shelton's ranch in Tishomingo, Oklahoma.
And Daly's vital role in the couple's milestone moment has likely come as a surprise to the TV host himself—as he initially disapproved of Shelton dating his friend Stefani.
Back in January, Daly casually made the confession as he and Stefani spoke with the Today show's Hoda Kotb and Savannah Guthrie.
"Five years ago, when you started to date Blake, you'll remember this, we went back to your house, your old house in L.A., and I sat you and Blake down in the kitchen," Daly recalled during their chat. "I said, 'You guys, pump the brakes. This is not good. This is not going to work.'"
He went on: "I looked at Gwen, and I said, 'You're much, much too good for this guy. You're smart. You're intelligent. You're one of my oldest friends. And then there's Blake.'"
After joking that Daly's shared recollection left her "heart racing," Stefani went on to sing the praises of country singer Shelton, saying: "He's just such a good guy. He's one of the most generous human beings and down to earth. It all sounds generic, but it's just so true.
"He's so gifted and so unique and talented and he really just is my best friend. And I feel so excited that I have someone in my life now [and] I have a chance at happiness for a long time to come. It's just a blessing, the whole thing thing and it is a miracle. And yes, Carson, you witnessed that."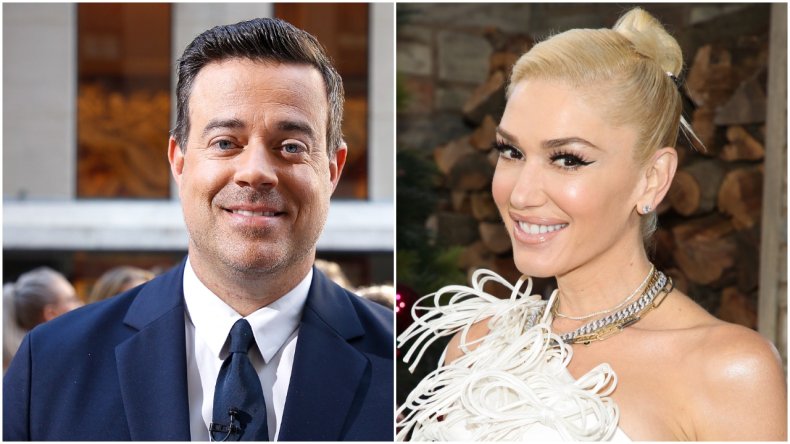 Since it was revealed that Stefani, 51, and Shelton, 45, had tied the knot, the couple took to their respective Instagram accounts to share a stream of pictures from their big day.
Speaking on the Today show on Tuesday, Daly shared details of the couple's big day, saying: "It was incredible to be part of such an important moment in their lives. The best way to describe it is it was perfectly them—the whole weekend and the marriage itself. It was as elegant and refined and cool as Gwen is, and it was as country and down-home and fun as Blake is."
"They're an unlikely pair," he added. "They're like if you pair delicious fried chicken with a glass of champagne. On paper and on the menu it doesn't seem to work, but it works. It's comfort food with class. And everybody roots for that."
The pair met when Stefani signed up to be a coach for a single season of The Voice in 2014. Shelton, who was an original coach on the NBC show from its 2011 debut, would continue to work with Stefani, thanks to her numerous guest slots on The Voice.
Stefani filed for divorce from Bush frontman Gavin Rossdale in 2015, the same year that Shelton's union with fellow country star Miranda Lambert ended.
After moving on from their respective relationships, Shelton and Stefani—who shares three sons with her ex-husband Rossdale—embarked on a relationship in late 2015.
In October 2020, Stefani shared an image of her kissing Shelton, holding up her jeweled left hand as she announced their intentions to walk down the aisle.
And during an appearance on The Tonight Show Starring Jimmy Fallon in January, Stefani shared details of the proposal, which took place at the Oklahoma ranch where they spend much of their time together.
"It was actually pretty magical," Stefani told Jimmy Fallon. "I wasn't expecting it at the moment it happened at all, didn't have any idea, nobody knew!
"He had told my dad on my birthday about two weeks earlier and I've got to tell you, I was like, 'What's happening with us?' It was on my mind, 'We've been together a long time now, what's going on?' I was in that place in my head."
Update 7/07/21 10:58 a.m. ET: This article was updated to include comments from Carson Daly.