Cartel Leader 'El Chapo' Joaquin Guzman to Stay in Prison for Life After Appeal Rejection
Mexican cartel leader Joaquin Guzman Loera, known around the world as "El Chapo," will remain in prison after an appeal his legal team argued last fall was rejected on Tuesday.
Guzman was sentenced to life in prison in July 2019 following his conviction earlier that year. Guzman's legal team argued to have his conviction overturned last October based on allegations of biases among members of the jury.
Tuesday's rejection of that appeal in the U.S. Court of Appeals for the Second Circuit means Guzman will remain behind bars for the rest of his life.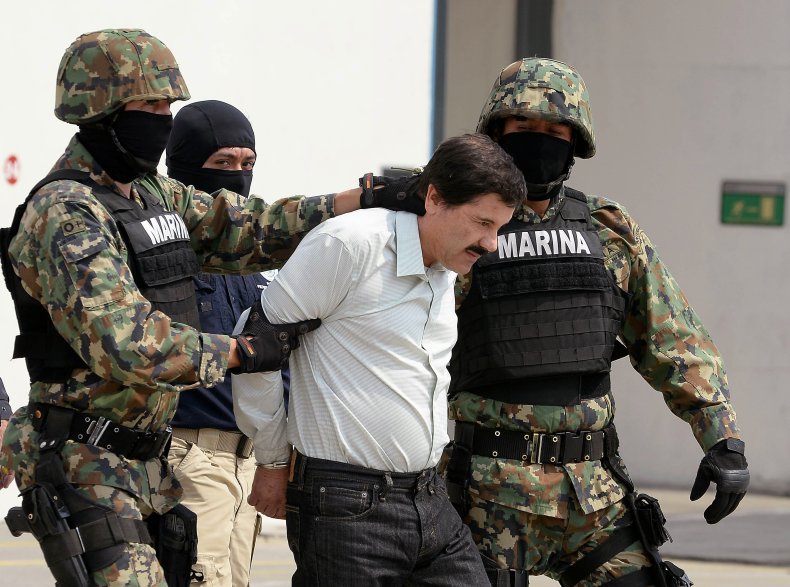 Marc Fernich, a member of Guzman's defense team, said in a statement to Reuters that Guzman may have another legal path in mind.
"I'm sure Mr. Guzman will seek Supreme Court review," Fernich told Reuters.
When reached Tuesday for further comment, Fernich told Newsweek Guzman's legal team was "disappointed" by Tuesday's decision.
"While respecting the Court's ruling, we're disappointed that substantial allegations of grave jury misconduct continue to be swept under the rug and left wholly unexamined in a case of historic proportion — all, it appears, because of the defendant's matchless notoriety," Fernich said in an emailed statement.
Guzman was convicted by a federal jury of narcotics trafficking, using a firearm "in furtherance" of crimes in the drug trade and for his involvement in what the U.S. Department of Justice referred to as a "money laundering conspiracy." His conviction followed a trial that lasted for about three months, during which the jury was presented with evidence of Guzman's leadership of the Sinaloa Cartel.
The cartel is believed to have been responsible for bringing several kinds of drugs, including some narcotics, into the U.S.
Following his conviction, Guzman was in the summer of 2019 sentenced to life imprisonment in addition to a 30-year sentence that he was to serve consecutively. He was also ordered to pay $12.6 billion.
In a statement shared with The Associated Press on Tuesday, Jeffrey Lichtman, another of Guzman's attorneys, questioned the jury's exposure to reports about Guzman that were not presented during the initial trial.
"The decision seems like it was decided and written before the argument even occurred," Lichtman told the AP. "How can there be justice here when the jury was exposed to scurrilous claims against Mr. Guzman which were not part of the government's case?"
According to a copy of Tuesday's decision obtained by the AP, the suggestion of "possible prejudice" among the federal jurors "was harmless in view of the overwhelming evidence of Guzman's guilt."