Carter Page Attacked Christopher Steele's Trump Dossier But His Testimony Raised Questions Over Russian Meetings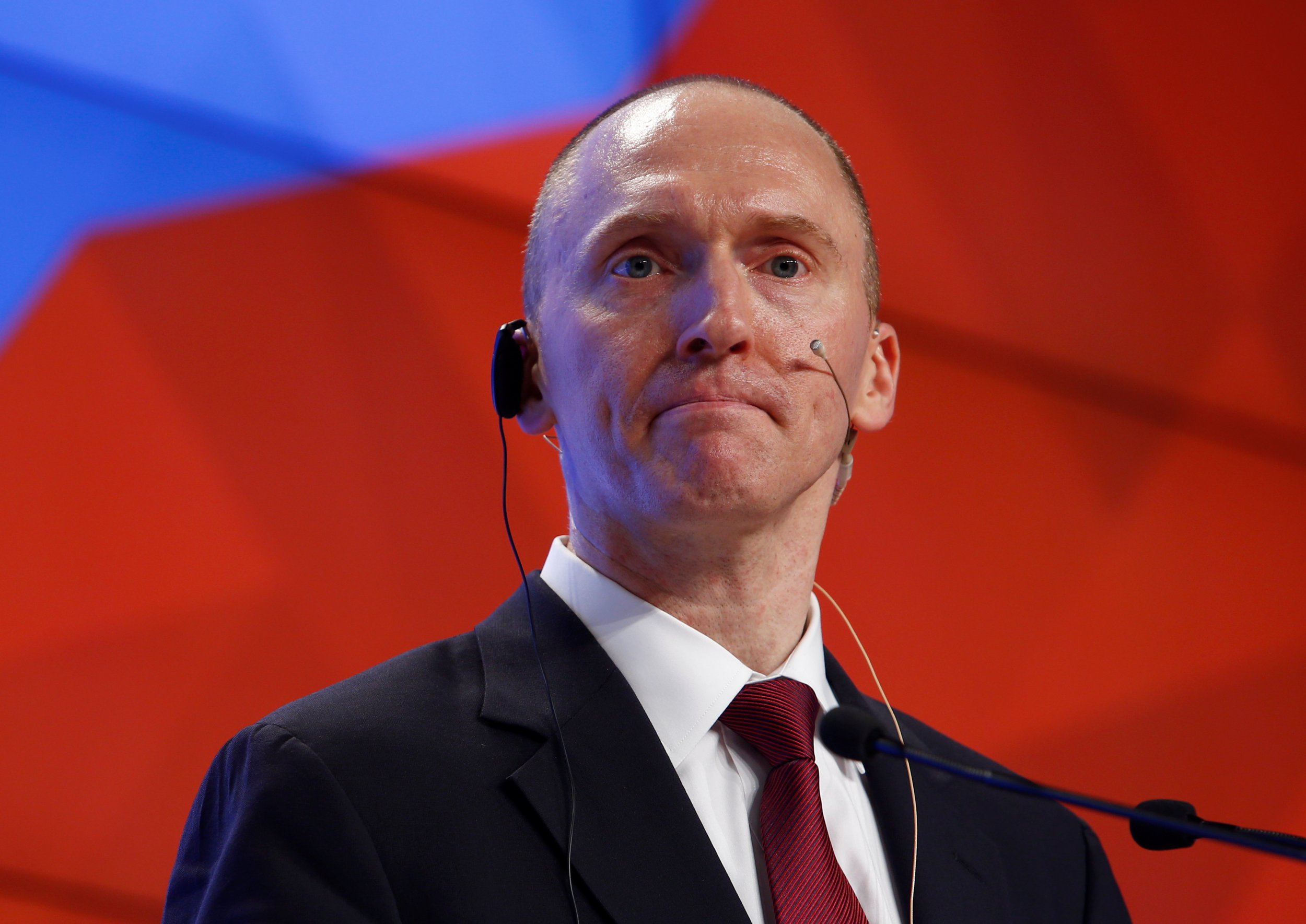 Foreign policy adviser to the Trump presidential campaign Carter Page disputed the accuracy of parts of the dossier compiled by ex-British spy Christopher Steele in his testimony to the House Intelligence Committee last week, but his comments also appear to corroborate sections of the controversial document and raise new questions over his meetings in Russia.
In a transcript of Page's seven-hour testimony released by the committee late Monday, the former adviser says he met briefly with Russian government officials and the head of investor relations at Russia's state-owned oil company Rosneft during a trip to Moscow in July 2016. He also spoke at a graduation ceremony at Moscow's New Economic School that month, where he was critical of U.S. policy toward Russia.
During an interview with PBS in February, Page had said that he did not meet with any Russian officials during the trip. "I had no meetings, I might have said hello to a few people as they were walking by me at my graduation speech I gave in July, but no meetings," Page said. He called the Steele dossier a "dodgy dossier that the Clinton campaign came out with."
The House committee is probing the misinformation and hacking campaign Russia led against the U.S. to influence the 2016 election. The Steele dossier alleges that Page worked as a go-between for then Trump campaign chairman Paul Manafort and Russian officials who promised them "dirt" on Clinton. Manafort was indicted on charges of money laundering on October 30.
During Page's testimony to the House committee last week, top Democrat Rep. Adam Schiff confronted him with an email he sent the day of his speech, July 8, to Trump campaign officials about "some incredible insights and outreach I've received from a few Russian legislators and senior members of the presidential administration."
Page said the email didn't mention meeting with anyone; instead, he said, he had "a brief, less-than-10-second chat with Arkadiy Dvorkovich," Russia's deputy prime minister, and members of Russia's legislative Duma who happened to be there.
Read more: 'Dirty dossier' helped the FBI obtain a surveillance warrant for former Trump adviser Carter Page
Page told the committee that the "incredible insights and outreach" from members of Russia's government he described was merely what he got from reading local newspapers.
"Were you being honest in your communication with the campaign? Are you being honest in your testimony? Because it doesn't seem possible for both to be true," Schiff asked him.
Page also denied meeting a Russian official, Igor Divyekin, that Steele's dossier alleged he had "met secretly" with that month. Steele's document said Divyekin allegedly discussed a Russian dossier of "kompromat"— compromising information—on Trump's campaign rival Hillary Clinton with him.
The dossier also alleged Page had a secret meeting with Russian President Vladimir Putin's close associate Igor Sechin, the CEO of Russia's state-owned oil company Rosneft, who is under U.S. sanctions. The dossier said the two discussed the possibility of lifting the west's sanctions on Russia over its 2014 annexation of Crimea.
In September a well placed western intelligence source told Yahoo News that Page had, indeed, met with Senchin.
Page testified that it wasn't Sechin who he met with but one of Rosneft's other executives. "I had a brief lunch with Andrey Baranov," Page said. Baranov is Rosneft's head of investor relations.
"Mr. Sechin is under sanctions, is he not?" Schiff asked. "And as someone working on investor relations for a CEO who is under sanctions, would it be advantageous for that head of investor relations to see those sanctions go away?"
Page replied that sanctions are "outside of the scope" of Baranov's responsibilities and that nothing he "said to me ever implied or asked for anything related to sanctions. Again, there may have been some general reference."