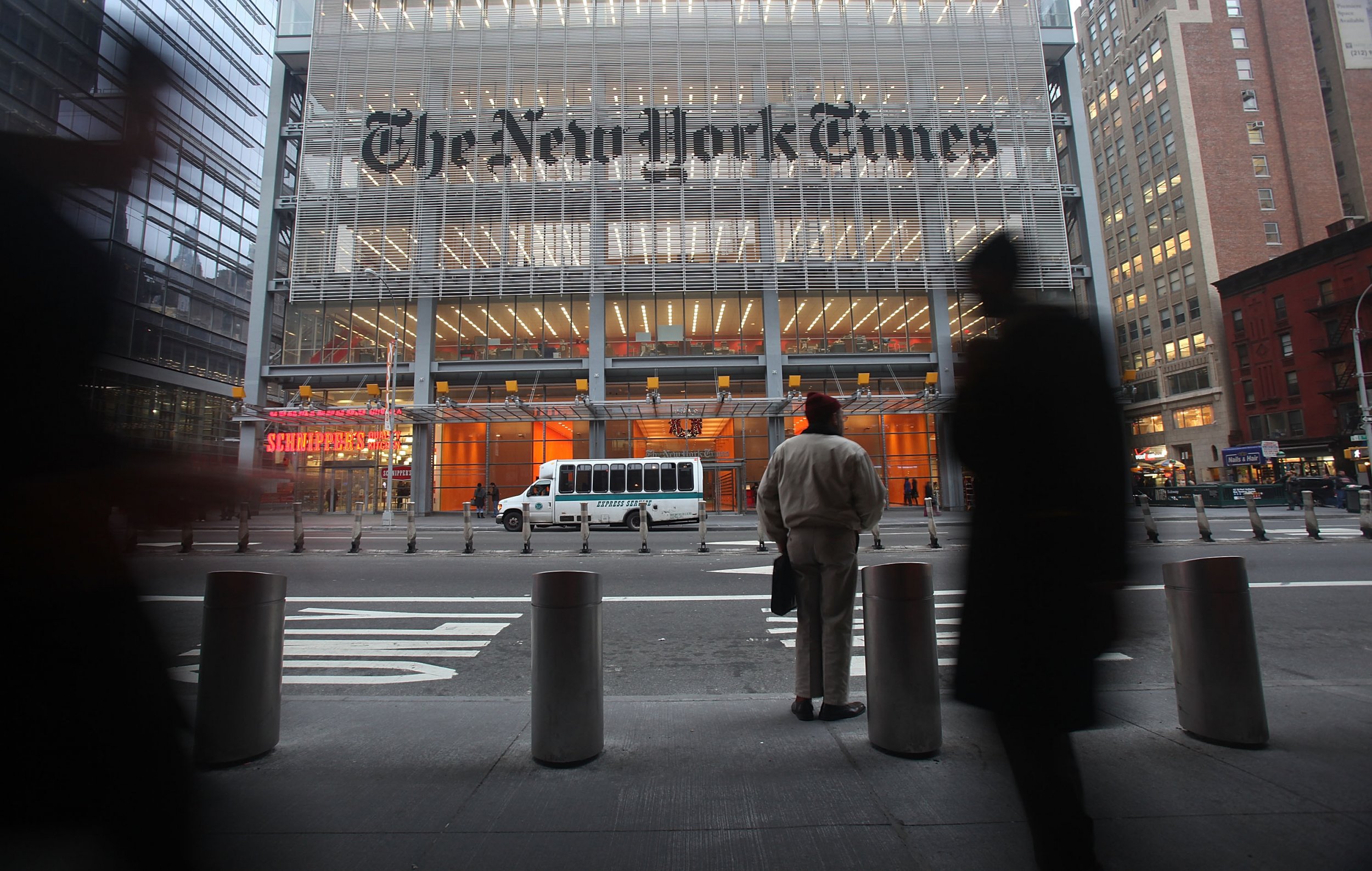 The Portuguese artist who drew a cartoon published in The New York Times that caused outrage for depicting anti-Semitic tropes has defended his work.
The NYT issued an apology for running the image, which featured the Israeli prime minister Benjamin Netanyahu as a Weiner dog with a Star of David dog collar and leading around President Donald Trump wearing a yarmulke.
The paper said in a statement that the cartoon, which had been originally published in Portugal and had been syndicated to appear in its April 25 international edition, "was offensive, and it was an error of judgment to publish it."
The controversy sparked protests outside the Times' building, even as an internal inquiry was underway, amid claims of a culture of anti-Jewish bias at the publication.
But Portuguese artist António Moreira Antunes, who has been drawing political cartoons for 45 years, told CNN, he had the "utmost respect" for Jewish history and did not believe his cartoon was anti-Semitic.
He said the criticism was "made through the Jewish propaganda machine, which is, anytime there's criticism it's because there's someone anti-Semitic on the other side, and that's not the case.
"The Jewish right doesn't want to be criticized, and therefore, when criticized they say 'We are a persecuted people, we suffered a lot... this is anti-Semitism.'"
In a staff memo, the paper's publisher Arthur Sulzberger said it would no longer publish syndicated cartoons and would take "disciplinary steps" against the editor who selected the cartoon, The Washington Post reported.
"Though I've been assured there was no malice involved in this mistake, we fell far short of our standards and values in this case," Sulzberger wrote.
But Antunes said of The Times' response, "They should see that here it's a political issue and not religious," he said, adding that people should not accept the idea that "any criticism of Israel is anti-Semitism."
Jonathan Greenblatt, the CEO of the Anti-Defamation League, said the cartoon exhibited "stereotypes that suggest Jewish control."
"It wouldn't surprise me if this was published out of Tehran or Damascus, but it does not belong in The New York Times or any credible media outlet," he told CNN.
Meanwhile, Israel's ambassador to the United States Ron Dermer said that the paper had "become a cesspool of hostility towards Israel that goes well beyond any legitimate criticism of a fellow, imperfect democracy," The Daily Mail reported.
The Jerusalem Post reported this was not the first time Antunes created controversial caricatures of Israeli foreign policy.
It said that in 1983, he drew a cartoon that depicted Israeli soldiers tormenting Lebanese women and children, reminiscent of a renowned photo of Nazis tormenting Jews during the Holocaust. His work has also been criticized for its depiction of the LGBT community and Catholics.
In 2015, The Jerusalem Post reported, Antunes defended his work in an interview with the Portuguese publication Observador, saying in the wake of the attack at the French satirical publication Charlie Hebdo: "The profession of cartoonist is a profession of risk, we make risks and take risks,"
"There is always fear there, but there is no other option but to defend freedom of expression," he said.