Cases Surge, Polls Slump Months After Biden Says U.S. 'Closer Than Ever' to COVID Freedom
Five months have passed since President Joe Biden declared the United States was "closer than ever to declaring independence" from COVID-19 and the country's seeing increased cases and deaths and now has to grapple with a new variant.
After Biden campaigned on being the candidate who could turn the pandemic around, the American people are losing confidence in his COVID-19 response. Americans' disapproval of his handling of the pandemic coincides with drops in his overall approval rating and the president is going into the second year of his term with a pandemic that doesn't appear to be getting any better.
In a July 4 speech, Biden related the country's battle against COVID-19 to the one the founders waged against King George III of England. While he acknowledged there is "a lot more work to do," he told Americans the country was "closer than ever" to being free of COVID-19.
Since Biden made the speech, America has added nearly 15,760,000 new cases, more than double the cases America had in the five months prior to his speech. The United States has also added an additional 184,245 deaths since July 4, an increase of about 40,000 deaths from the loss of life seen from February to July.
When Biden made his speech, more than 60 percent of Americans approved of his handling of the pandemic, according to FiveThirtyEight. As states reinstated mask requirements to combat rising cases and hospitalizations, his approval rating started to drop over the summer and has since fallen to only 48 percent.
The surge in cases has brought health care systems across the country back to last year when they became overwhelmed with cases and had to go into crisis mode. Hospitals have started rationing care, issuing warnings that they are at or nearing capacity, and governors have activated the National Guard to supplement staffing at health care facilities.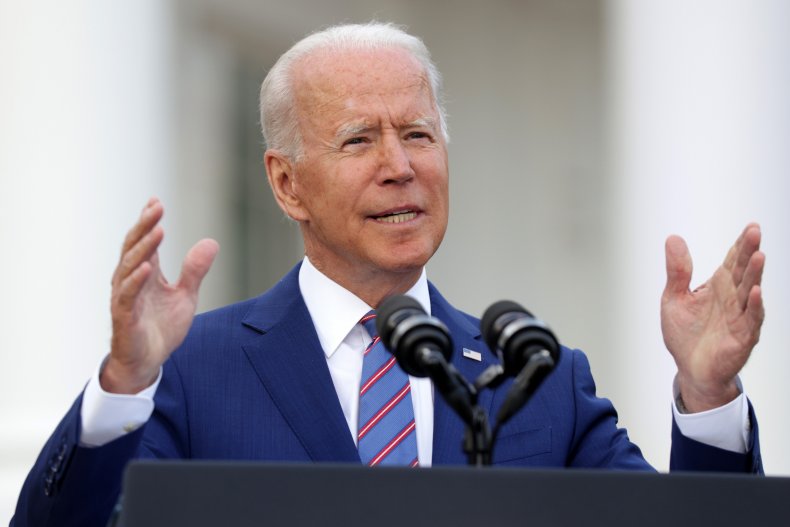 America's current cases are largely being fueled by the Delta variant, a highly transmissible variant that's known to cause severe disease. The dominant strain in the United States, officials now have to worry about the Omicron variant, which was declared a variant of concern in November.
Researchers are still studying Omicron but early data indicates it's "highly transmissible," according to Dr. Anthony Fauci, director of the National Institute of Allergy and Infectious Diseases (NIAID). It appears to be even more transmissible than Delta, and while cases have tended to be mild, Fauci noted there haven't been enough infections to make a clear determination on the threat the variant poses.
The "best-case scenario," according to Fauci, is that Omicron will only cause mild disease so it doesn't fuel a similar surge in hospitalizations that America's have seen over the past few months. However, World Health Organization (WHO) officials have warned that a highly transmissible variant still poses a problem even if it doesn't have the same level of severity as Delta.
Maria van Kerkhove, COVID-19 technical lead for the WHO, noted that deaths and hospitalizations will rise if Omicron is highly transmissible because there will be people who get seriously ill, even if most people have mild cases.
"We don't want to see that happen on top of an already difficult situation with Delta circulating globally," van Kerkove said on Sunday's episode of CBS' Face the Nation.
Biden, like other global officials, has been urging Americans to get vaccinated against COVID-19 in an effort to curb the pandemic. In his July speech, he noted that the Declaration of Independence wasn't a "claim of victory," but a "call to action" and the same was true in 2021.
"Don't get me wrong, COVID-19 has not been vanquished. We all know powerful variants have emerged, like the Delta variant, but the best defense against these variants is to get vaccinated," Biden said. "While the virus hasn't been vanquished, we know this: It no longer controls our lives. It no longer paralyzes our nation. And it's within our power to make sure it never does again."
Since Biden's speech, an additional 38 million Americans have been fully vaccinated against COVID-19, but the country still has yet to hit the 70 percent that's believed to be the minimum amount of people needed to curb the virus.
The Biden administration implemented a series of mandates in an effort to boost vaccinations, but court battles, delayed starts and testing options have plagued the policies and the White House is still grappling with stagnant vaccination rates.
Fortunately, the United States is looking at adding another tool to its COVID arsenal. The Food and Drug Administration (FDA) recommended authorizing Merck's COVID-19 pill, which showed in trials to reduce a person's chances of becoming seriously ill. If authorized, it would be the first COVID-19 therapeutic that people can administer themselves, potentially reducing future strains on health care systems.
Further complicating America's ability to move on from the pandemic is that the situation in the United States can change based on outbreaks anywhere in the world. Cases and deaths are rising throughout the world and WHO officials have warned that the virus running rampant in one part could allow variants to emerge that impact countries with higher vaccination rates.
Biden denied more lockdowns are coming despite the emergence of the Omicron variant and the White House's adapted strategy is focused on increasing vaccinations, making sure people get their booster once they are eligible and expanding access to at-home testing.
While the White House has maintained that Biden's a more effective leader during the pandemic than former President Donald Trump, fewer than 50 percent of Americans approve of his response, a viewpoint that could hurt Democrats during the 2022 midterms.