Casey White Shown Leaving Jail With Corrections Officer Before Disappearing
Surveillance video from an Alabama jail shows how in less than two minutes, corrections officer Vicky White disappeared with jailed murder suspect Casey White in a patrol vehicle, kicking off a manhunt now in its fifth day.
The Lauderdale County Sheriff's Office released the video Tuesday showing what appears to be a planned-out jailbreak that's triggered an around-the-clock search. The video is the latest detail released as law enforcement continues looking for the pair who are considered armed and dangerous.
The video, obtained by WAFF and other outlets, shows what appears to be Vicky White stepping out of the driver's side of a sheriff's vehicle parked outside the Lauderdale County Detention Center and enter the building. The video is timestamped at 9:30 a.m. April 29.
Shortly after, she exits and is followed by Casey White (the two are not related despite the same last name) who is shackled and wearing orange prison clothes. She opens the back door for Casey White, who unhurriedly makes his way to the vehicle before she returns to the driver's seat. The vehicle then drives off.
Casey White's handcuffs and ankle restraints were later found by authorities in the abandoned patrol car, according to the station.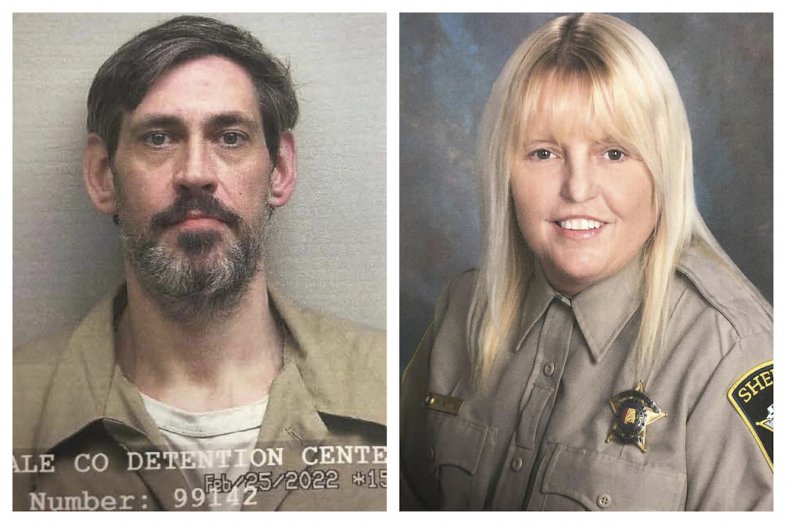 Casey White was charged with capital murder in September 2020 in the brutal stabbing of 58-year-old Connie Ridgeway. He was already serving time for a 2015 crime spree that involved home invasion, carjacking and a police chase.
The U.S. Marshals Service said Tuesday that the two may be traveling in a 2007 orange Ford Edge. The service is offering up to $10,000 for information leading to the capture of Casey White, 38.
It's also offering a reward of $5,000 for the arrest of Vicky White, 56, on charges of permitting or facilitating escape in the first degree.
"The subjects should be considered dangerous and may be armed with an AR-15 rifle, handguns and a shotgun," the U.S. Marshals Service said.
According to the Marshals Service, Casey White is 6 feet 9 inches tall, weighs approximately 330 pounds and should be considered armed and dangerous. Vicky White is 5 feet 5 inches tall, weighs approximately 145 pounds and walks with a waddling gait.
Sheriff Rick Singleton told al.com that Casey White was laying in the backseat of the vehicle to avoid being spotted until they changed vehicles at a shopping center. Vicky White said she was taking Casey White to a court hearing and then going to a doctor's appointment after she dropped him off, according to the sheriff.
But authorities realized Casey White did not have a court hearing and Vicky White never showed up for her doctor's visit, according to al.com. Vicky White had sold her home a month earlier and recently filed retirement papers.
Singleton told WAFF that the two have developed a "special relationship" over the past two years that is not believed to be physical. Singleton said he would get extra food and other privileges, and the relationship "extended beyond her work hours." The sheriff said that Vicky White has cash on hand from selling her home and may have changed vehicles.
Newsweek reached out to the Lauderdale County Sheriff's Office for comment Tuesday evening.