Fugitive Casey White Captured, Vicky White Dead After High-Speed Chase
An escaped Alabama capital murder suspect is in custody and the corrections officer suspected of helping him flee from prison is dead, ending a high-profile manhunt that lasted nearly two weeks.
Casey White was taken into custody on Monday after a high-speed chase in Evansville, Indiana, over 200 miles from the Lauderdale County Jail in Alabama he escaped from last month. Corrections officer Vicky White died later that evening after shooting herself in the head as U.S. Marshals and local police closed in on their black Ford pickup truck, according to authorities.
The two were unrelated despite the same name and were reported to have a special relationship cultivated in an Alabama jail. The end of the highly publicized federal manhunt leaves unanswered questions about the motives of Vicky White, who appears to have upended her life for her unlikely relationship with Casey White.
Vicky White died around 7 p.m. from a self-inflicted gunshot wound to the head, Vanderburgh County Coroner Steven W. Lockyear told WHNT. Her autopsy will be performed Tuesday, he said.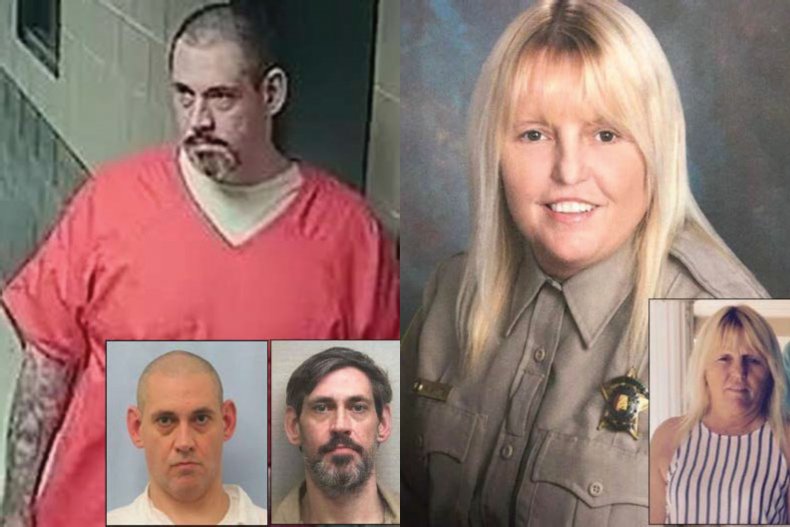 "With criminals and criminal minds, they're vey unpredictable," Vanderburgh County Sheriff Dave Wedding said during a news conference at the grassy field where they were captured.
Wedding said during the news conference that authorities received information that a vehicle matching the suspects' vehicle was in the area. The suspects fled law enforcement in the vehicle and drove into a grassy area, where U.S. Marshals collided with them to end the pursuit, he said.
Casey White was "not too seriously" injured in the vehicle crash and was taken to a local hospital, according to Wedding. But he said Vicky White was taken to the hospital with serious injuries from a self-inflicted gunshot wound, which she later succumbed to.
The beginning of the headline-grabbing saga was captured on a surveillance video showing Vicky White calmly leading a shackled Casey White from the Lauderdale County Detention Center to her sheriff's vehicle, which was later found abandoned. Vicky White, 56, told colleagues she was transporting Casey White, 38.
However, the corrections officer and inmate never arrived at the courthouse, triggering a federal manhunt. The U.S. Marshals Service offered cash rewards for information leading to their arrest while warning the public the two could be armed with an AR-15 rifle, handguns and a shotgun.
Following their disappearance, the U.S. Marshals Service issued a warrant for Vicky White, charging her with permitting or facilitating Casey White's escape. Vicky White had earlier sold her home and had recently filed retirement papers.
The U.S. Marshals Service said Friday that investigators were in Williamson, Tennessee, responding to a tip that their vehicle had been abandoned in the area. Investigators found the 2007 Ford Edge allegedly used by Vicky White. Marshals on Monday were on the lookout for a 2006 Ford F-150 after they had abandoned their previous vehicle.
Lauderdale County Sheriff Rick Singleton said earlier during a press conference that the two had been apprehended about 219 miles away, ending what he called "a very long and stressful week and a half."
"I hope she survives this," Singleton said earlier at the press conference. He added, "I don't wish any ill will on Vicky in terms of her health, but she has some answers to give us."
Singleton had said earlier that Vicky White, whom he described as an exemplary employee, gave Casey White "special treatment" while in prison that included extra food.
Unlike other jailbreaks, Singleton said this escape was well planned.
"What was so challenging about this escape was, most escapes from a county jail, especially, they're not planned," said Singleton. "They're just sort of spontaneous."
While Singleton said he was confident they would be caught, the saga has left him uncertain.
"You don't know who you can trust," he said. "You just don't know people sometimes."
Singleton said that Casey White will be brought back swiftly to Lauderdale County where he will be arraigned.
Newsweek reached out to the U.S. Marshals Service for updates.
Update 05/09/22, 10:20 p.m. ET: This article was updated with additional information and background.