How Vicky White, Casey White Are Being Tracked by Law Enforcement
Authorities continue to search for escaped inmate Casey White and corrections officer Vicky White, hoping that they will eventually let something slip and alert the police to their whereabouts.
On Friday, murder suspect Casey White and officer Vicky White were last seen leaving the Lauderdale County Jail in Alabama together, and a manhunt with the help of the U.S. Marshals Service is underway.
Former Tuscaloosa Sheriff Ted Sexton told local station WBRC that tracking the two Whites, who are not related, will involve the help of local, state and federal agencies. "They are using whatever mechanism they have to be able to track known associates for both parties," Sexton said.
The U.S. Marshals are assisting the Lauderdale County Sheriff's Office in the manhunt, offering up a $10,000 reward for information on Casey White and $5,000 for information on Vicky White.
Authorities also released information on Wednesday regarding the vehicle they believe the two are driving. After receiving a tip, Lauderdale County Sheriff Rick Singleton announced that Vicky White purchased a 2007 orange Ford Edge from a used car dealer last week.
Sexton told WBRC that, while asking the public to keep an eye out, authorities know that the search also becomes somewhat of a waiting game.
"They [Casey White and Vicky White] will eventually make a mistake or find themselves in a position where they are going to need additional help, or they will need something. They will make contact with someone else, even in public and then it is: See something, say something," Sexton said.
"How long can they go without using a credit card, how long can they go without using a cellphone, how long can they go without making contact to a friend or family member," the former sheriff stated. "Those are things that will eventually break down."
On Tuesday, the U.S. Marshals Service released that Vicky White and Casey White "may be armed with an AR-15 rifle, handguns and a shotgun."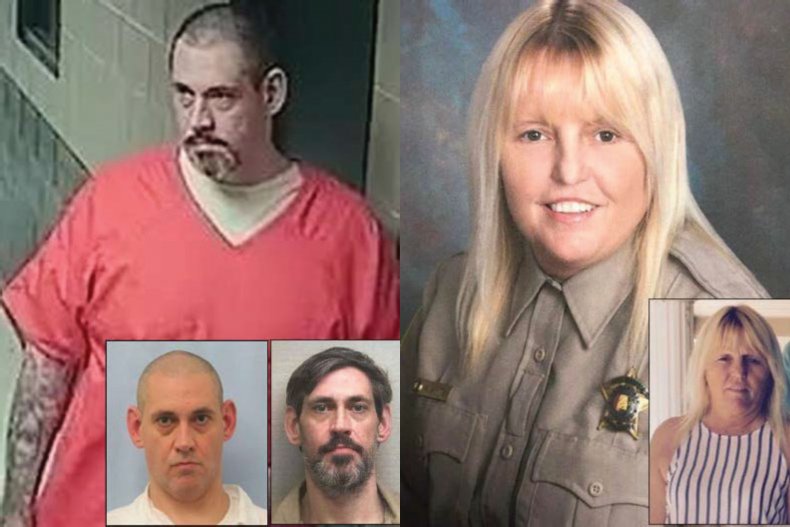 Singleton spoke with ABC's Good Morning America on Wednesday, confirming that the two Whites had developed a "special relationship," and stated that the police believe Vicky White acted of her own free will in helping Casey White escape.
In a direct statement to Vicky White on the show, Singleton said, "You've been in this business for 17 years, you've seen this scenario play out more than once and you know how it always ends. Go ahead and end it now, get the phone, call 911, turn yourself in and help us get Casey White back behind bars, because you know that's where he's eventually gonna end up."
The U.S. Marshals Service urged anyone with information about the Whites' location to call law enforcement or the USMS Communications Center at 1-800-336-0102.