Vicky White and Casey White's 'Special Relationship' Confirmed by Inmates
Alabama corrections officer Vicky White allegedly had a "special relationship" with Casey White, the inmate she is accused of potentially helping escape from custody.
The alleged relationship was reported to investigators in Lauderdale County handling the case by Casey White's fellow inmates. Local station WAFF News said it was able to verify those claims through "independent investigation."
Despite that confirmation, details about an alleged relationship between the officer and the inmate have not been verified.
Vicky White was last seen on Friday leaving the Lauderdale County Sheriff's Office and saying that she was taking a shackled and cuffed Casey White to the local courthouse for a mental health evaluation. The two never arrived there, and a squad car she took was later found abandoned at a shopping center.
Despite their last names, the officer and the inmate are not related.
Lauderdale County Sheriff Roy Singleton previously noted that there are indications that Vicky White acted willingly to help Casey White escape from police custody.
On Monday, she was charged with permitting or facilitating escape in the first degree.
"All of her co-workers are devastated. We've never had any situation like this with Vicky White. She was a model employee," Singleton told CNN. "If she did this willingly, and all indications are that she did... I guess we're trying to hold on to that last straw of hope that maybe for some reason she was threatened and did this under coercion, but absolutely you'd feel betrayed."
Singleton noted that Casey White—who was serving a 75-year sentence for various convictions and awaiting a trial for a capital murder charge—is believed to be free and unrestrained wherever he is, as his handcuffs and leg shackles were found in the abandoned squad car.
Investigators also found Vicky White's sheriff's department radio, according to local station WAFB.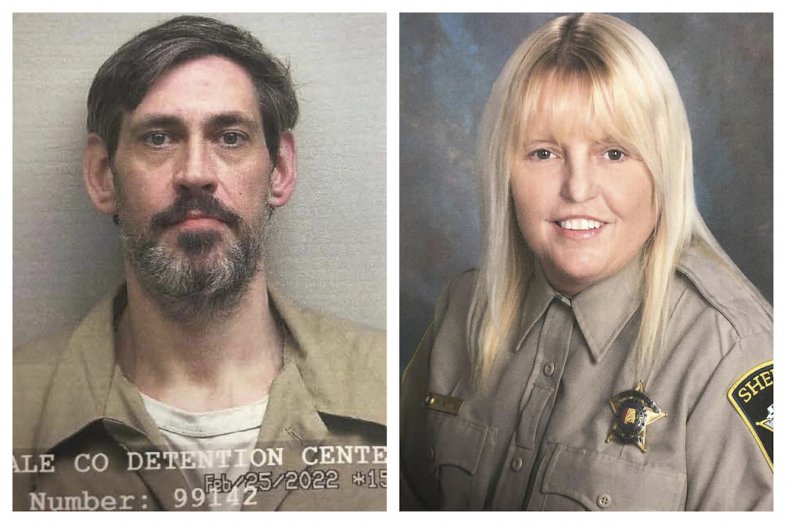 Lauderdale County District Attorney Chris Connolly told WAFB that he was shocked by the situation, given Vicky White's sterling professional track record.
"I would have trusted Vicky with my life. I really mean it," Connolly said. "If we needed something from the jail, she was our go-to person, solid employee. That's why it's so shocking."
Vicky White is currently believed to have her mobile phone, though it has most likely been turned off. The Secret Service has also been providing aid to the investigation, Singleton said, helping local authorities track her financial transactions. The officer potentially has access to cash, making her movements harder to track.
The U.S. Marshals Service said people with information about the case can submit their tips at 1-800-336-0102. Anonymous tips may also be submitted through the U.S. Marshals Tip App. The service is offering a $10,000 reward for information that leads to a break in the case.
Newsweek reached out to the Lauderdale County Sheriff's Office for comment.