Officials Searching for Inmate, Officer Who Went Missing on Fake Transport
Officials searching for an employee of the Lauderdale County Sheriff's Office and an inmate held on murder charges who went missing together Friday in Alabama are trying to piece together whether the disappearance is the result of an assisted escape or if the employee was taken against her will.
The sheriff's office posted an alert Friday on Facebook, saying Vicki White, assistant director of corrections, and inmate Casey Cole White, held on charges of capital murder, went missing during a courthouse transfer.
The two are not related, according to the department.
However, Lauderdale County Sheriff Rick Singleton said upon investigation there was no reason for Vicki White to transport the inmate, a detail he announced at a news conference Friday evening.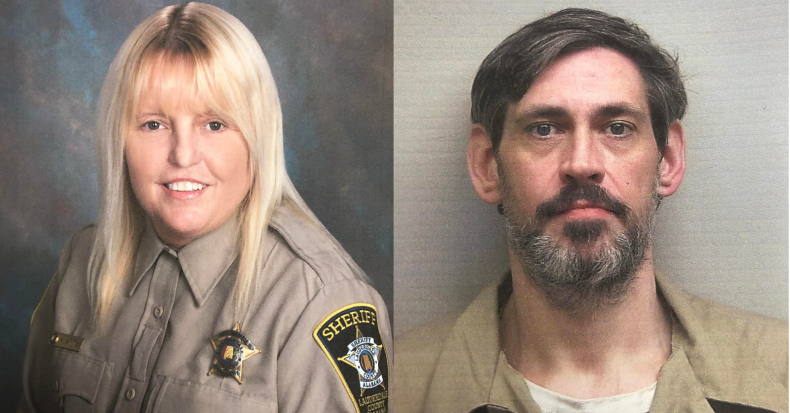 Singleton said officials are now "looking into their interaction" and that Vicki White broke protocol by transferring a prisoner alone, calling it a "strict violation of policy."
It is the assumption that she was "taken against her will," but he said even if she assisted in the escape, he considered her to be in danger.
"He has nothing to lose," Singleton said.
Six hours passed from the time Vicki White left with the suspect at 9:30 a.m. before officials discovered the two were missing.
"The fact that the two are missing was not realized until approximately 3:30 p.m. on this date," the post said.
The vehicle used in the transport was located in the parking lot of a shopping center.
"Investigators are currently attempting to locate any video that may tell us more about what we're dealing with," according to the post.
Chris Connolly, Lauderdale County District Attorney, told the Huntsville NBC affiliate WAFF 48 that the FBI was aiding the search, along with other local and state authorities.
"I am extremely, extremely concerned that he is not in custody," Connolly said, according to WAFF 48. "This is a very dangerous situation."
The department said anyone who believes they may have sighted the pair should call 911 immediately.
"DO NOT APPROACH," officials wrote.
Singleton said Vicki White was armed with a 9mm handgun while on duty.
Suspect Casey White, 39, was charged with two counts of capital murder in 2020 in the slaying of Connie Jane Ridgeway, according to AI.com. Described as a "murder-for-hire," Ridgeway, 59, was killed October 23, 2015, in Rogersville, Alabama, at her home near the football field of Lauderdale County High School. Police found her body in the living room after a neighbor requested a welfare check.
Casey White wasn't charged with Ridgeway's killing until five years later in 2020, though AI.com reported he was arrested in December 2015 after a crime spree in north Alabama and south Tennessee.
For those crimes, he was found guilty in 2019 of nine charges stemming from one night that involved multiple shootings, two carjackings and a home invasion, as well as the death of a dog.
In 2020, he was charged with two counts of capital murder in Ridgeway's death.
Connolly told AI.com Casey White confessed, and that his statements were cross-checked and showed he had knowledge of evidence not released from the crime.
"He claims that he was paid to kill Mrs. Ridgeway," Connolly said.
At the time, Casey White was serving a 75-year sentence for the former crime spree.
In 2020, he was also accused of plotting an escape attempt.
A spokesperson for the Lauderdale County Sheriff's Office told Newsweek late Friday there was "nothing new" to report, and that U.S. Marshals, the FBI and Alabama Law Enforcement Agency officials are assisting in the investigation.
Update 4/29/22, 11:20 p.m. ET: This story has been updated with additional information and background.