Missing Corrections Officer Sold Home Weeks Ago, Has Access to Cash: Police
An Alabama corrections officer, who is accused of aiding suspected killer Casey Cole White escape from jail, recently sold her home and may have access to large amounts of cash, police said Monday.
The federal manhunt for Casey White and corrections officer Vicky White, whom police say are not related, continues this week after the two disappeared from the Lauderdale County Detention Center in Florence, Alabama, early Friday morning.
Casey White, 38, had been jailed at the facility on a capital murder charge and was being transported to a nearby courthouse by Vicky White, 56, when the two were last seen. The corrections officer told jail employees that Casey White was to be taken to the courthouse for a mental health evaluation, though no such court appearance was scheduled, Lauderdale County Sheriff Rick Singleton said Monday. Against protocol, Vicky White told deputies that she would drive Casey White to the courthouse by herself, but the two never arrived.
They were last seen leaving the jail in a patrol car at 9:41 a.m. local time. Newly released video surveillance shows that the car was parked at a nearby shopping center just eight minutes later. However, police were not made aware of the disappearance for several hours on Friday.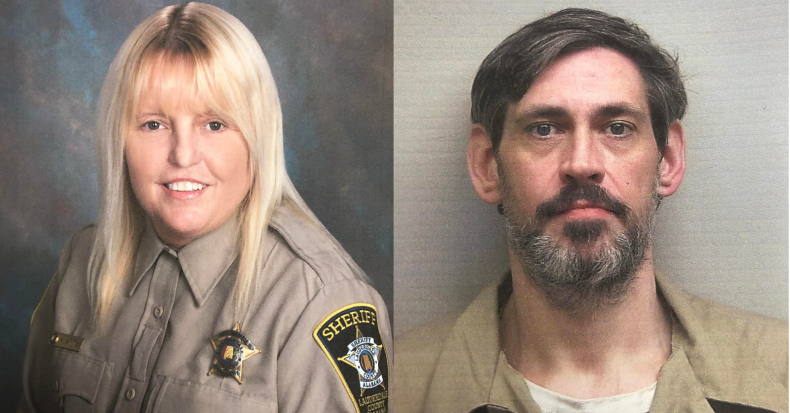 Singleton announced Monday that a felony warrant has been issued for the corrections officer, stating that there is "no question she participated in this escape." However, police have not ruled out the possibility that she was coerced or threatened into helping Casey White.
The sheriff also said Monday that Vicky White had sold her home just weeks earlier and that the two may have access to "large amounts of cash." Vicky White had also recently announced her retirement, and Friday—the day of the escape—was to be her last day working at the jail.
"She has been in corrections for 17 years so she has knowledge that a general citizen would not have," Singleton said during the press conference. "That certainly played in her favor for getting him out of jail as she did."
Police have not yet determined whether or not the two had a past relationship, or if they are romantically involved. Singleton said that all motives are under an active investigation. However, he added that "nobody saw this coming," and that Vicky White had previously been an exemplary employee.
"If she did this willingly...those of us who have worked with Vicky White and have for years...this is not the Vicky White we know," Singleton said. "The employees are just devastated that she was involved."
The case is now under investigation by local law enforcement and the U.S. Marshals Service. On Sunday, the Marshals Service said it is offering up to $10,000 for information leading authorities to finding the two.
"We consider both of them dangerous and in all probability both of them are armed," U.S. Marshal Marty Keely said at the Monday press conference.
Casey White may now be facing death penalty charges, police said. He was originally convicted of two counts of capital murder in September 2020 in the stabbing of 58-year-old Connie Ridgeway, after he confessed to the crime. Vicky White is facing charges for assisting an inmate escape from jail, and could receive up to 10 years in prison.