Video Shows Moment Casey White and Vicky White Were Captured
The hunt for escaped inmate Casey White and corrections officer Vicky White has come to a dramatic end after nearly two weeks.
The pair were spotted in Evansville, Indiana, and authorities were tipped off about their location.
This resulted in a high-speed chase that ended up with the pair's car crashing in a field.
Video footage of police apprehending Casey White has gone viral on social media. The video has been viewed over 250,000 times in Twitter.
In the video, a man can be heard describing the scene and said that Casey White and Vicky White drove through his workplace car park.
While in the car with another man, the pair agree that it looked as if police had caught Casey White.
Multiple police cars and officers can be seen in the video while sirens are heard throughout. The man in the car can also be heard speaking on the phone telling people that police had caught Casey White.
After pulling up alongside the scene, at one point, the pair say they can see Casey White being escorted into a police car.
The pair also remark about not seeing Vicky White and question whether she is alive.
According to authorities, Vicky White died on Monday after a self-inflicted gunshot wound. Casey White now remains in police custody after being hospitalized for minor injuries.
Police said that Vicky White shot herself in the head while being apprehended by authorities.
The Alabama corrections officer who allegedly helped murder suspect Casey White escape died at 7:06 p.m., reports WHNT, citing the Vanderburgh County Coroner in Indiana.
Vanderburgh County Sheriff Dave Wedding earlier said on Anderson Cooper 360 he didn't expect her to survive overnight because of the serious gunshot injury.
Following the car chase and apprehension of Casey White and Vicky White, Lauderdale County, Alabama Sheriff Rick Singleton held a press conference.
He spoke about the current situation and said how difficult the manhunt was in comparison to other prison escapes.
"I have always expected this outcome, I knew we would catch them it was just a matter of time. What was so challenging about this escape was that most escapes from a county jail especially are not planned, they are sort of just spontaneous," Singleton said.
"[Normally] there are no resources available, no plan in place about what about I am going to do when I get out here rather than just run.
"This escape was obviously well planned and calculated, a lot of preparation went into this, they had cash, vehicles, they had everything they needed to pull this off.
"We were starting from ground zero and not only that, they got a six-hour head start on us."
Newsweek has contacted the Indiana Police Department for comment.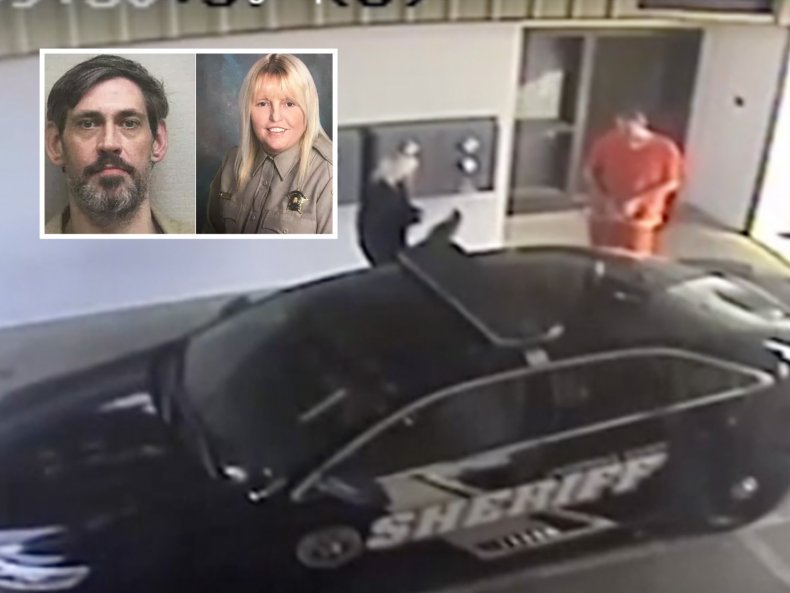 Update 05/10/22, 3:41 a.m. ET: This article was updated with additional information.