Cash Payments, Tax Cuts and Five Other Things to Look For in the Next Coronavirus Relief Bill
Congress will turn its attention in the coming weeks toward crafting more potential legislation to provide further economic relief as parts of the country begin to relax social distancing guidelines and allow some businesses to reopen.
Democrats want to tackle a plethora of subject areas, including relief for state and local governments, food stamps, voting by mail, infrastructure and small-business aid. As a split emerges among the GOP, top Republicans on Capitol Hill are hesitant about further swift spending, while other members say there's more to be done.
President Donald Trump is pushing for infrastructure funding and payroll tax cuts but has derided Democratic endeavors, such as giving states more money and vote-by-mail.
The wide array of proposals underscores the disagreements among many in Washington over how the federal government should continue to combat the record number of job losses from the coronavirus pandemic and foreshadows the political negotiations to come.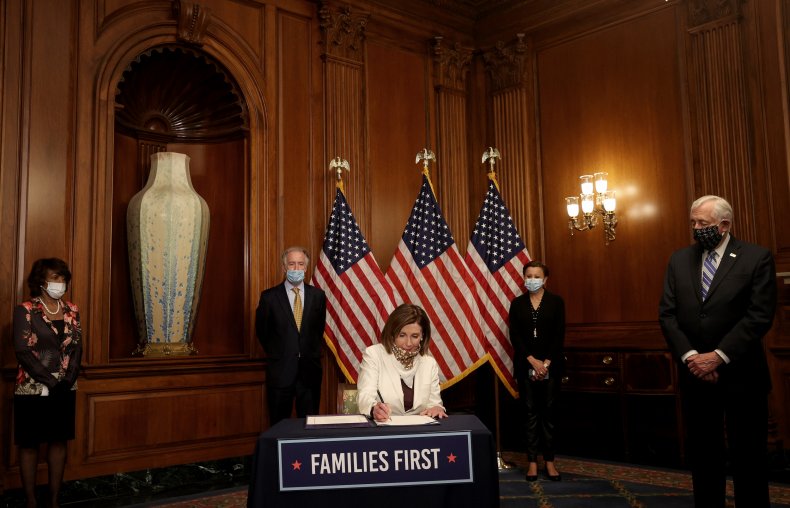 State and Local Governments
A contentious disagreement has erupted over the federal government giving states more assistance, offering a preview of the debates Congress is expected to have following its return to the nation's capital next week.
"There will not be a bill without state and local" relief, House Speaker Nancy Pelosi stated bluntly to reporters on Friday.
Democrats' push to include $150 billion for state and local governments in the nearly half-a-trillion-dollar bill approved last week for small businesses, hospitals and expanded testing failed amid GOP pushback. The mammoth $2.3 trillion package passed last month included about $350 billion for state and local governments.
Senate Majority Leader Mitch McConnell sparked frustration from governors in both parties by suggesting states could enter bankruptcy rather than receive more federal assistance, a stance also at odds with some members of his own conference.
"We cannot get distracted by pre-existing partisan wish lists or calls to paper over decades of reckless decisions that had nothing to do with COVID-19," the Kentucky Republican said in a statement Monday.
Walking back some of his previous opposition toward another immediate stimulus, he told Fox News radio "there probably will be another state and local funding bill. But we need to make sure that we achieve something that will go beyond simply sending out money," McConnell added, like protections for health care workers and businesses against frivolous lawsuits.
Trump continued Monday to rail against the idea of the government "bailing out" some states, as many Republicans suggest that the budget shortfalls are thanks to mismanagement issues of items like state pensions.
"Why should the people and taxpayers of America be bailing out poorly run states (like Illinois, as example) and cities, in all cases Democrat run and managed, when most of the other states are not looking for bailout help?" he wrote in a tweet. "I am open to discussing anything, but just asking?"
Senator Rick Scott (R-Fla.), a former Florida governor who's close to Trump, told reporters on Capitol Hill Monday that more state and local aid is "not fair for the taxpayers in Florida. We sit here and live within our means, and then New York, Illinois and California and other states don't, and we're supposed to go bail them out. That's not right."
New York Governor Andrew Cuomo noted that the additional relief would be for people like firefighters, police officers, teachers and hospital workers. Statistics show that 10 states, including New York, contribute more federal taxes than they receive from the government.
"Nobody would be 'bailing out' New York state. New York state has been bailing them out every year for decades. We are the No. 1 giver. Nobody puts more money into the pot than the state of New York," the Democrat said during a press conference Monday. He labeled McConnell's home state of Kentucky as one of the largest "taker" states.
More Cash Payments
The up to $1,200 for individuals and $2,400 for couples, paid out as part of the $2.3 trillion stimulus, might not be enough, many lawmakers in both parties have suggested.
A number of ideas have been offered, like the recurring monthly direct payments proposed by Representatives Ro Khanna (D-Calif.) and Tim Ryan (D-Ohio), or having the federal government pay 80 percent of a person's wages, as proposed by Senator Josh Hawley (R-Mo.).
Democrats intend to make a proposal by Senate Minority Leader Chuck Schumer (D-N.Y.) to give all essential workers a significant bonus of up to $25,000 the "centerpiece" of the next bill, an idea that is expected to face GOP resistance.
Payroll Tax Cuts
Trump has been pushing for payroll tax cuts since early March, when Congress was crafting the more than $2 trillion relief legislation. But opposition from many lawmakers, including some in his own party, resulted in the tax break being excluded.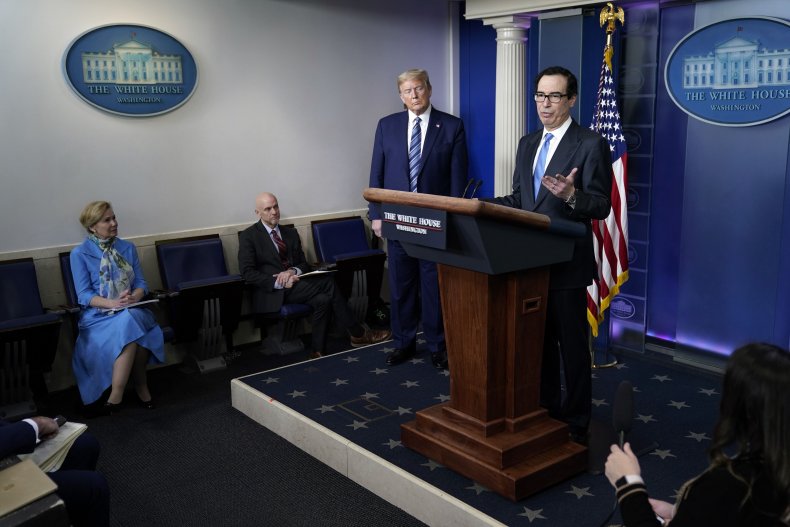 Democrats have questioned the overall effectiveness of such a policy. It would exclude the roughly 26.5 million people who say they've lost their jobs in a little more than a month.
Trump described the idea on April 17 as the "best thing we could do for this country." Four days later, Treasury Secretary Steven Mnuchin reiterated Trump's desire for such a tax break. "The president has talked multiple times about a payroll tax cut," he said.
The current payroll tax rates are 6.2 percent for Social Security and 1.45 percent for Medicare for both the employee and employer. Only an employee's first $137,700 is subject to the Social Security payroll tax.
The administration hasn't given details about how much of a reduction it prefers. During the Great Recession, while President Barack Obama was in his first term, the rate was slashed by roughly 2 percent.
Infrastructure
In perhaps the largest area of bipartisan agreement, Democrats and Republicans recognize that the nation's aged infrastructure is long overdue for an infusion of federal money. For the past several years under Trump, the White House and Democrats have tried—but failed—to reach agreements over how to fund such large construction projects.
Democrats are especially pushing for digital infrastructure investments into things like 5G mobile technology and expanded broadband access. Mnuchin reiterated Trump's interest in funding for digital and traditional infrastructure, such as roads and bridges, earlier this month.
"The president's been talking about infrastructure since the campaign. Roads, bridges, broadband—especially broadband now to rural America—is very important," he said last Tuesday.
Small-Business Aid
After nearly $350 billion in forgivable loans for small businesses was depleted in under two weeks, Congress last week approved another $320 billion in disaster relief for struggling owners under the Paycheck Protection Program.
The funds, which are for payroll and operating expenses, are expected to run out much faster this time around, potentially within days. This raises the question of whether lawmakers and the administration are willing to pump even more money into the program for companies with less than 500 employees.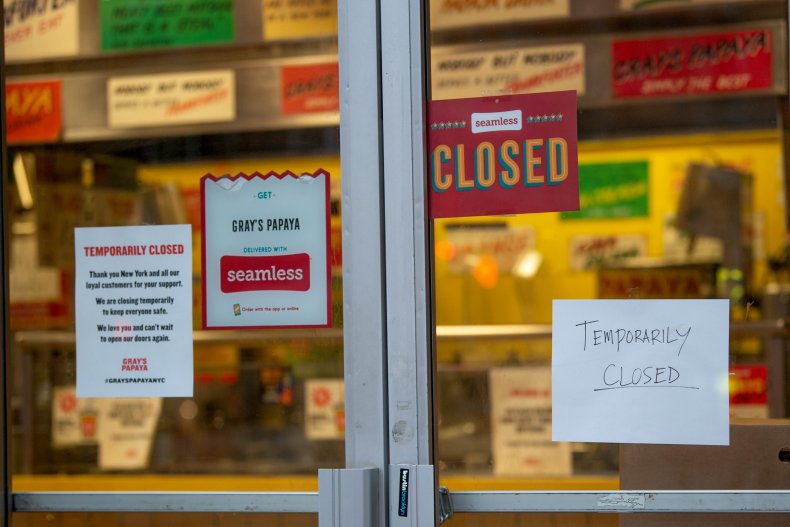 Democrats successfully included provisions for the latest tranche of money that require portions to go toward smaller banks and business owners who are women or minorities. Republicans, like Senator Ron Johnson of Wisconsin and Florida's Scott, have suggested the aid be further restricted to businesses that can show substantial financial need.
Food Stamps
Republicans successfully rebuffed Democrats' efforts to include a 15 percent increase for food assistance programs in the nearly half-a-trillion-dollar bill approved last week.
Democrats say they'll continue to fight for the increase. In the $2.3 trillion package, more than $15 billion was included for food stamps. The U.S. Department of Agriculture (USDA) announced last week it was raising benefits to recipients by 40 percent amid increased demand.
Typically, about $4.5 billion is provided to households across the country each month, but that has been increased by $2 billion, the USDA said.
Vote-by-Mail
A partisan political battle has been playing out for several weeks over a push by Democrats to fund vote-by-mail efforts ahead of the November election.
Democrats tried to allocate $4 billion for state elections under the $2.3 trillion stimulus last month, but it was reduced to $400 million. House Majority Whip James Clyburn said they're seeking another $1.8 billion.
"I don't think this president plans to have an election at all," the South Carolina Democrat suggested during an online forum with colleagues and progressive activist groups last week. "He will do everything he can to circumvent people going to the polls in November."
Trump and Republicans have suggested the process of casting ballots by mail could be subject to fraud, despite the lack of widespread evidence. The president has also claimed voting by mail could hurt GOP candidates.
Democrats also want more funding for the U.S. Postal Service, which handles vote-by-mail ballots. Trump said he won't "sign anything" unless the government agency raises the cost of shipping fourfold for internet giants like Amazon.
"The postal service is a joke because they're handing out packages for Amazon and other internet companies, and every time they bring a package, they lose money on it," he told reporters Friday.
This story was updated with comments made by McConnell on Fox News radio.