$25,000 Cash Bonuses for Essential Workers Faces Uphill Battle with Republicans
Democrats in Congress have their sights set on another massive stimulus package, one that generously rewards essential employees who've continued to appear for their daily jobs throughout the coronavirus pandemic. But growing resistance from Republicans to spend more money as the national debt skyrockets could stymie that endeavor.
House Speaker Nancy Pelosi (D-Calif.) intends to make a proposal by Senate Minority Leader Chuck Schumer (D-N.Y.) the "centerpiece" of an additional relief measure they're eyeing to complete by Congress' tentative May 4 return date. Known as the Heroes Fund, the legislation would provide up to $25,000 in hazard pay for employees like health care workers, grocery store clerks and truck drivers.
"Not to do something, in my view, is morally wrong. It's medically disastrous," Pelosi told reporters Friday at a press conference, suggesting the size and scope will be similar to the more than $2 trillion package passed last month. "There will be a bill, and it will be expensive."
The end goal won't be easy to achieve amid a brewing partisan battle. Mounting hesitance among conservatives for any further economic relief—much less thousands of dollars for some individuals—has the potential to sideline another bipartisan stimulus when coupled with Democrats' expeditious desire to dole out sums of money to the countless number of frontline workers.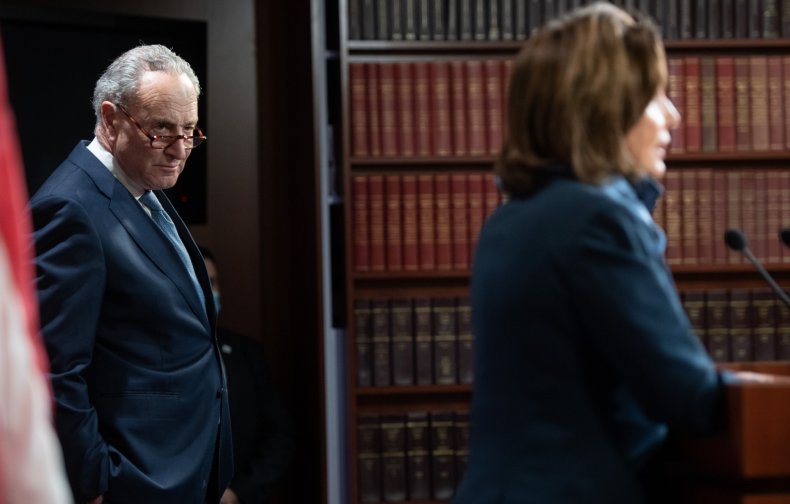 Senate Majority Leader Mitch McConnell (R-Ky.) has made clear no additional spending measures will pass his chamber in the near future, citing concern over "the amount of debt we're adding up." And as a whole, Republicans show little urgency to appropriate more money in the wake of approving nearly $3 trillion in overall economic aid since the pandemic's rise. The latest relief bill for nearly half a trillion dollars that focuses on small businesses, hospitals and testing was approved by the House Thursday and signed into law by President Donald Trump Friday.
"There's no not enough money in Washington—or in the world, for that matter—to solve all the problems that we have out there," GOP majority whip Sen. John Thune told C-SPAN Thursday. "I think we need to deal with the money that's already been allocated and appropriated."
"Unless something happens or some new detail, I will not be voting on another stimulus until we have offsets in the budget," said Rep. Ralph Norman (R-S.C.), adding that he "admire[s] every frontline responder."
Despite the opposition to the aid, some Republicans do acknowledge some degree of assistance should be given to these workers. A significantly watered-down proposal for some frontline workers to receive a pay boost is being circulated among House GOP leadership and the White House.
The HEROES Act, championed by Rep. Bill Huizenga (R-Mich.), would give frontline health care employees like first-responders, doctors and medical support staff a four-month income tax holiday. He argues this method, rather than Democrats' push to give federal money directly to workers, would be less "cumbersome" and cut out the bureaucratic process of determining who does and does not qualify.
It's caught the interest of at least one Democrat, Rep. Josh Gottheimer (D-N.J.), who's co-sponsored the bill. The legislation does not include other frontline workers, such as employees in grocery stores or transportation.
Huizenga told Newsweek he proposed his bill during a call with Republican leadership earlier this week. Republican congressman-turned-White-House-chief-of-staff Mark Meadows was also part of the call, gave positive feedback about the idea and requested more details so the White House could review it, according to Huizenga. The position by many Capitol Hill Republicans against more immediate aid is at odds with the president, who's repeatedly stated his desire for an infrastructure package and payroll tax cuts.
A secondary proposal by Huizenga would address the essential frontline employees left out of the tax break. What he's dubbed the Patriot Bonus, Huizenga argued the legislation would incentivize private companies to give their employees an hourly bonus because the federal government would then pay for half of the additional pay in the form of business tax credits.
"It's about prioritizing those folks that are working first and foremost on the frontlines in the health care arena and then secondarily with those folks who are on the frontlines of making sure society can function," Huizenga said.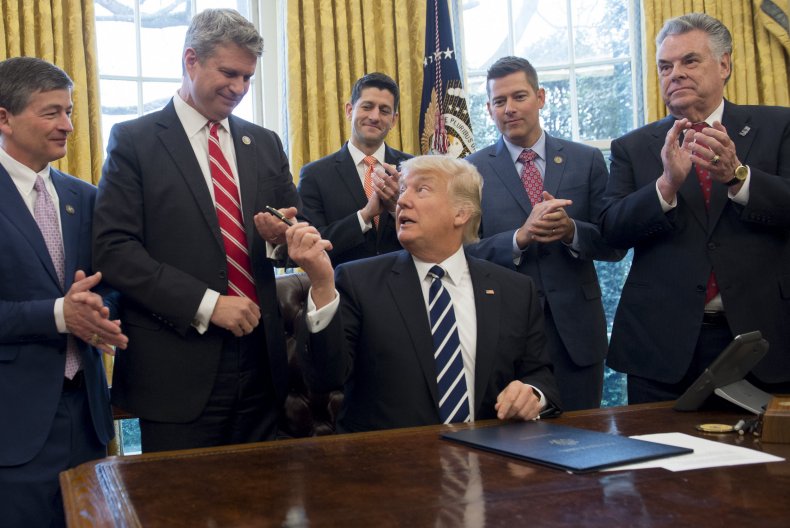 "If these private companies don't want to offer a bonus, guess what? Those employees will go to a company that will offer a bonus," he contended. "That market pressure is going to make a stark contrast."
A spokesperson for Schumer told Newsweek it was "great to see bipartisan agreement on the need to support our frontline and essential workers during this crisis." However, they derided Huizenga's proposal as simply another tax break for businesses that could exclude some employees.
"But in typical Republican fashion, Rep. Huizenga's proposal gives more tax cuts to businesses, instead of directly helping the workers, and completely leaves out other essential people like sanitation and transit workers," the Schumer spokesperson added.
Democrats have the ambitious timeline of outlining their next package by the time Congress is slated to return for legislative business the first week of May. Republicans say they they'll want to closer examine how the trillions of dollars they've appropriated has impacted Americans and where—if any—more might be needed as regions of the country begin to relax social distancing measures.
With such opposing viewpoints on what the legislative body's next steps should be, the path to pass major legislation is likely an uphill climb.
"I don't think there's anybody who doesn't understand these are huge dollar amounts and that we have to pay those back at some point. But what's the alternative?" said Rep. Cheri Bustos (D-Ill.), chair of the House Democrats' campaign arm. "Not helping our local governments make sure they can pay their police officers, firefighters or paramedics? Just letting farmers continue to not be able to get their goods to market and feed the hungry?"