Cassidy Hutchinson Compared to Amber Heard by Trump Supporters
Cassidy Hutchinson, a top aide to Donald Trump's ex-Chief of Staff Mark Meadows, has been compared to actress Amber Heard following her testimony to the House Select Committee to Investigate the January 6 attack on the U.S. Capitol on Tuesday.
She made several bombshell claims about how Trump and the White House responded to the riot, when a group of his supporters sought to pressure Congress to block the certification of the 2020 presidential election based on unfounded claims of voter fraud.
Hutchinson's claims have been scrutinized, with Trump and his supporters suggesting that she lied in her testimony.
Some supporters of the former President have taken to comparing her to actress Amber Heard, whose much-publicized legal battle with ex-husband Johnny Depp reached its conclusion at the beginning of June when it was announced Depp had won his defamation case against Heard.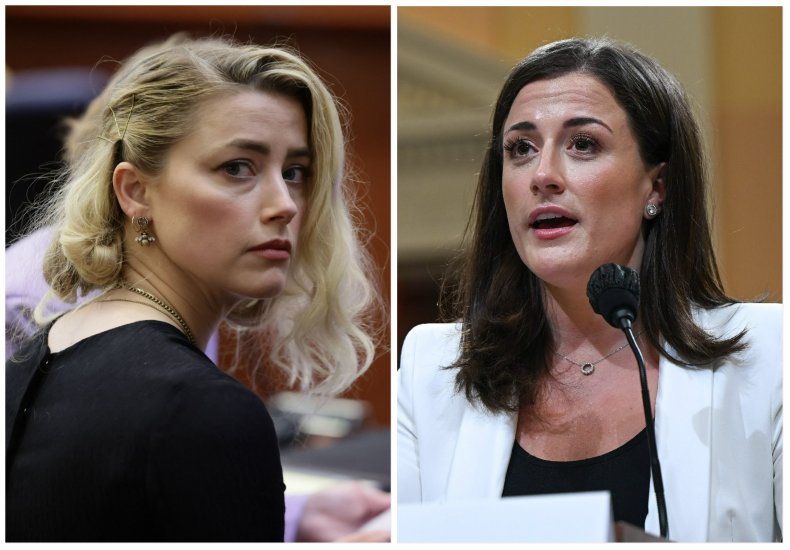 Depp sued Heard for $50 million over an op-ed she wrote in 2018, claiming it damaged his career. Heard did not name Depp in the article, entitled, "I spoke up against sexual violence—and faced our culture's wrath. That has to change" but his lawyers argued it was obviously about him.
Following the trial's conclusion, Heard's credibility has been damaged and she has faced condemnation and mockery from social media users.
Former Texas Congressional candidate Christian Collins tweeted: "Cassidy Hutchinson is Amber Heard 2.0. Pass it on."
Amber Heard 2.0 has since started trending on Twitter and has been mentioned in over 12,000 tweets.
"Cassidy Hutchinson makes Amber Heard's testimony seem compelling and true," comedian and author Tim Young tweeted.
"The absolute horror of this scene. I can't imagine how much therapy Amber Heard I mean Cassidy Hutchinson has had to go through," actor and Trump supporter Daniel Bostic tweeted as he shared a video of Hutchinson's questioning on Tuesday.
"If Jussie Smollett and Amber Heard had a baby, it'd be Cassidy Hutchinson," Caleb Hull, the former director of content for right-leaning communications agency Targeted Victory, tweeted.
The tweet referred to former Empire actor Jussie Smollett who was found guilty on five of six charges that he lied to police about being the target of a January 2019 hate crime.
While Trump did not compare Hutchinson to Heard, he dismissed her claims on his social media site Truth Social.
"I hardly know who this person, Cassidy Hutchinson, is, other than I heard very negative things about her (a total phony and 'leaker'), and when she requested to go with certain others of the team to Florida after my having served a full term in office, I personally turned her request down.
"Why did she want to go with us if she felt we were so terrible? I understand that she was very upset and angry that I didn't want her to go, or be a member of the team. She is bad news," he wrote.
"Her Fake story that I tried to grab the steering wheel of the White House Limousine in order to steer it to the Capitol Building is 'sick' and fraudulent, very much like the Unselect Committee itself—Wouldn't even have been possible to do such a ridiculous thing."
Newsweek has contacted Donald Trump's office for comment.