What Donald Trump Limo Video on Jan. 6 Reveals
The January 6 Committee has retweeted a video of Donald Trump's presidential limo following testimony that he allegedly tried to grab the steering wheel to drive it to the Capitol Building.
Cassidy Hutchinson, a top aide to Trump's ex-Chief of Staff Mark Meadows, gave testimony in Tuesday afternoon's last minute Jan. 6 Committee hearing.
She said Trump had been in a physical altercation with his security detail on January 6 and demanded to go to the Capitol after the riots began.
Hutchinson recounted the story from Tony Ornato, the assistant director of the U.S. Secret Service Office of Training.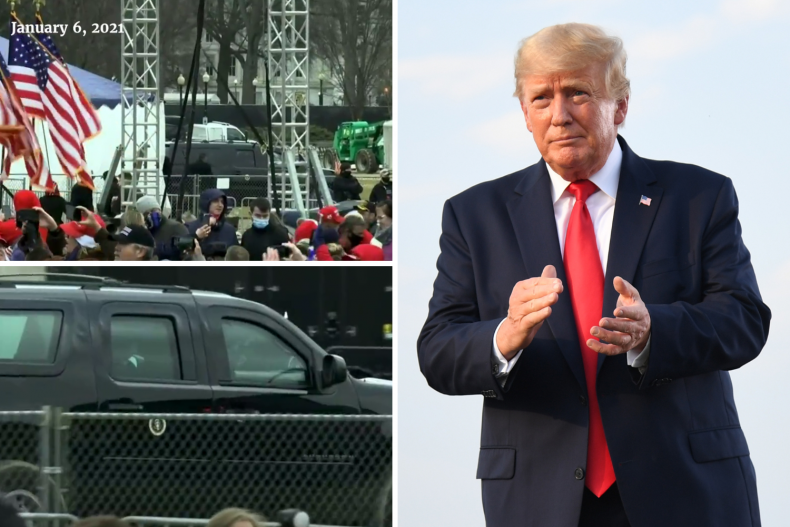 She said that Ornato told her that when security declined to bring Trump to the Capitol, the former president allegedly grabbed at the steering wheel of the vehicle transporting him.
"Today's testimony makes clear that Trump wanted to go to the Capitol with the armed mob, despite warnings not to do so from his advisors," the January 6 Committee Twitter page captioned their video.
"When the Secret Service ruled out the possibility, the former President erupted in anger in the Suburban he was riding in."
The video, posted on Tuesday, has been viewed over 640,000 times.
In it, behind a group of Trump supporters, a person can be seen moving their hands frantically inside the then-President's Chevy Suburban limo.
It is not clear whether the person is gesturing towards the driver or other people in the car.
After the hearing, Trump, who has long opposed the investigation into the riots, lashed out at the former White House aide on his social media site Truth Social, where he downplayed her role in the administration and accused her of lying.
"I hardly know who this person, Cassidy Hutchinson, is, other than I heard very negative things about her (a total phony and 'leaker'), and when she requested to go with certain others of the team to Florida after my having served a full term in office, I personally turned her request down.
"Why did she want to go with us if she felt we were so terrible? I understand that she was very upset and angry that I didn't want her to go, or be a member of the team. She is bad news," he wrote.
During the hearing, Hutchinson also alleged that Trump threw food at a wall after former Attorney General William Barr said in a December 1, 2020, interview there was no evidence of voter fraud. She also said Trump had thrown dishes before. Trump dismissed both stories on Tuesday.
"Her Fake story that I tried to grab the steering wheel of the White House Limousine in order to steer it to the Capitol Building is 'sick' and fraudulent, very much like the Unselect Committee itself—Wouldn't even have been possible to do such a ridiculous thing."
Newsweek has contacted Trump's Office for comment.