Former President Donald Trump was fuming on Tuesday over Cassidy Hutchinson's testimony for the select congressional committee investigating the January 6, 2021, attack at the U.S. Capitol.
Hutchinson, a top aide to Trump's ex-Chief of Staff Mark Meadows, gave her testimony during a last-minute hearing Tuesday afternoon, where she recounted her experiences in the White House during the days around the January 6 riot.
She made several bombshell revelations about how Trump and the White House responded to the violent riot, when a group of his supporters sought to pressure Congress to block the certification of the 2020 presidential election based on unfounded claims of voter fraud.
During her testimony, Hutchinson made several new allegations against Trump, including that he was involved in a physical altercation with his security detail on January 6 and that he did not care if attendees of his speech that morning were carrying weapons.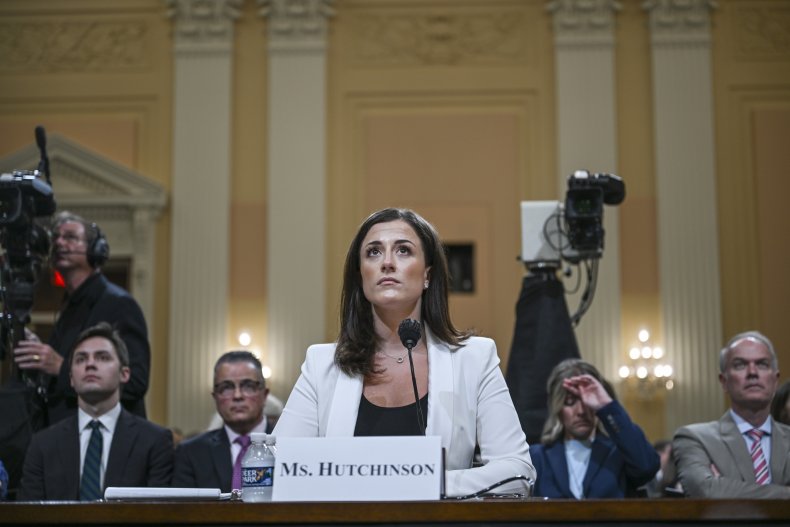 After the hearing, the former president, who has long opposed the investigation into the attack, lashed out at the former White House aide on his social media site Truth Social, where he downplayed her role in the administration and accused her of lying.
"I hardly know who this person, Cassidy Hutchinson, is, other than I heard very negative things about her (a total phony and "leaker"), and when she requested to go with certain others of the team to Florida after my having served a full term in office, I personally turned her request down. Why did she want to go with us if she felt we were so terrible? I understand that she was very upset and angry that I didn't want her to go, or be a member of the team. She is bad news," he wrote.
During the hearing, Hutchinson recounted a story from Tony Ornato, the assistant director of the U.S. Secret Service Office of Training. Hutchinson said that Ornato told her that when security declined to bring Trump to the Capitol, the former president allegedly grabbed at the steering wheel of the vehicle transporting him.
When Bobby Engel, head of Trump's security detail, explained they couldn't go to the Capitol, the former president allegedly lunged at Engel, Hutchinson said.
Hutchinson also alleged that Trump threw food at a wall after former Attorney General William Barr said in a December 1, 2020, interview there was no evidence of voter fraud. She also said Trump had thrown dishes before. Trump dismissed both stories on Tuesday.
"Her Fake story that I tried to grab the steering wheel of the White House Limousine in order to steer it to the Capitol Building is 'sick' and fraudulent, very much like the Unselect Committee itself—Wouldn't even have been possible to do such a ridiculous thing."
In another post, Trump disputed her allegation that he was upset security would not let people carrying weapons into his January 6 speech.
"I didn't want or request that we make room for people with guns to watch my speech. Who would ever want that? Not me!" he wrote.
He continued lashing out against Hutchinson in a series of other posts, dubbing her "a Total Phony!!!" and "a third rate social climber."
"Her body language is that of a total bull.... artist. Fantasy Land!" Trump wrote.
Even still, others who have been following the investigation said Hutchinson's testimony was among the most compelling presented so far.
"This is the most astonishing testimony I have ever seen or heard or read," tweeted conservative attorney George Conway. "You could litigate or investigate for a thousand years and never see anything as mind-blowing as this."
"This testimony was very compelling from beginning to end. She obviously had access to all of the players," said Fox News host Brett Baier.
Newsweek reached out to a spokesperson for Trump for further comment.