Who Is Cassidy Hutchinson? Mark Meadows Aide To Testify To Jan. 6 Panel
Cassidy Hutchinson, a former top aide to former White House Chief of Staff Mark Meadows, is reported to be the key witness who will give live testimony to the January 6 committee's latest hearing on Tuesday.
The panel announced on Monday that there will be a surprise presentation on June 28 in order to present "recently obtained evidence and receive witness testimony" after it was previously thought the next hearing would not take place until July.
As reported by CNN, Politico and other news outlets, Hutchinson, a former special assistant to Meadows, will speak live at the surprise hearing. Hutchinson would be the first White House employee to testify publicly before the committee.
Hutchinson is already known to those who have been following the investigation into the events leading up to the January 6 attack.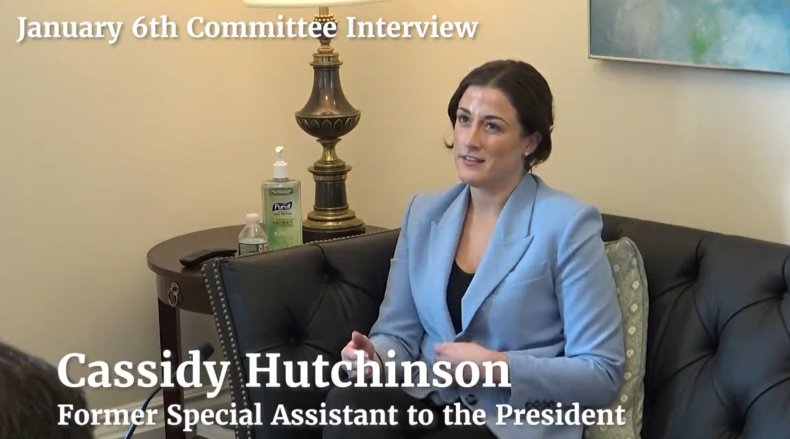 During the June 23 hearing, her recorded testimony was played in which she named six GOP lawmakers who had seemingly requested a presidential pardon from Donald Trump before he left office.
Hutchinson named reps Mo Brooks, Andy Biggs, Louie Gohmert, Scott Perry, and Marjorie Taylor Greene as those who had requested a pardon after January 6 over their alleged attempts to overturn the results of the 2020 Election.
Hutchinson added that rep. Matt Gaetz had been "personally pushing" for a pardon since early December 2020, and that congressman Jim Jordan had asked about updates in congressional pardons, but never asked for one himself.
On June 23, Gaetz communications director Joel Valdez pointed Newsweek to a tweet from the congressman that did not directly address the issue, but described the committee as "an unconstitutional political sideshow."
In a statement to AL.com last week, Brooks cited the email in which he was reported to have asked for a pardon (sent on January 11, 2021), saying that there was "concern Democrats would abuse the judicial system by prosecuting and jailing Republicans who acted pursuant to their Constitutional or statutory duties under (federal election law)."
According to U.S. media sources last week, Perry's office has forcefully denied the allegation, while Gohmert said he requested pardons for U.S. service members and military contractors, not himself. Biggs has also denied asking for a pardon. Greene accused the committee of relying on hearsay, and spreading "gossip and lies."
Other major details to come out of Hutchinson's testimony include claims she saw Meadows burning paper in his office in the weeks after the November 2020 Election after meeting with Perry.
According to transcripts of Hutchinson's testimony previously released by the committee, Meadows was warned of the prospect of violence on January 6, with Hutchinson also describing his movements on that day.
"I know that he was on several calls during the rally. And I went over to meet with him at one point, and he had just waved me away, which is out of the ordinary," Hutchinson said.
Hutchinson is also said to be the White House aide who told the panel that Trump supported the rioters who were heard chanting "hang Mike Pence" in the Capitol on January 6, with Trump alleged to have said they "have the right idea" and that his former vice president "deserves it."
The former president has denied that he called for Pence to be hanged.
The Washington Post previously reported that Hutchinson was expected to play a key part in the hearings having sat for more than 20 hours of depositions with investigators, which focused on Meadows' supposed plot to overturn the last Election in favor of Trump.
Hutchinson attended Christopher Newport University in Newport News, Virginia, and interned at the Trump White House in the summer of 2018. She had also interned in the offices of Texas Senator Ted Cruz and Louisiana rep. Rep. Steve Scalise.
In a 2018 interview with her student paper, Hutchinson described the works she did while at the White House in her senior year of college.
"I attended numerous events hosted by the president, such as signing ceremonies, celebrations and presidential announcements, and frequently watched Marine One depart the South Lawn from my office window," she said. "My small contribution to the quest to maintain American prosperity and excellence is a memory I will hold as one of the honors of my life."