Former White House Chief of Staff Mark Meadows is under fire amid new revelations from the House Select Committee investigating January 6, and additional reports that he was simultaneously registered to vote in three states.
Court filings on Friday revealed for the first time testimony from former White House official Cassidy Hutchinson, a close aide to Meadows during his time with the Trump administration.
Hutchinson told the Select Committee that Meadows was warned in advance that January 6 could turn violent.
"I know that people had brought information forward to him that had indicated that there could be violence on the 6th," Hutchinson said. "But, again, I'm not sure what he did with that information internally," the committee said she had testified.
The court filing comes as part of the committee's push to compel testimony from Meadows, who is claiming executive privilege in response to a subpoena from the committee.
Newsweek has asked a spokesperson for Mark Meadows for comment.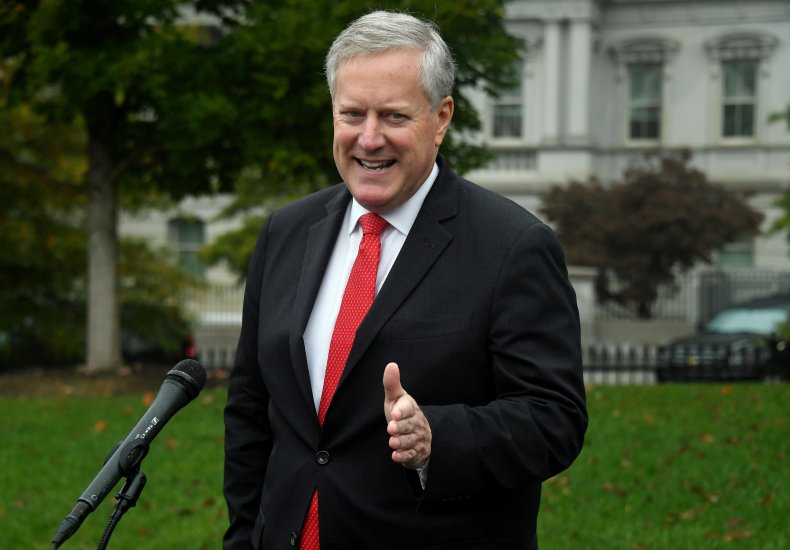 Meadows has not been charged with any crime, and has already turned over extensive documents to the investigating authorities, including more than 2,300 text messages from his private phone, the committee said on Friday.
Separately, The Washington Post reported on Friday that Meadows was registered to vote in three states at the same time (North Carolina, Virginia and South Carolina) and this situation lasted for about three weeks.
Meadows is no longer registered to vote in North Carolina but was reportedly still registered in the other two states as of Friday.
The New Yorker reported on March 6 that Meadows and his wife had registered to vote in North Carolina at an address where they did not reside. They had listed a mobile home in Macon County as their residence, but they did not own the property.
Meadows has been critical of inaccurate voter rolls in the past and is a senior partner at the Conservative Partnership Institute (CPI), an organization that says one of its goals is to "restore the election integrity safeguards the left is trying to tear down."
The revelation that Meadows was registered simultaneously in three states has led some to accuse the former White House chief of staff of voter fraud.
On Friday, MSNBC's Mehdi Hasan highlighted Meadows' role with CPI and his previous comments about election integrity, going on to accuse him of committing voter fraud.
"We found the voter fraud! It's rich guy voter fraud by Mark Meadows, voter fraud 'expert,'" Hasan said. "As I've said before—and I'll say again—Republicans, the calls are coming from inside the house."
Walter Shaub, former director of the Office of Government Ethics, made a similar point on Twitter, writing: "Welp, turns out Mark Meadows really was an expert on voter fraud."
Maggie Haberman of The New York Times shared a link to the Post's article about Meadows' voter registration, writing: "Speaking of voter fraud ..."
Former President Trump has continued to falsely claim that the 2020 election was stolen from him through voter fraud and other irregularities.
Recently revealed text messages show that Meadows communicated with high profile figures about the possibility of overturning the results of the presidential election, including Senator Mike Lee (R-UT) and Ginni Thomas, wife of Supreme Court Associate Justice Clarence Thomas.